I am thankful for the turkey hangover I have this morning. After two days of turkey with all the trimmings that has left me in a food coma and  I'm going to just re-group for a couple days and relish on all the great fun we've had over this past weekend. I know that the festive holiday entertaining season is just around the corner and I'm really looking forward getting even more inspired in the kitchen. I LOVE to cook and it helps that the kids love to eat. Don't know if it's a chicken and egg scenario but in our household we've always enjoyed eating. Oh, trust me… there are times that make me cringe when the kids ask "What's for lunch?" even before they've swallowed their first bite for breakfast… but it's a reminder to me that they are good eaters. They enjoy the foods they inhale even if sometimes, just sometimes, the meal takes all day to prepare.
If you're like me and needing a bit of inspiration, and an outing, you'll want to check out the upcoming DELICIOUS FOOD SHOW this coming October 25th to 27th in Toronto. This consumer show offers the best in Canadian cooking, food and entertaining filled with exhibitors and demo kitchens. You can be sure that you'll pick up a few new tricks or recipes for your "inner chef".
I'll be checking it out next week for sure but as I'm planning out my visit (and I may need to go twice)… here are some highlights that you may be interested in checking out!
MARTHA STEWART – yes, the domestic maven herself will be there in person to  kick-off opening day on Friday, October 25th. Martha will also spend time on The Food Network Celebrity Kitchen presented by Home Depot with cooking demonstrations in the afternoon. She will be sharing some of her favourite cooking techniques as well as a book signing for her newly released 80th book, CAKES (between 3pm to 4pm). Watch for "Martha's Pick" tags throughout the show as she personally chooses her favourite products and foods.
"The Delicious Food Show is an ideal setting to learn more about the many wonderful food offerings in Canada." Martha Stewart.
Mike Chalut, 103.9 Proud FM radio host and DFS Project manager (and all around very nice guy) will play host at the Celebrity Kitchen stage throughout the show. He'll be interviewing celebrity guests chefs including Martha Stewart, Chuck Hughes, Mark McEwan, Michael Smith, David Rocco, Lynn Crawford, Rose Reisman, Nadia G., interior designer Brian Gluckstein and others!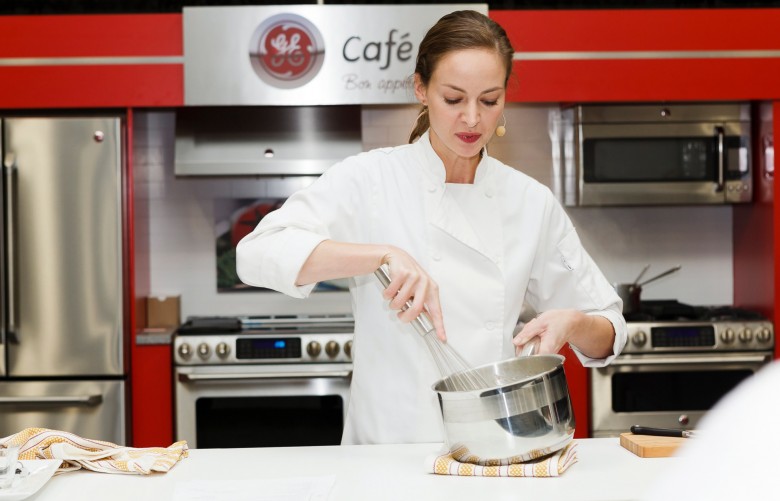 You'll also want to visit the GE Cafe classroom lessons with up to 50 classes available during the show. There are hands-on workshops as well as demos to attend. Here you can learn how to roll sushi or try your hand at cake decorating with the experts.
If you love the PC Black Label gourmet food line as much as I do, you'll want to check out Executive Chef, Tom Filippou and the experts at the Loblaws space to see what's exciting and new!
Food Trucks galore will be offering special menu items in support of Mount Sinai Hospital's Breast & Ovarian Cancer research. Popular food trucks include Fidel Gastro, Gourmet Gringos, GourmetBitches, Feisty Jack and seafood lovers' fave Buster's Seafood will all be there!
Gluten and organic foodies should visit Naturally Delicious featured section that includes Canadian Made products and nutrition services from across Canada.
Aside from all the food demos and products, I'm very keen on seeing the food related art by Erin Rothstein. I spotted her work in the Spring at the ARTIST PROJECT. Incredible acrylic paintings of food… you won't believe your eyes! JUST LOOK AT THIS!!!!!!
Trust me, you don't want to miss this show! There's a lot going on so make sure you visit the official website.
Follow me on instagram and on twitter @theculturepearl on opening day. I'll be teasing you with a bit of #foodporn
Also follow @DeliciousShow for updates!
SHOW INFORMATION:
Delicious Food Show, Toronto at the Better Living Centre, Exhibition Place
Friday, October 25, 11:00 am to 10:00 pm
Saturday, October 26, 10:00 am to 7:00 pm
Sunday, October 27, 10:00 am to 6:00 pm
For more information on tickets, location, and event schedule visit deliciousfoodshow.com
See you there!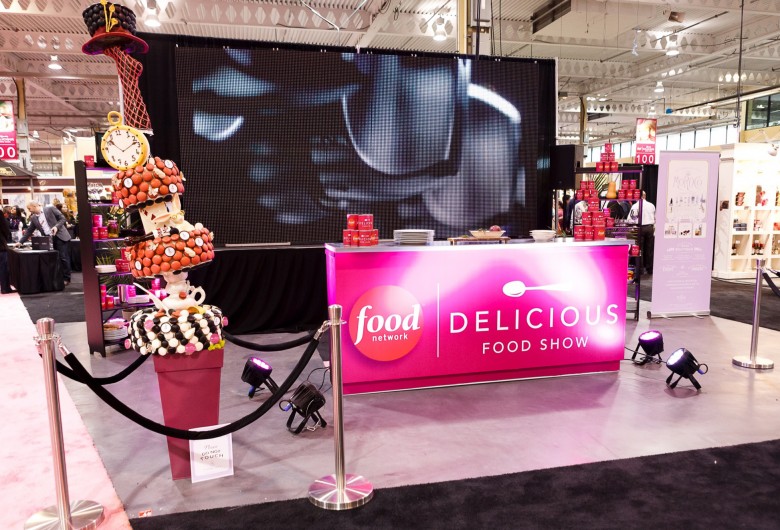 About the show…
From the creators of the One of a Kind Show and the Interior Design Show comes the Delicious Food Show. This is the second year for this interactive consumer-based show showcasing the latest and hottest in food products, wine and spirits, and kitchen equipment for foodies. With demonstrations and seminars from some of the world's most notable chefs!