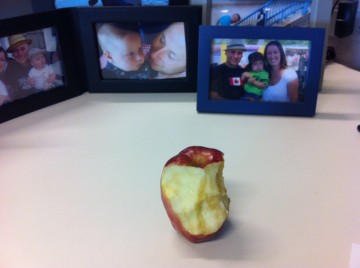 This whole diet, new lifestyle, be more organized 'Labour Day' is the new 'New Year's Day' is tough. In my last blog I wrote about how now's the time to refocus, set goals and get organized. Now is the perfect time because when the kids go back to school you'd think the structure would make it easier right? I even thought the cooler evening temperatures would help cool my jets when I'm working out, and hence, make healthy food choices….not the case, or at least not last night.
I was off to such a great start, the new day and new season (so to speak) would bring challenges but I was ready.
Here's the rundown:
3:15am- woke up right away. Old Ryan would have hit the snooze button.
4:00am-drink a protein in shake. Old Ryan would have a piece of birthday cake or something.
5:30am-drink a coffee. Old Ryan would have drank a coffee (but it's black so all good).
6:00am-take a vitamin.  Old Ryan would have forgot them at home.
11:00am-protein shake, an apple and some carrots. Old Ryan would have eaten a cookie, bag of chips and a chocolate milk.
4:00pm-quick 30 min nap. Old Ryan would have skipped it.
5:00pm-salad. Old Ryan would have eaten anything but a salad.
6:30pm- coach my kids soccer. Old Ryan would have done the same.
8:30pm- this is where it went sideways…
I'd love to know if you do the same; do you snack like crazy an hour or so before bed? The days can be long and action packed so there's something about that time of night when the house is quiet, the couch is comfy, and the pantry is yelling at me to come by for a visit. No matter how hard I resist, the pantry always wins. I tried to counter it's wrath by drinking a tall glass of water with lemon, that just made I the pantry angry. I then thought I'd try snacking on grapes that I had froze earlier, the pantry just laughed at that one. I tried just going straight to bed, the pantry just waited that one out. Within the hour, I was back downstairs victim to the power of the pantry and face down in a bowl of cereal before you know it. I'd love to tell you it was a healthy cereal, but nope…it had a mascot on the box.
You win this time pantry!!
I'm looking forward to round 2 this evening. Vegas has the odds at the pantry winning with a TKO around 9pm.