Our family loves to travel. BK (that's before kids) my hubby and I travelled across Europe, to many exciting US cities (usually with the plan of seeing a major league baseball game) and to any sunny destination we could find. AK (yup, that's after kids) our travel wings were clipped slightly and we started taking more local trips—camping up north, Ottawa, and an amazing trip to Disney World.
Little did we know that the little island of Aruba in the Caribbean Sea is a perfect destination for families to explore. The beaches are pristine, the locals are friendly and we have never felt more safe and at ease on a family holiday.
Read on for our tips on how to make the most of a family vacation to Aruba.
Where to Stay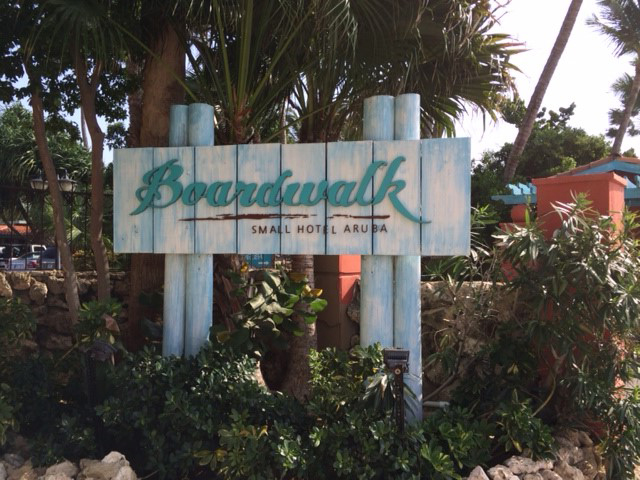 Aruba is home to lots of large hotels and resorts, but for a personal touch we would highly recommend that you try the Boardwalk Small Hotel Aruba, located in Palm Beach. This exquisite property boasts 13 little cottages or "casitas" spread out over tropical gardens where you have the privacy of a condo rental with the luxury of a boutique hotel.
Available in studio, one- and two-bedrooms, the casitas are all equipped with modern kitchens, a living room area with a flat screen TV and an outdoor patio with a hammock. Everyone loves a hammock.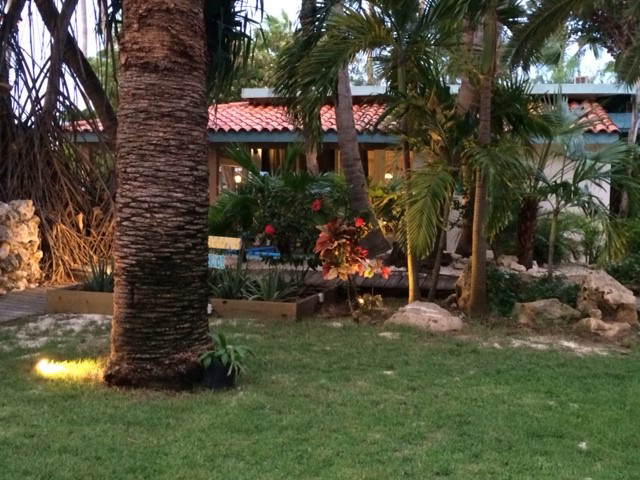 We stayed in a two-bedroom casita and were thrilled with all the space. Not only did we have two bedrooms, but we also had two bathrooms and a gorgeous wrap-around porch – perfect for an energizing breakfast or to relax after a long day of exploring.
The owners of Boardwalk Small Hotel Aruba have thought of every possible thing to make your vacation relaxing. There is a cooler in your kitchen just waiting for you to fill with snacks and drinks for a day at the beach. The main office has a complete stash of beach chairs, towels, snorkeling equipment and sand toys. The small pool is ideal for children to splash around in, and the resort-wide wifi makes posting those shots on Instagram that much easier.
What to Do
If you do nothing more than visit the beach while you are in Aruba you will be in paradise. There are 19 to choose from—here are our top three:
Eagle Beach – this is one of the most famous beaches in the world and it is well worth the visit. The sand is so soft and powdery it doesn't feel real, and is dotted with palapas just waiting for you to relax under. The water here is clear, however there is a bit of a drop off so you will want to keep your little ones close at hand while they are playing in the waves.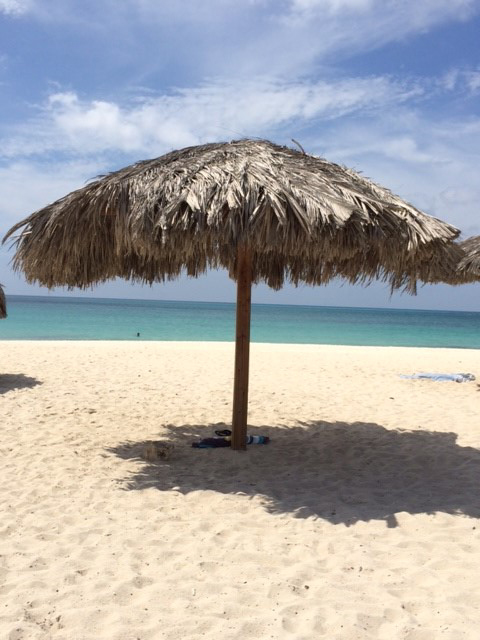 Baby Beach – located at the southern tip of the island, Baby Beach lives up to its name. The beach is protected by an inlet which makes the waters calm and crystal clear. The best part about Baby Beach is that there is a reef just metres off the beach that can be easily reached. Kids young and old will marvel at the gorgeous coloured fish swimming just below them – take some snorkeling equipment with you and enjoy the show. Good to know: there are washrooms available at Baby Beach but you will be asked to pay to use them.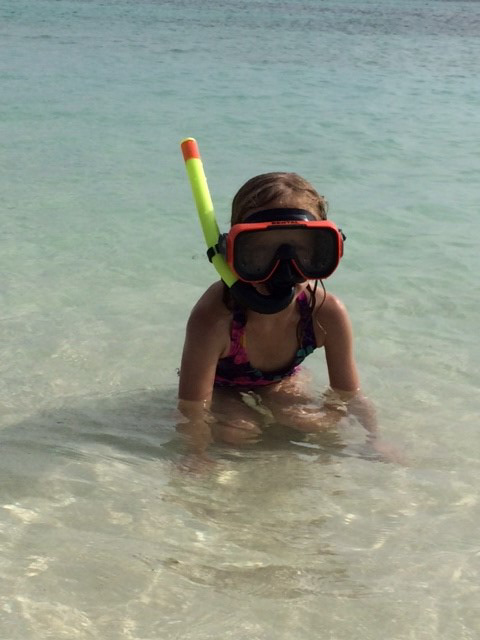 Palm Beach – this is the more touristy and commercial beach on the island, and as such it is quite busy. High rise hotels line this beach which means on the plus side, there are more options for meals and drinks, but at the same time the beach can be choppy. If you want to take a boat cruise, or try a water sport, this is the place for you.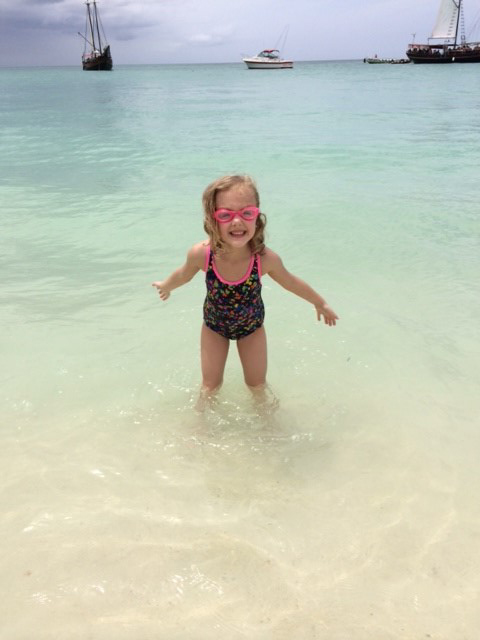 If you've had enough of the beach and want to take the kids to explore more of what the island has to offer there is a Donkey Sanctuary, an Ostrich Farm and our favourite, The Butterfly Farm. A visit here will set you back about $40 for the family, but seeing the tropical butterflies swirling overhead is worth it. Our girls found the hundreds of species of tropical butterflies and moths to be quite mesmerizing and were intent on getting one to land on them. Good to know: it gets very warm here so bring water and keep hydrated. Also make sure you wear bright colours to attract the butterflies.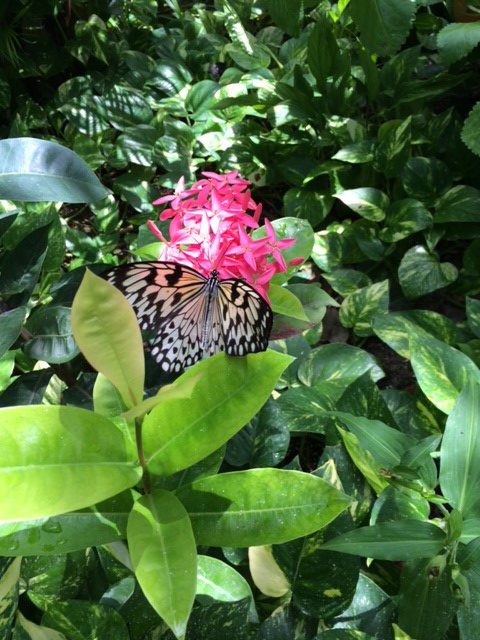 Where to Eat
If you are like me, vacations always revolve around food. I like to know where we are having our next meal so that we aren't a group of four starving people wandering around hopelessly looking for a suitable place to eat!
Moomba Beach Bar – located on Palm Beach, Moomba is a hopping joint any time of the day. Stop by for lunch while you are spending the day at the beach, or enjoy a table in the sand and watch the sun set. The menu is varied with an emphasis on seafood and American standard dining. Bonus: they have a kids' menu! Good to know: the sun sets early in Aruba (due to it's proximity to the equator). Don't miss a minute of the view by getting to dinner by 6:30PM. Or watch the sun go down and then head to the restaurant to enjoy a meal.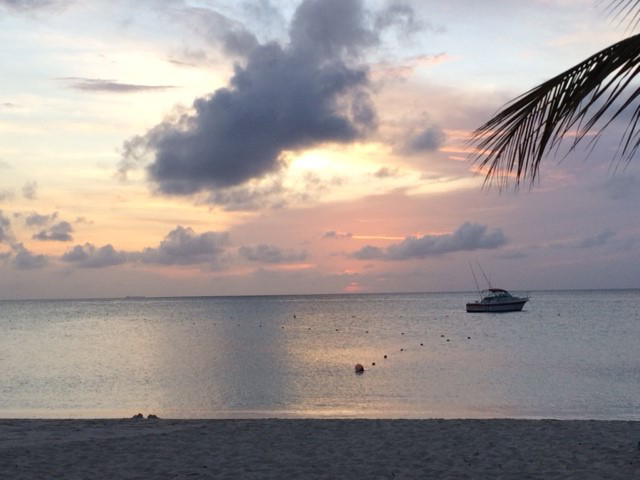 Picnic on the Beach – pack up a cooler with your favourite picnic foods and enjoy them on one of the beautiful beaches. There are several large grocery stores on the island, our favourite was Super Foods, a Dutch chain. Stop by and pick up your picnic fixings on your way to the beach and enjoy your day in the sand uninterrupted.
Dinner on the Patio – one of our favourite features of the Boardwalk Small Hotel Aruba was the charcoal grill on our patio. We picked up burgers and grilled our own dinner from the comfort of our hotel. While my husband was doing the cooking, our girls were enjoying the pool…a perfect way to maximize our time on the island. If you like fish, you can buy a catch of the day right on the pier where the local fisherman park, and grill it right on your own BBQ.
Tips
Like with most family vacations, the more you know before you go, the more fun you will have while you are there! Here are some of our top tips for visiting Aruba:
Rent a car – the island isn't very large and is very easy to navigate, so in order to see some of the out of the way spots, you will want to have a car at your disposal. This is a must if you want to visit some of the more out-of-the-way beaches (like Baby Beach).
Try the beer – Balashi is the local beer and I have it on good authority that it is a nice, light, refreshing ale. Pack some in your cooler and enjoy a cold one on the beach.
Bon Bini!