There's always a party or two that require us to bring a "Secret Santa" gift. Here are some suggestions that won't break the bank and will always be appreciated (or at least you know it won't be tossed aside!). These also make great stocking stuffers and gift exchanges with your girlfriends! Happy Holidays!
Cake Beauty & Nella Bella Gift Set ($20) – it's two beautiful gifts in one! Cake Beauty's best-selling hand creams are deliciously packaged together with an exclusively designed Nella Bella metallic wristlet! Both brands are Canadian! What's not to love? www.cakebeauty.com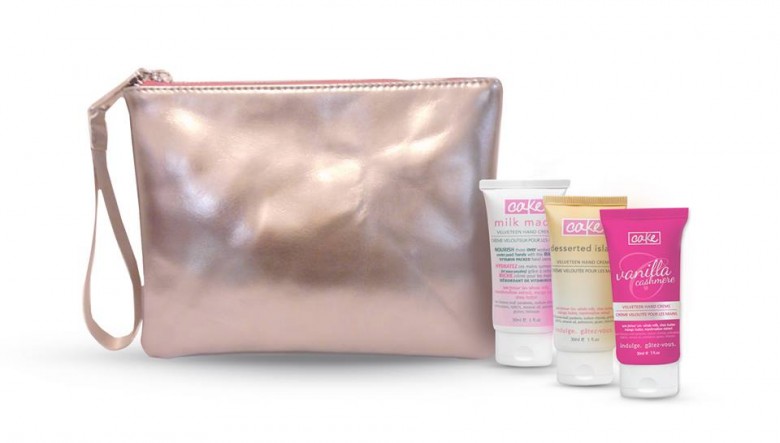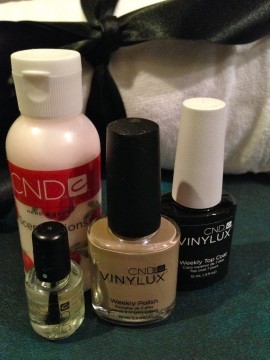 CND Vinylux Nail Polish ($12 each) – this isn't your average nail polish. It's better. During the holiday season I switch my nail polish colours faster than you can imagine as I've got different events to attend. Some more corporate than others. So, what I LOVE about this line is the 8 minute dry time. Hands-down. And it won't peel or chip for 7 days. The colour selection is great (they are the makers of Shellac, after all) so you'll find the classics that you love and probably find some new hot colours as well. This rich nude colour "Plush" is popular for the season! Add in a bottle of top coat and hand lotion to finish off the gift! Available at reputable nail salons and beauty stores. www.cnd.com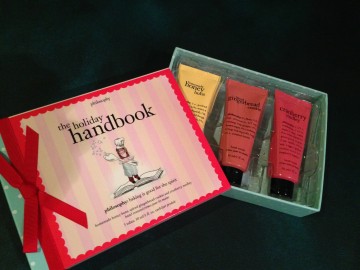 Philosophy has the holidays all wrapped up in a perfect little box! The Holiday Handbook ($20) includes three festive hand creams (30 ml each) that smell as yummy as they sound! Honey Buns, Gingerbread Cookie, and Cranberry Medley are holiday favourites. Available at Sephora, Shoppers Drug Mart and online at www.philosophy.com

19 Crimes is the 'bad boy' of wines – it seems like we can't get enough of  this premium Australian wine! Made exclusively for Canada, 19 Crimes first debuted in 2011 bearing the mug shots and true stories of convicts. The winery takes its names from a list of 19 Crimes drawn up to address the problem of overrun jails. Upon conviction British rogues guilty of those crimes were sentenced to Australia. It was 'punishment by transportation' rather than death. This line  is a true conversation starter and this gangster-inspired video: How to Braise a Lamb Shank and Get Mickey to tell you Where the Goddam Money Is just adds to the fun! It's good ol' tongue-in-cheek 'Good Advice from Bad Guys' just fuels the interest. Each of the 19 Crimes wine features one of five collectible corks. "Everybody loves a good story over a great bottle of wine. 19 Crimes is that story and that wine," says Paul Dahlenburg, Winemaker, 19 Crimes. www.19crimes.com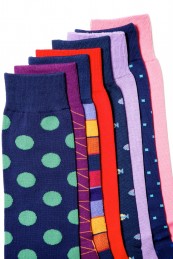 Fun statement socks are still all the rage for men and women! No shortage from SockingBehavior.com with popular brands like HappySocks, Corgi, Daniel Bochler. Even my boy-friends on Bay Street are having fun showing a bit of personality with colourful prints and patterns!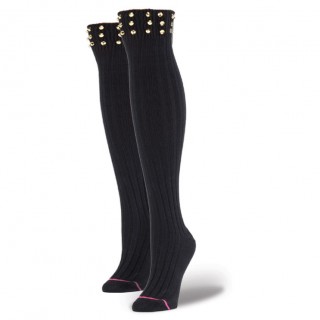 Speaking of statement socks, I'm totally crushing over these black over the knee socks with gold studs. The "Limitless" ($24) is made by The Uncommon Thread – Stance Socks. perfect with the boots for that little extra rock glam chic. www.stance.com 
Green & Black's Organic Chocolates – who can resist chocolate…actually really good chocolates! Perfect for a a little treat or used for desserts! This line of organic and fair trade chocolates have some wickedly good flavours like Spiced Chili or Burnt Toffee- try it in your next hot chocolate! This assorted box of miniature bars will be welcomed in any gift exchange. www.greenandblack.com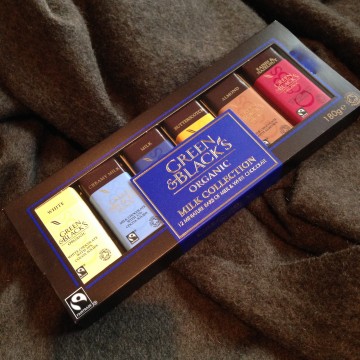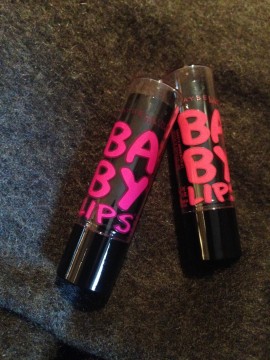 BabyLips LipBalm by Maybelline New York – it's getting seriously cold out and that means dry, chapped and cracked lips. Ugh! BabyLips lip balms are perfect. I actually have one in every purse and even in my coat pocket. With a hint of colour and moisturizers your friends will thank you …they may just even kiss you! New to the BabyLips line is Dr. Rescue Medicated Lip Balm. It helps heal dry lips and seals in moisture for 12 hrs. Available at nationally. www.maybelline.com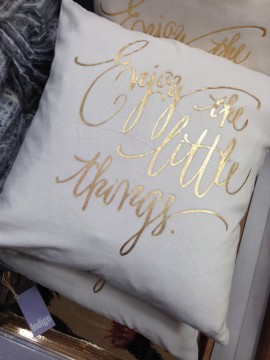 Accent Pillows are everywhere and the price points are great. I spotted this one at Chapters Indigo and picked up a few for this season. I've already given away one and my friend absolutely LOVED it! Perfect to spruce up any home decor.($39.50 online but check for promos)  www. chapters.indigo.ca
Winner of the 2013 Scotiabank Giller Prize and listed as The Globe's Top 10 books of 2013,  Lynn Coady's HELLGOING offers nine short , but unforgettable stories, that makes this a conversation inspiring gift.  ($19.95 list price published by House of Anasi Press/paperback)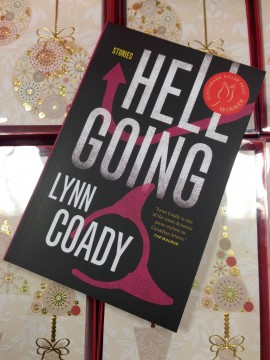 Everyone is up a little later this holiday season either at parties, baking, wrapping presents, getting ready for Santa so we need these! MASKER AIDE Hydrating Facial Sheet Masks are perfect little fun and useful gift ideas that both men and women secretly want. ($5.99 each) www.maskeraide.com