It was a gorgeous summer day and a nice retreat away from the bustle of city smog. PEI is so relaxed and charming with fabulous restaurants and shops. Yes, even those Anne of Green Gables themed stores were sweet. But we were there on a mission. Along with a handful of journalists, we were shuttled to Michael Smith's house an hour or so outside of Charlottetown.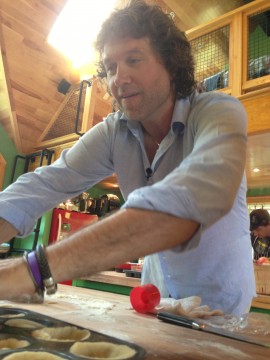 We were ready to get busy in the kitchen and I was super excited as I learned we were going to make butter tarts!  I've been obsessing over them since my visit to cottage country mid-summer. The gooey sweetness just makes my mouth water.
And that's the first thing I said to Smith. "I've been looking for the perfect butter tart recipe!" I blurted out at him and he laughed. But then he says, "Well, how can anyone measure perfect?" he responds.
"Oh?" I said to myself, as I slouch back from the kitchen counter.
So, lesson number one:…Perfect is subjective. You could have a great experience associated with one particular thing whether it's a food, travel, or whatever that influences what you would consider perfect.
Okay…so, let's not call it the "perfect" butter tart but THIS recipe that Michael Smith has shared is pretty darned AMAZING!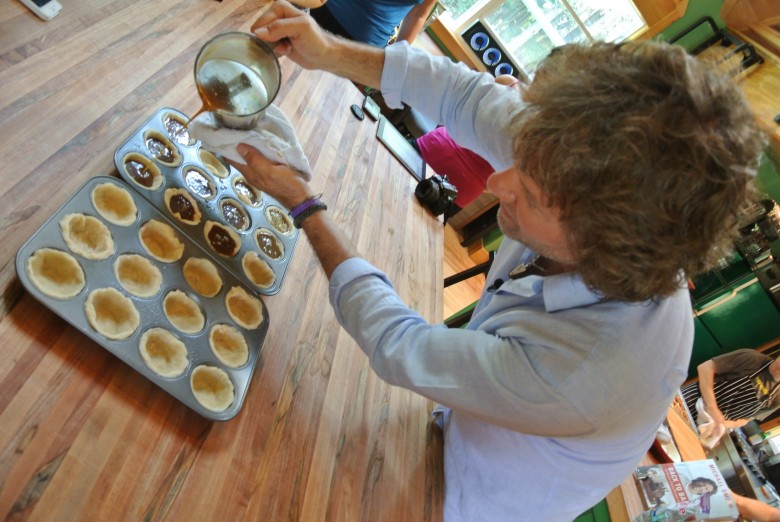 BROWN BUTTER MAPLE TARTS 
From Back to Basics © Chef Michael Smith 2013
Can you monkey with a classic? Is it allowed? Sure, but be prepared to justify your actions. Argue that brown butter has ten times more flavor than plain melted butter. Affirm that anyone can make plain pastry, but you prefer nutmeg-scented butter pastry. Assert that the corn syrup in normal butter tarts is bland, that maple syrup is much tastier. Stand your ground and watch as the end justifies the means.
Makes 24 tarts
For the pastry:
3 cups of all-purpose flour
1 cup of sugar
1 teaspoon of freshly grated nutmeg
1/2 teaspoon of salt
1 cup (250 mL) of rock-hard frozen butter
1/2 cup of ice water
For the filling:
2 cups (500 mL) of butter
1 cup of real maple syrup
1 cup of brown sugar
4 teaspoons (20 mL) of vanilla extract
4 eggs
1/4 cup of all-purpose flour
Preheat your oven to 450°F and turn on your convection fan if you have one. Lightly oil a standard muffin pan.
First make the pastry. In a large bowl whisk together the flour, sugar, nutmeg, and salt, evenly distributing the finer powders amidst the coarser ones. Grasp the butter and firmly grate it through the large holes of a box grater into the flour below. Working quickly, toss the flour and butter shards together with your fingers until the fat is evenly distributed throughout the flour. The cold, separate pieces will yield dividends in flavor and texture as the butter creates flaky layers of pastry.
Sprinkle the ice water into the works and stir into a dough mass with the handle of a wooden spoon. Working quickly so the heat of your hands doesn't begin to melt the butter, knead the works a few times until the dough gathers up all the flour in the bowl. Fold it over a few more times to add a bit more strength to the dough and a few more flaky layers to the pastry.
Flour your hands, the dough, the work surface, and a rolling pin. Roll the pastry out into a circle about 15 inches (38 cm) wide and 1/4 inch (5 mm) thick. Using a 3-1/2-inch (9 cm) cookie cutter (or an empty 19-ounce/540 ml can with both ends removed, or the ring from a wide-mouth canning jar), cut circles from the pastry, as many as you can. Form a pleat along one side and fit the pastry into the muffin cups, evenly filling each cup right to the rim. Gather up the remaining dough, roll out, and repeat.
"Can you monkey with a classic? Is it allowed? Sure, but be prepared to justify your actions."
Now craft the filling. Brown the butter by melting it in a saucepan, then keep on cooking it, swirling gently. Eventually the moisture in the butter will heat, steam, foam, and evaporate away. Once that moisture is gone, the butter fat left behind can rise in temperature—past the boiling point of water—into the browning, flavoring zone. Take it as far as you dare—the deeper the color, the deeper the flavor—but be ready. The line between brown and burnt black is crossed quickly, and turning off the heat to stop the cooking isn't enough. Pouring in the maple syrup will do the trick, though. Cool for 10 minutes. Whisk together the brown sugar, vanilla, and eggs then whisk into the butter as well. Lastly, stir in the flour.
Evenly divide the filling among the pastry shells. Bake until the pastry is beautifully browned and the filling partially sets but stays a bit runny, about 12 minutes. Cool slightly until you can remove the tarts from the pan. Serve and share!
Kitchen Tip:
It's easy to assume that recipes are written in stone, that a dish can't change because "that's the way it's always been done." It's also easy to see cooking as an opportunity to stir your own personality into your food. The key is to be present, to be watchful, to smell and taste and absorb as many of the clues in front of you as you can. It won't happen overnight, but eventually you'll feel confident enough to spot an opportunity and dream up a twist of your own.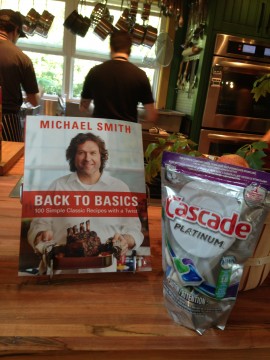 Feel free to print out this recipe! It's a keeper!