We arrived at Chef Michael Smith's house in PEI. It's a very tall property as you would expect. There are old and colourful buoys strung from the well-constructed tree fort just to the side of the driveway. A quick glance around and you can tell that this is a home and not just a house. At the end of the driveway we could see Michael on the balcony of the coach house waving at us. "Over here folks, welcome!"  He said to our small group of passionate foodies.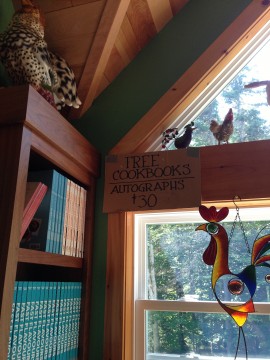 We were there by invitation with Cascade Platinum for an intimate cooking experience with Chef Michael Smith — host of Chef Michael's Kitchen, Chef Abroad, Chef at Home and Chef at Large seen in Canada (Food Network) and around the world.
It's a beautiful property and it is, in fact, his actual family home but it also doubles as his filming studio.  It was also the perfect setting for his wedding just a few days ago. He  had mentioned that he, and his new bride Chas, had 200 guests celebrate at their house. "Yeah, I thought it was a good idea to cook for my own wedding," says Smith. "It was wild! And it took us two days to clean it all up!" Fortunately he has great friends who are also chefs that had helped with some of the cooking "My friends from Grazie in Toronto came up and made fresh pizzas for everyone," he says as he points out his in-house pizza oven. He also had the chefs from Charlottetown's Terre Rouge help him out with some food as well. "Those guys have something really special going on."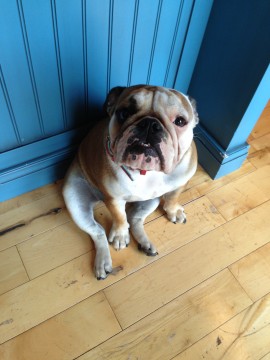 As he's chatted away about the time pieces on his wall and the floor-to-ceiling library of spices stored in mason jars, his dog Penelope was nudging ankles for her few minutes of fame. As I looked down I couldn't help but notice Michael's sea-foam coloured toe nail. "Yeah, my daughter picked out the colour."
He beamed with pride as he talked about his kids Gabe, Ariella, and baby Camille. As he gave a tour of his kitchen he pointed out that baby proofing is now a priority as well as keeping the kitchen clean at all times. He endorses Cascade Platinum Pacs whole heartedly. "Look, to be honest with you guys, I'm not one to endorse products normally. I tend to shy away from that stuff but I actually use Cascade before they even asked me to talk about it," says Michael. He explained that he's a self-professed clean freak and loves being efficient. He mentioned that Cascade works really well and it takes care of your pre-wash, wash, rinse and dry all in one.  And who wants to do all that anyway?
His kids love to get into the kitchen with him and he involves them in the meal preparation whenever they want to get their hands in there. "When I was young my mom always let me play in the kitchen so I see the kitchen as a fun place to be."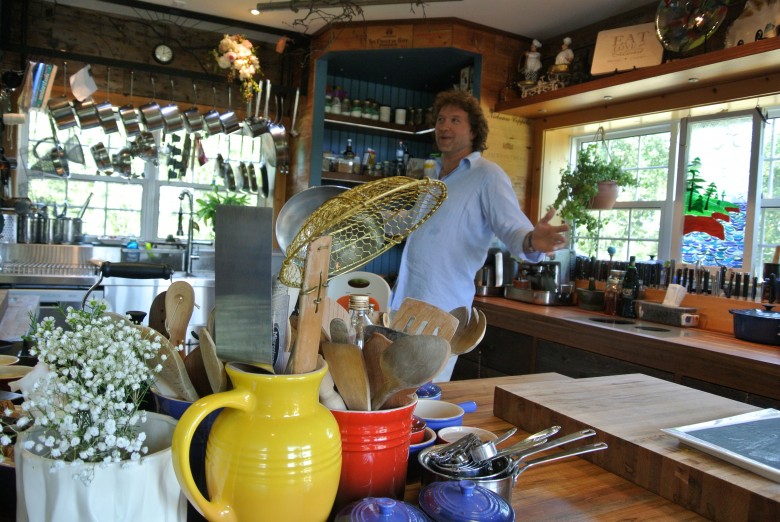 Michael says his kids are always welcomed in the kitchen. All of the sudden realized I'm THAT mom who is always telling my kids to "get out of the kitchen" when I'm cooking. I'm going to change that. "The other day one of the kids broke an egg on the floor," he said. "I knew she felt bad but these things happen. So, I tossed an egg in the air and missed catching it myself." Michael says our relationship with the kitchen shouldn't be of intimidation. Our attitude towards food and cooking is through experiences and inspiration. It all starts when we're young and what our families expose us to.
Michael also explained that being a good cook (and I'm thinking a great parent too) meant accepting that things don't necessarily have to be perfect. If you aim for perfection that means you're also expecting failure somewhere.
It's life. It's not about being perfect.
And the idea of perfection came up again when I realized that we were going to be making butter tarts in his test kitchen. I was super excited! I had mentioned to Michael that I was on the search for the PERFECT Butter Tart recipe — this coming from me who's NEVER made a butter tart in my life! "Well, to be honest, I'm not into the whole perfect thing," he said. "I mean, who's to say something is perfect, Right?"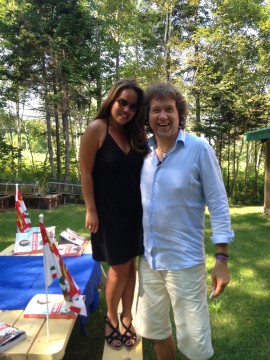 I had tweeted out that we were making butter tarts and someone on Twitter responded asking if he had soaked the raisins in rum first? Apparently, he's known to do that. But on this day, we were using the recipe from his newest cookbook BACK TO BASICS (on shelves next week). Michael laughed and said, "if you just get the basics down, then go for it and make it your own! Add whatever you want. Who's going to stop you?"
As he proceeded with our baking lesson he offered a few tips on making a pretty darn perfect (but I know I shouldn't really say perfect) butter tart according to my sweet tooth!
"It takes a lot of balls to mess around with the Canadian Butter Tart"  said Michael.
I'll be sharing his recipe for this gooey and really, really, really, damn fine butter tart in another post soon! Stay tuned!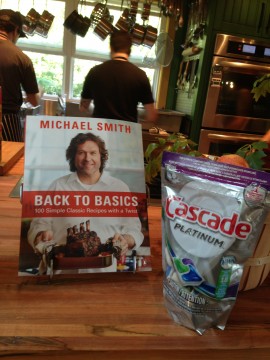 So, what about those Cascade Platinum Pacs?
I was offered a sample pack of Cascade Platinum Pacs and used it immediately when I arrived home last night to a dishwasher full of dirty dishes. Since the dishes were sitting in there for more than 24 hours I popped one in and let the machine run. Cascade Platinum Pacs claims that the pacs are so powerful they even help keep your dishwasher sparkling clean. On dishes it has the grease fighting power of Dawn. It scrubs away tough stuck on food. Eliminates the need to pre-wash dishes. Helps maintain the look of new machines and help prevent additional hard-water film build-up. And delivers spot-free shine. It worked like a charm!
The Cascade Platinum Pacs are specially designed with an advanced triple-action recipe and are available in Fresh and Lemon Burst Scents sold nationally. For more information visit www.cascadeclean.com
This post is not sponsored. Urbanmoms was invited on this culinary experience by Cascade Platinum.