This article has been brought to you by InterContinental Hotels Group (IHG®), one of the world's leading hotel companies. Present in nearly 100 countries, IHG® has 168 million guests staying in 726,876 rooms in more than 5,000 hotels per year and values comfort, quality, and adventures for families.
Ottawa is one of Canada's most beautiful cities, and it only becomes even more spectacular in the fall with the arrival of richly-coloured, vibrant leaves. Plus, the seemingly endless fall-themed events happening around the city make Ottawa the place to be. Pour yourself some cider and grab a maple cookie—these classic Canadian autumn activities are great for all families.
 1. Mountain Apple Orchards
This apple orchard is not only beautiful, but unique in that the majority of the apple trees are descendants of the original McIntosh tree, discovered in 1829. Discover a new family tradition and pick fresh apples together. Every activity at the orchard is free, from wagon rides to corn mazes, and the only thing you need to pay for are the delicious apples or yummy treats you pick up. Cider doughnuts, apple crisp, and caramel apples are worth it!
2. Upper Canada Cranberries
Just over 10 minutes south from the Ottawa airport, Upper Canada Cranberries will give your family new perspective on how these tart yet delicious fruits are gathered. Lyle Slater, local farmer and owner, surely looks forward to October, when approximately 90,000 cranberries are harvested.  Call ahead to schedule a visit, and be sure to pick up some cranberry sauce and juice or buy them fresh and add to your favourite go-to recipes.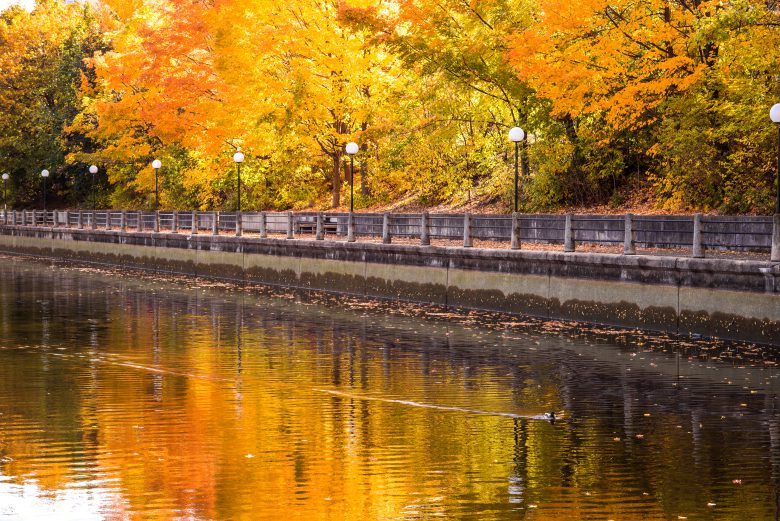 3. Rent bikes and explore Ottawa
With such a diverse range of things to see, Ottawa deserves to be explored. Why not round up the family and check out RentABike? This local business provides the option of escorted tours for those new to city who are seeking to dive deeper into what is offered, as well as self-guided routes for those seeking a more independent tour, You'll bike by the intriguing landscapes, businesses, shops, restaurants, and IHG® hotels in Ottawa. The company offers rentals by the hour, day, or week and a selection of over 300 new adult and youth bikes (each including a bike lock for added security). There are over 170 kilometers of recreational downtown-area pathways to explore on wheels, with popular attractions all along the way.
4. Saunders Farm
Now in their 40th year (and still going strong!), Saunders Farm presents 100 acres of opportunities for fun and family bonding. You'll find North America's largest collection of full-sized hedge mazes, plus giant jumping pillows, special events, and a pumpkin patch hayride through Ottawa's gorgeous countryside. If you have older kids, stick around to get spooked out by the Haunted Hayride or Barn of Terror during October nights.
5. The Byward Market
Shopping locally isn't just on trend, but helps the economy of Ottawa and provides you with fresher ingredients to make your beloved fall recipes. Stop by the Byward Fruit Market for organic produce, European jams, and more. Pick up flavorful cheeses and fresh pasta at La Bottega Nicastro. Top off your meal with a wonderful wine pairing from Wine Rack. The possibilities are endless!
Heading in from out of town? Explore IHG® Ottawa hotels for a welcoming stay the whole family will enjoy.