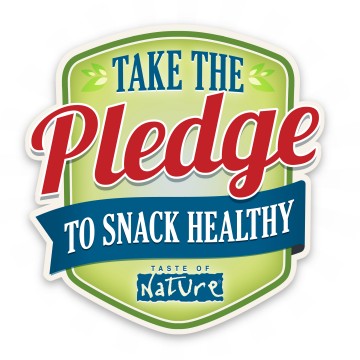 I wrote a few weeks ago about how Taste of Nature had challenged me to replace one snack a day with a Taste of Nature bar. I've been incorporating these bars into my days very easily, and you're unlikely to find me without one in my purse when I'm out and about.
I've had them sitting in the arena stands while I watch my daughter's 7am practice. I've munched on one at 9pm while I waited for my son to finish his indoor baseball training. I've used one to get me through a long morning at work, when I wasn't able to get away from my desk to eat until mid-afternoon. They've been lifesaving snacks, but more than that, these bars have a lot going for them.
Taste of Nature bars are 100% certified organic, Non-GMO Project Verified, certified Gluten Free, certified Low GI, Vegan and Kosher. Best of all: the bars taste great, while providing all the good stuff you want, such as high fibre and healthy carbohydrates, without the stuff you don't want, like additives, artificial flavours and fillers. They are a source of energy, fibre, protein, essential fatty acids, omega 3 fatty acids, and vitamins, minerals and trace elements that occur naturally in organic foods. Real tastes good.
The Taste of Nature flavour line-up includes California Almond Valley, Brazilian Nut Fiesta, Quebec Cranberry Carnival, Niagara Apple Country, Argentina Peanut Plains, , Nova Scotia Blueberry Fields, , Canadian Maple Forest (my personal favourite!), Caribbean Ginger Island, Himalayan Goji Summit, Mediterranean Pistachio Passion, Persian Pomegranate Garden, Polynesian Coconut Breeze, and Louisiana Pecan Parade.
They're popular not only with my husband and I, but with my teen sons as a pre-practice or post-game snack. Their only drawback is that with all of those fresh nuts, they are not school lunch material.
Our friends at Taste of Nature don't want you to simply trust my review; they want you to take the pledge yourself, and also offer you a chance to win a prize pack of Taste of Nature products.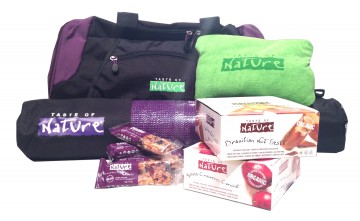 Simply leave me a comment below telling me when you find yourself desperate for a snack. What time of day do you find yourself looking for a sweet treat? Leave a comment below and one lucky UrbanMoms member will win the entire Taste of Nature give way, including a variety of bars, yoga mat and bag, valued at over $200.
This post is sponsored, but all opinions expressed are my own.