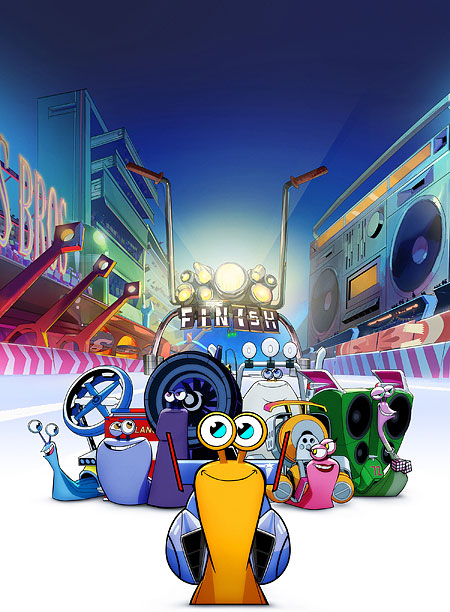 Who better than a kid to tell you what they really think? So it was with this idea in mind that I enlisted my 10 year-old as a guest critic for an upcoming kids show.
I was sent a few episodes of a new series for kids called
Turbo FAST
to get a sneak peek
.
  It's an original Netflix series based on
Turbo
– the popular DreamWorks movie. As I
wrote earlier this month
,
Turbo FAST
digs deeper into the crazy personalities of the snail crew who love to race. It features 2D design to create a stylized look reflective of the Stunt Team's fast-paced, souped-up world. In total, there will be fifty-six 11-minute episodes available for viewing and we checked out the first three.
My son has never seen the film so I wondered if that would matter. Tuns out, it didn't. The bottom line? He really got into it! Watching a few episodes back-to-back (rather than having to wait in-between) was definitely a plus, as he got more into it with each installment. Not having seen the film, it took him a while to warm up to the characters and learn who was who. But by the second episode, he was into it.
The shows feature a race of some sort or a challenge and have a villain. Usually some interesting creature – such as an insect – that our troupe of heroes have to outwit.
My son loved that there's a racetrack in the little town in which the snails lived. And that they are scared of salt but love tomatoes. For some reason, he found that last point hilarious! His favourite character? Chet, the ambulance snail "because he's cute".
Here's what the little guy had to say:
"It was fun and energetic. I thought it was a good story line and I liked it because there is always something new. Some new bad guy, some mystery. I like that the main snail characters are all different and have different powers. Why can't we see more episodes? I kind of want more now."
So there you go. It was a hit with him. Will it be with your kids? Find out for yourself when the first five episodes are streamed  on Dec. 24 at 12:01 a.m. Additional installments will be added throughout the year.