We saw a trailer for the Yoshi's New Island game at the movie theatre recently and my son put it on his "wishlist" immediately!! Yoshi was introduced by Nintendo the early 1990s as a support character in the Mario series but it was only a matter of time before he had top billing with his own series of games.  Today, this dinosaur-dragon-ish figure is loved worldwide by gamers and toy collectors alike. And what's not to love?I mean, just look at him! Too cute!
For my son, this new game offered up straight forward and good clean fun. It didn't take him long to grasp the challenges and concepts. In Yoshi's New Island, little Mario Brothers need Yoshi to help them out.  Along the adventure, the player (Yoshi) can eat up the bad guys and throw eggs. Giant eggs can get through bigger obstacles and roll through bigger spaces to make way. Think that's fun? Yoshi's got to carry Baby Mario on his back as an added challenge!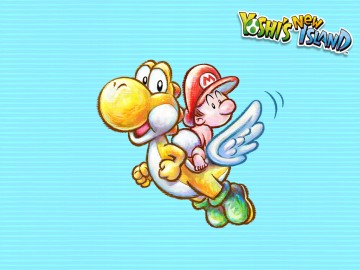 The new island has more secret areas and challenges. The story starts off by visiting a magical land where storks visit and pick up the babies to delivery to their new happy homes. Baby Mario and Luigi are brought to their new place but soon discovered that the stork delivered them to the wrong address. While in transit Baby Mario is accidentally dropped into the sea and is saved by Yoshi. Phew! Now Yoshi has brought Baby Mario to Egg Island where the Yoshi clan lives. They take turns caring for Baby Mario. Baby Mario and Yoshi go on a quest to find Baby Luigi but need to keep an eye out for any obstacles since Baby Bowser has also made this his home and has created havoc on the island.
My little guy said, "I like how you can turn into a bobsled, hot-air balloon, helicopter, drill or a submarine," as he walks through magical doors and use the controls to steer through the obstacles. "You gotta watch out for the bad guys. There are fishing guys that try and steal Baby Mario!"
Little guy loves how Yoshi eats watermelons and spits out seeds at the opponents. Flutter wings give Yoshi the ability to fly and grab more gold coins to get more lives. It's kinda cute when Yoshi gobbles up an enemy and yeah… squeezes out an egg on the other end. LOL!
"I like that you an make a giant egg and destroy anything in your path."
Little guy has been playing on his own so far but you can team up in 2-player mode by unlocking 2-player minigames throughout your journey. Connect with  another friend by using local wireless or download play. It's cute as two players can work together on challenges like popping balloons and fluttering to grab gold coins.
Like many games out these days there is so much to explore and Yoshi's New Island is still revealing new fun each time he plays it. I also love the illustration-like graphics that brings back a feeling of nostalgia and simplicity to the game. A nice change that is kid-friendly and softer to the eye!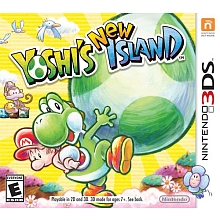 Yoshi's New Island is available for Nintendo 3DS.
This post is not sponsored, nor was I compensated. This game was provided for review purposes only. As always, all opinions expressed are my own (and my kid's).