Step aside Nancy Drew, because there's a new detective in town—Ruby Skye!
If you're on the hunt for a movie your young tweens will love, this Canadian-made flick will definitely get your stamp of approval. Ruby Skye P.I.: The Maltese Puppy is a fun, entertaining detective-mystery and a definite must-watch for the whole family.
In the third installment of the series, Ruby finds herself in the middle of a whirlwind, trying to solve multiple mysteries at the same time. It all begins when she stumbles upon a crime scene—there's been a burglary at a local charity. Being the naturally curious teen that she is, Ruby immediately makes it her mission to find the culprit of this crime. But as she tries to solve the case, the appearance of a mysterious (but incredibly cute) puppy complicates things further. With no owner in sight, Ruby's sister Hailey, temporarily adopts the little pup until they can find his real home. But as Ruby begins to piece these mysteries together, she soon discovers that they are a lot more connected than she originally thought.
The driving force behind the series is none other than Ruby (Madison Cheeatow), an endearing, smart, tech-savvy teenager with a contagious curiosity that you can't help but love. However, sometimes that curiosity gets the best of her, getting Ruby into some messy situations. But with her strong moral compass leading her throughout the film, Ruby's need to right wrongs, especially when they're of her own doing, is an admirable trait and great lesson for her young viewers.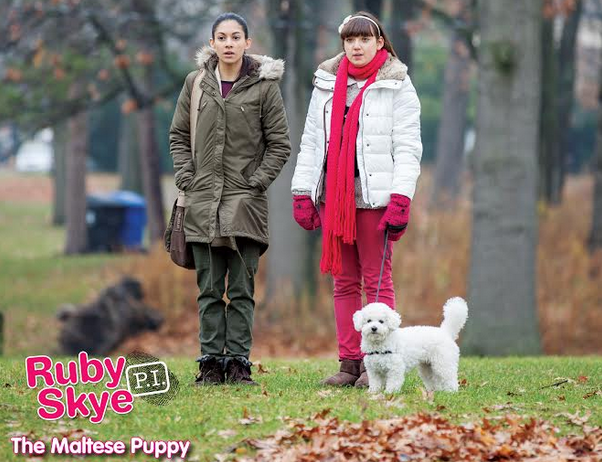 Supporting Ruby is a cast of diverse and quirky characters that really bring this movie to life. The smart dialogue and comedic timing is a welcome bonus that will surely keep your tweens laughing. But of all the characters, the relationship between Ruby and her sister Hailey (Marlee Maslove)  stands out and is very reminiscent of Anna and Elsa's relationship in the mega blockbuster, Frozen. Much like that movie, Ruby and Hailey's relationship is a major focus of the film. Like most sisters, they fight, they bicker and get on each other's nerves but at the end of the day, they still display a close and strong sisterly bond. For example, when Hailey unexpectedly disappears, Ruby immediately goes out to look for her, proving that no matter what the obstacles, they're always there for one another.
Ruby Skye P.I. wastes no time establishing the mystery and going straight into the storyline. It's a fast-paced movie but finishes off with every loose end tied, leaving no questions unanswered. And while this is the third installment of the series, you don't need to watch the others to understand what's going on. This digital web series turned movie was made so viewers can dive right into wherever they decide to begin.
There's a little something in Ruby Skye P.I.: The Maltese Puppy for everyone. While the focus of it may be a mystery, the film is   laced with tidbits and subplots every young teen can relate to. From boy crushes, sibling drama, and dealing with bullies—it's a fun watch everyone can enjoy.
So if you don't know what to watch next weekend– mystery solved! Pop some popcorn and make it Ruby Skye P.I.!