I've been wearing the Apple Watch for over two months now and putting it to the test. When it launched back in the spring, I was really curious to see if it lived up to the hype. So, is it worth the investment?
In a recent surveys conducted by Wristly, there's been a high rate of satisfaction reported by Apple Watch users contrary to speculation. An interesting article was written by Ben Bajarin on the research findings conducted on over a thousand people within their Apple Watch Owner Network. People surveyed reported a staggering 97% customer satisfaction level on the Apple Watch. What I found interesting was those who participated in the survey panel were not all the "techie" folks but it also included regular consumers. In fact, Bajarin had reported that 53% of those were considered enthusiasts—people who don't work in the tech industry an don't consider themselves as "techies" who are more mainstream. Bajarin continued to survey Apple Watch wearers as he spotted them in the public and his observations were noted in his article.
As I've been wearing the Apple Watch, I've had friends, family and complete strangers stop me on the street with much curiousity. I admit to feeling like a  bit of a "rock star" with the Watch but I'm starting to notice them more now on others while I'm out. So, what are people most interested in finding out?
Here are some  of the most questions I'm getting that may help if you're still considering one.
First question is always, "How do you like it?" I honestly love it. But why?
First and foremost, it gives me peace of mind when I don't have access to my phone. If I'm in a meeting, I know it's rude to have my phone out. But if my kids need to reach me, my Watch will give me a discreet tap on the wrist should a text, email or call is coming through. I can quickly check at a glance to see if it's my kids just by looking at the face. If it's important I can excuse myself and deal with the situation promptly. But I can also quickly respond with pre-loaded text messages. I've found this the most useful in other places where I couldn't (or shouldn't) have my phone out in the open like at the movies, theatre or restaurants.
Do you need an iPhone to use it? Yes. It only works with iPhone. It actually pairs via Bluetooth with an approximate 30 metre range. So if you are on Android or Blackberry, this is probably not the watch for you!
What can it do? Your most useful and daily routine stuff that you would use on your iPhone is adapted to the Watch. Aside from receiving emails, texts, reminders and Messenger notifications and checking your calendar, you can also accept calls and speak immediately into the Watch. Yes, you'll feel a bit like James Bond. You can also view your photos and take even better selfies with it by setting up your iPhone to take a photo then stepping back and tap the photo to control the shutter. You can personalize the apps to view on your Watch. You can also control your music playlist right from the Watch. Something I've found very handy at the gym (I use wireless earbuds) and out on public transit. I've also appreciate the reminders to get off my butt and move around after 50 minutes of being still.
How do you type on it? You don't. It's a watch. BUT pre-loaded quick responses like "can I call you later?" are just a tap away. You can also use voice to record your reply and simply tap to send the message as a voice recording or text.
What about the Apps? There are currently over 3500 apps available to download for the Apple Watch and many more coming as developers race to get on their especially since the consumer response has been healthy. Apps are personal and personalized based on individual needs.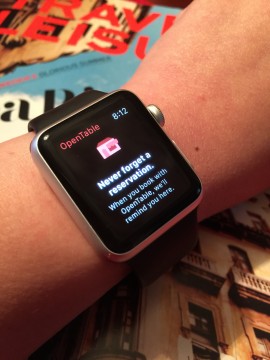 My most used apps so far…
Uber
OpenTable
Yelp
Instagram
Shazam
Weather
Starbucks
Four Letters (game)
Is it really necessary?
It certainly has offers me not only peace of mind as mentioned but it also gives me a little more freedom believe it or not! You'd think it would make me more accessible but in fact, what it's done is free me up from staring at my phone. How? Well, think about how you use your phone. You just want to go just check your email…then you start wandering to check Twitter, Instagram, Facebook and instead of glancing quickly for important messages you've been sucked into a half-hour of staring at your phone. With the Watch I simply glance and I'm not tempted to keep trolling. So while it isn't essential, I have loved having it and appreciate the positive changes it has made in my life.
Do I feel safe with it?
I was worried about it at first since I do ride public transit a lot that it would be attractive. However, someone pointed out to me that it's better than having my phone out for several reasons. Your phone probably costs more than the Sport Watch model and  if the device is removed from your wrist it will automatically lock and the information is not accessible. So more peace of mind. (You may have heard of some Apple Watches costing upwards of $15,000? That's because people have customized theirs selecting different strap and metal combinations. A Sport model is perfect for me, plus I have several strap colours to change around when needed).
When I had first started wearing the Apple Watch I wondered how quickly the novelty of this device would wear on me. I'm pretty surprised that it has stuck with me and I'm continuing to discover what it can do. The Watch has lived up to the hype and I'm looking forward to the fall updates to see what else this baby can do! (This fall there will be an upgrade to the operating system (watchOS 2) and there will new features, watch face options and even more apps.)