For years we've struggled with the idea of travelling over the holiday season. We've had great experiences travelling to tropical paradises, ski getaways and everything in between during this time of year. It was always great to escape with the kids and each destination offered something wonderful and different. But this year, we couldn't get away and, to be honest, I was short on time. So, this year we opted for a "staycation."
I admit to hesitating on booking a staycation. I wondered if it could actually give the feeling of a vacation without leaving the city. Would it be enough of a break to reboot me into the new year? After the months of prepping for the crazy holiday season I think we all need some sort of break.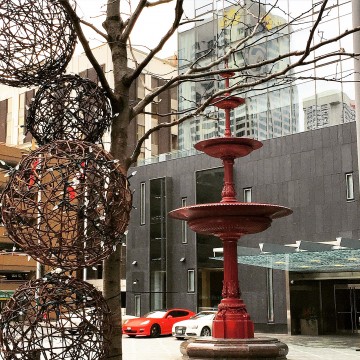 After some research I had to surprise my family, as a Christmas gift, with a weekend getaway at the Four Seasons Hotel in Toronto. We've never tried a staycation so hey, since we're saving on airfare we indulged just a little but within in reason.
"Surprise!" I delighted on Christmas morning to my family! At first, my older son scratched his head. "I don't get it, so we're at home but we're at a hotel?" A teenager is probably the toughest one to please, am I right?  The 10-year-old is happy-go-lucky and loves almost everything. Anyway, we packed our weekend bags and jetted down to the hotel in the glitzy Yorkville area.
When I booked the hotel I was asked what we planned to do during our stay. I jokingly said that I really actually don't want to make any plans and want to make the most of a luxury hotel experience and NOT LEAVE.
For three unhurried days and two fun nights we took full advantage being tourists in our own city and made the Four Seasons Hotel the destination—since it's rated 5 Diamond CAA & AAA as well as Forbes Travel Guide 5 Star Properties in the World 2014, we absolutely made the most of it.
So, here's how we made it the best staycation ever….
PLAN A MOVIE NIGHT:  While there's a movie theatre located a few blocks away from the hotel, it doesn't always have family-friendly movies playing. We decided that an in-room movie night would be a better idea after seeing the selection available. The hotel staff had everything set up for us in the room when we returned from dinner including a buffet of popcorn, candies and soda pop (from the Pop Shoppe, remember them?) and tea for mom and dad. The kids loved getting into the PJs and cozying up in the room.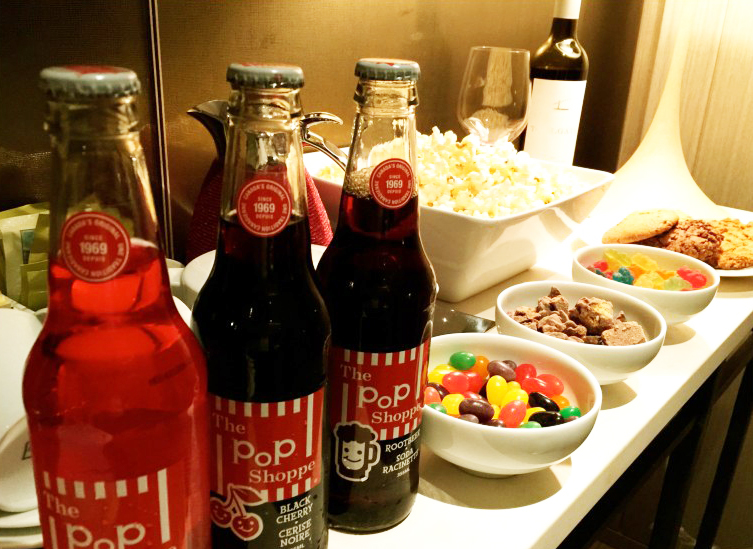 POOL WORTHY: Like any vacation, a pool area is a must for our family. That's always on my checklist when booking. The Four Seasons' indoor pool is located on the 9th floor (also where the spa is located) with a great view of the city. It also features a smaller wading pool for little tots. The relaxing jacuzzi hot tub area is where I spent most of my time.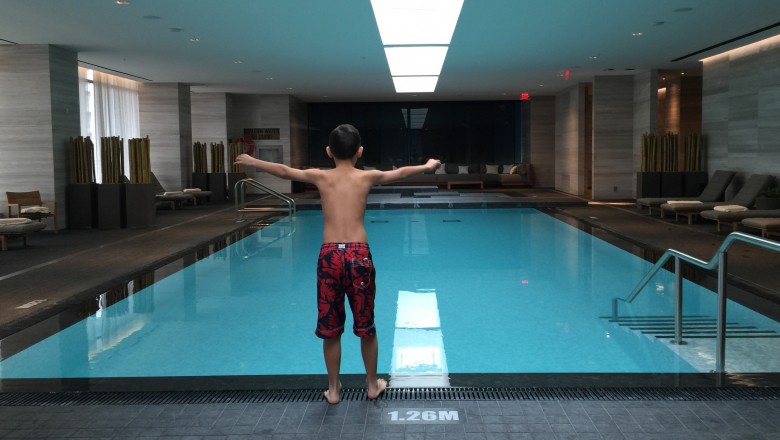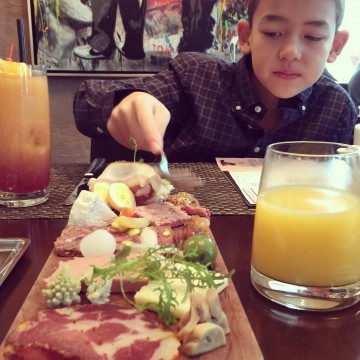 WEEKEND FAMILY BRUNCH  EXPERIENCE: We invited family down to join us at the hotel for brunch. It was a great way to get Grandma and Grandpa in for a visit (bonus, we knew they hadn't been there before). Cafe Boulud is somewhere I've been several times for brunch and dinner so I knew that the service and quality of food would be spot on. There are all-time menu favourites like Eggs Benedict but it's definitely worth exploring other dishes that have made this particular Daniel Boulud restaurant a go-to. Definitely get the charcuterie starter or the Duck Egg and for mains you'll want to try the outstanding Duck Confit Hash. Bonus points: there's an affordable kid's menu for little appetites available that offers the usual kid-friendly foods but also some options like "egg in a hole made with brioche toast" that sounds all grown-up that my little foodie gravitated to. Plus he shared my charcuterie board appetizer. Everyone was pleased.
ROOM SERVICE: You can't stay at a hotel without room service for at least one of the meals. It's actually perfect for families as you can just stay in your robes and pajamas and have everything come to you. Ordered the night before on the in-room iPad we could take our time in the morning.
WHERE ELSE TO EAT:  While you probably will eat some meals in the hotel, explore the options in and around the area. Just a step out the door is the relatively new BUCA Yorkville restaurant (casual, upscale) that offers coastal Italian fare. Chef Rob Gentile's menu consists of hand made pastas, wood oven thin crust pizzas (comes with scissors), and amazing pastries. In Yorkville, you can opt for many choices including delicious Peking Duck At Dynasty Chinese Cuisine; fun teppanyaki tables where chefs cook on grills at Yamato Japanese; adorable tucked away chocolate lounge and bistro MoRoCo Chocolat; traditional and very fresh sushi at Shogun; amazing traditional French cuisine at La Societe on Bloor. Venture for a walk further on Bloor Street West and you'll go through the Annex area with a wide variety of restaurant choices like Guu Izakaya for Japanese comfort foods with a modern touch; and Ka Chi for an affordable and fresh Korean meal (try the pork bone stew). If you want a 50s diner experience complete with rootbeer floats and milkshakes then you'll want to check into Flo's Diner just a block away. Just a block north around Avenue and Davenport is a great casual Mexican spot we love called Playa Cabana Hacienda.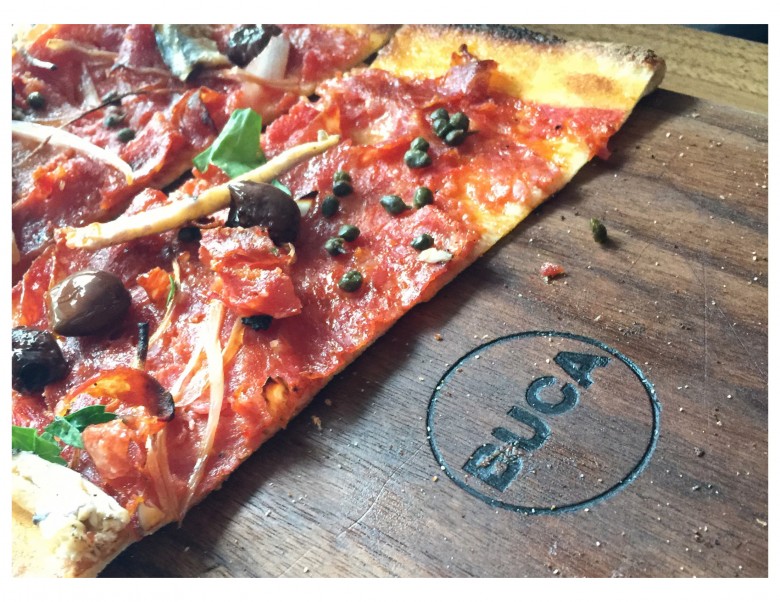 WHAT TO SEE: If  you have little budding artists, the hotel itself has an incredible art collection several local and internationally acclaimed artists. There are several original works of art in Cafe Boulud by Mr.Brainwash. The Royal Ontario Museum is steps away and always worth checking out with the kids. Weekends often have special events and hands-on activities for kids. The Discovery Centre gives kids to "excavate" dinosaur bones and you won't want to miss the Bat Cave!  The Bata Shoe Museum also fun to check out if you have time where you'll find shoes on display from various eras as well as those worn by pop culture and sports celebrities. We had a great chat about the history of  Chinese foot binding. In our hotel room there were also a few suggestions listed like what shows are currently on stage at various theatres, sporting events, and other great events happening in the city.
WHERE TO SHOP: Of course Yorkville is full of shops waiting to lighten your wallet with high end fashion spots like Chanel, Louis Vuitton, Mulberry, Gucci and the massive Holt Renfrew. Visit the Shops in Hazelton Lanes (a mall tucked in between streets with a main entrance on Avenue Road) where there's my favourite TNT Woman and Man shops are located as well as a Whole Foods. But also spotted along the area you'll also find the beautiful home decor store Teatro Verde, the stunning flagships for Pink Tartan and Club Monaco set in historical buildings. You'll also come across popular Winners, Zara, JCrew, and H&M. Take in the quaint Yorkville Lane and discover great finds at Kate Spade, Tanya Heath Paris, and Augustina.
What Wow-ed us? The little details are impressive at this particular hotel including…
TV in the MIRRORS in the BATHROOMS!
pint sized bathrobes and slippers for little kids
age-appropriate welcome amenities for the kids
we were greeted by name by several staff in the hotel
the ability to book connecting rooms so the kids could have their own space (and their own TV)
the dbar was open late  *wink*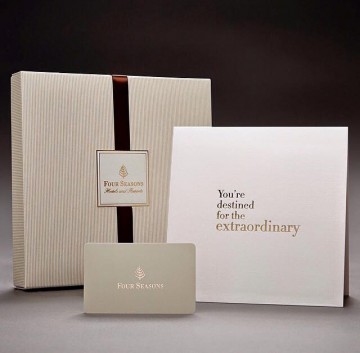 Did our staycation feel like a vacation? Absolutely! Yes, even our teen! We explored the city by foot like we would in any other city we'd vacation at and take in the sites along the way. We weren't rushed. We all slept soundly and we unplugged for time to be together as there was so much to see and do! …plus I didn't have to cook or clean!
That's what holidays are all about, right?
Have you ever had a staycation experience?