Our two boys are very different. One loves rides and the other…not so much. So, as much as I would love my kids to experience the magical world of Disney, it was not the easiest decision to make. What is there to do besides rides for my little one to make this a magical trip for everyone? I had started planning out a trip to Disney World. I had taken my older son when he was 12 for his first vacation and it was hands-down the "best trip of my life" as he mentioned several times. We definitely got our money's worth.  Now with the younger one, I knew it would be a different type of trip….no rides. None. No way! So, would it be worth it? Well, we put Disney to the test recently.
To plan this trip, I kept in mind what my son loved to see and do. I admit that Disney overwhelms me. Friends and family were all quick to offer their tips and recommendations (kinda like being pregnant) on how to take in the theme parks. I had taken their ideas but I also discovered the Disney App that helped us navigate through key points of interest throughout all the parks but left room for our own roaming should we discover something along the way.
What we had also discovered was that the FastPass option wasn't necessary for what he would be interested in. Having kids who are not into in rides saves you considerable amounts of time, and at some popular rides, people told us they were waiting for 45 minutes or more.
Can you make this a magical trip for kids without the rides? Here are some points of interest and tips we had experienced on our most recent trip…
DISNEY EPCOT:
The World Showcase is a whirlwind glimpse at some beautiful countries. While you visit the various places, you get a glimpse of the arts and culture of each. We loved visiting the Japan Pavilion where the exhibition features everything "Super Kawaii!" That is, Japanese cuteness! From anime to art and video games, visitors learn about why some of us are obsessed! I fell head over heels when I saw a sculpture by one of my current favourite artists Sebastian Matsuda. Also, visit the main stage for Matsuriza—a heart-pounding Taiko Drum performance.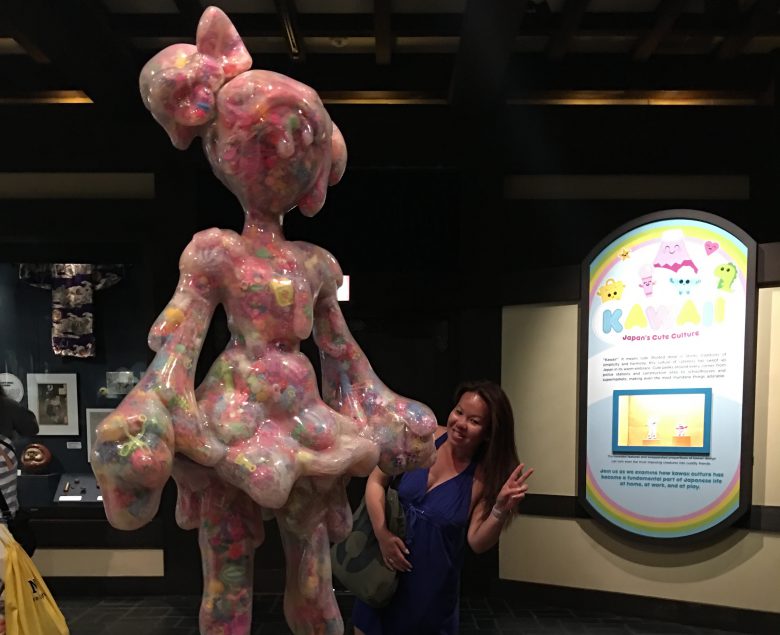 Kids can also enjoy Epcot by participating in the Phineas & Ferb Agent P's World Showcase Adventure and scavenger hunt mission. Kids receive a briefing at the starting point and borrow a smartphone for their adventure in Epcot. The mission offers clues and kids follow along at each world pavilion, unlocking the many secrets that only the kids who participate can reveal. At the end of each pavilion, mission kids can drop off their smartphone in a secret spot or continue to the next country.
The Epcot International Flower Garden Festival is an annual event that happens in the spring season. Scattered throughout the theme park were living green sculptures of popular Disney characters—some were illuminated at night. While many events during this festival may be more appealing to grandma, there were definitely some great play spaces and special events for all ages. Specialty Outdoor Kitchens were everywhere, featuring seasonal goodies to try from France, Morocco, UK, Italy and more.
Since the Finding Dory movie is at the top of everyone's minds, visit The Seas with Nemo & Friends Pavilion. Walk around the massive tanks and spot your favourite sea creatures or discover new ones. Board a very mild "clamobile" to see more.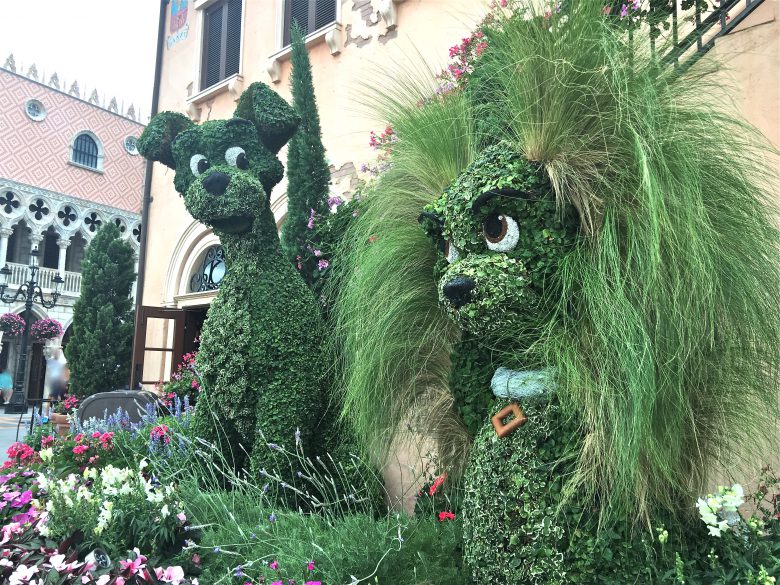 DISNEY'S HOLLYWOOD STUDIOS: 
When we first arrived I already had a few ideas in mind. First stop was to see the Indiana Jones Epic Stunt Spectacular show. If you have invested in a FastPass to book your show times, that's great. But the theatre is massive and people were still filling up seats just minutes before the show began, so there's plenty of space. At this show, visitors get a glimpse at how special effects and stunts are done behind-the-scenes of a movie set. This action-packed, 30-minute show demonstrates basic movie fight scenes and how stunt actors and stunt doubles play their roles.
Star Wars fans will get their fill here. We visited Star Wars Launch Bay and found many artifacts from the various movies as well as private meet and greets of the characters. On our visit, we met with Chewbacca and then Kylo Ren. There's also an opportunity to view rare movie footage that was not in the actual films. You may have heard about the Jedi Training? We had done that a few years ago and it remains a popular experience. Kids (ages 4 to 12)  who want to participate must register in person before the show. Learn how to use the Force, confront Darth Vadar and challenge him to a lightsaber battle. Limited space, so head right there when you arrive at the park for this one.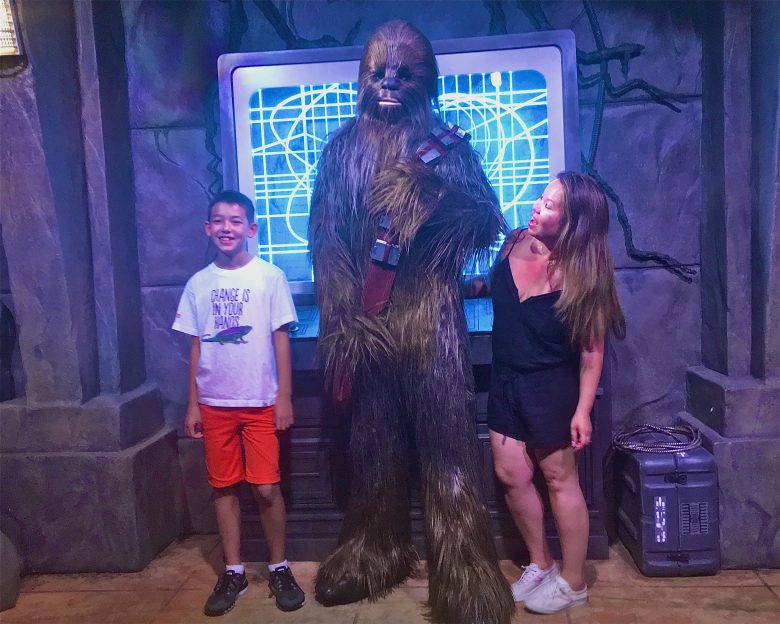 On this visit, I had made a note to check out the sneak peek of Alice Through the Looking Glass that was screening at Walt Disney: One Man's Dream indoor complex. You can bet that we've put that film on the list of movies we need to see in the next couple of weeks. But this building is a treasure trove of items from the Disney Vault. There are over 400 artifacts as well as one of a kind animation art, storyboards, models, props costumes and more. You'll also discover how the theme parks came to be the happiest place on earth.
Kids and adults can "Let It Go" like never before at the Frozen Sing-a-Long Celebration. Relive the story in this fun recount of the movie with special appearances by Anna, Elsa and Kristoff in this 30-minute show.
Starting June 17, there will be a new Star Wars themed fireworks show complete with lasers, special effects, and video projections of iconic characters and scenes from the complete saga.
DISNEY'S MAGIC KINGDOM:
We had finished off our trip with a big finale at night time, in Magic Kingdom with tears of happiness. After a few days of exploring the different theme parks, we relaxed and enjoyed the Disney Electric Parade that had the park lights turned down for full effect. Of course, no trip is complete without the Wishes Nighttime Spectacular fireworks narrated by Disney characters. As we used our Park-Hopper pass this was our last stop and we only had enough time to catch these two incredible experiences that have wrapped up quite the trip. But I know Magic Kingdom has much more to offer.
DISNEY'S ANIMAL KINGDOM:
While we didn't venture to Animal Kingdom this trip, it's definitely worth telling you about the park's new day-into-nighttime experiences that will begin May 27. The park's iconic Tree of Life will awaken each night with a discovery celebration; Kilimanjaro Safaris transition to new nighttime adventures and for the first time, hyenas and African wild dogs will join the safari trail; Discovery River will become the stage for a live music and special effects show inspired by Disney's The Jungle Book and more.
DISNEY SPRINGS:
While you don't have to pay to enter Disney Springs, it's a great destination for dining options including Wolfgang Puck, which has the "best bbq chicken pizza ever," according to my son. The Bacon Wrapped Meatloaf is also a must try. It's home to Morimoto Asia and soon home to more culinary eateries, including Tablas Frontera by Chef Rick Bayless, Homecoming—Florida Kitchen, and Shine Bar by Chef Art Smith.
This area is also home to Cirque du Soleil's "La Nouba," the new B-Boy hip-hop, breakdancing threesome that showcases a mix of incredible moves.
A NOTE ABOUT FOOD:
As mentioned, I have a little foodie, so while Disney absolutely appeals to kids who love their burgers, chicken tenders, and grilled cheese sandwiches, they also have other fun food offerings to put on your little foodie's must-try list. Dole Whip (found at Pineapple Lanai at the Polynesian Resort and Adventureland Magic Kingdom) is the first thing that comes to mind. This soft serve frozen treat is most popular in pineapple but you will also find other flavours. Churros is also a nice treat for everyone and found at several locations. This South American long fried doughnut is sprinkled with sugar and served warm—the best way to have it. Sure you can have the infamous Turkey Leg, but there are great food options everywhere you turn. It didn't take us long to find incredible and authentic Japanese cuisine in Epcot where you can enjoy sushi, bento boxes, and mochi ice cream or take in a Tepanyaki experience. For my little guy, part of the fun without rides included keeping an eye out for interesting food options.
You'll also be interested in checking out "World Famous Jungle Cuisine," served by a wisecracking crew of the new Jungle Navigation Co. Ltd. Skipper Canteen. It's the first Disney full-service restaurant themed after a specific park attraction (located next to the Jungle Cruise at Magic Kingdom).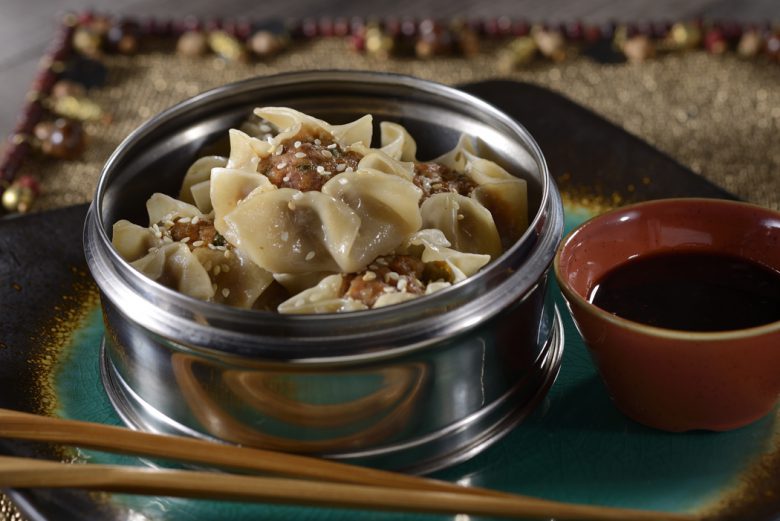 OTHER TIPS:
A Park-hopper pass is actually worth doing with kids who don't like rides. Since you eliminate much of the lining up, you can go through the parks more efficiently and will be able to cover more ground. Meaning, you can do more than one park in one day.
When visiting any of the theme parks, work counter-clockwise since most people will instinctively go the other way. By going this route you'll get the shortest wait times.
Sit down restaurants are often full with reservations for weeks. No kidding! If you're like me and not THAT organized to jump on these ahead of time, be sure to download the Disney app that will also give you any last minute openings. On our recent trip, I noticed an opening at the ever popular California Grill (Contemporary Hotel) right at 7:15pm. Also, I was told that the character breakfast at Chef Mickey was fantastic—that was fully booked but we discovered our hotel also had characters roaming around the dining room during breakfast and dinner every day, so we still were able to get in our photo opps.
And more about that free
My Disney Experience App
. Definitely useful throughout our visits in the various parks. By the way, the Disney parks all have free internet service. The app offers show descriptions and times, ability to upload your Fastpass, lets you know where characters are, gives details of every restaurant including menus and seating availability, and restroom locations. They also have Disney photographers instantly upload photos that were taken (and very cute videos too). It's GPS based so you can track your steps and where you need to be on the map. Use the filters to help focus on each theme park and view age recommendations.
If you're staying on a Disney property, be sure to take advantage of their complementary shuttle bus and other transportation services. The services are efficient and when I inquired about how late the bus schedule ran, one driver told me they kept going "until the park is empty."
There's definitely more to see and do at each Disney theme park beyond the rides to make your visit worthwhile. What are your favourites?