I have a confession to make: I am super envious of anyone with a beautiful singing voice. I would love to be a singer… not a performer mind you, but someone who sings well. That way I could belt out tunes in the shower or harmonize with the car radio without completely embarrassing my child. I wonder if Céline and Beyoncé sing in the shower? I hate to think that they save their voices just for performances. Please tell me that they still dance around the house with a hairbrush?
My daughter's voice is decent, which in itself is miraculous considering her father is tone-deaf and I know enough about music to recognize that I'm not hitting all the notes. She loves singing and I'm hoping that she remains confident enough in her teen years to sing as if no one is listening.
I guess my own creativity comes out in other ways. I do know how to paint and draw, I am a fairly competent sewer and I can fix a mean hairdo. My daughter has taken an interest in some of my craftier projects and when she gets frustrated by her beginner-level skills, I remind her that I have a lot more practice… and that I can't sing as well as she can. She usually agrees with that point. She's not one for telling little white lies.
My husband bought me a sewing machine for my birthday a few years back. I love it. I've tackled (mostly successfully) several patterns and have created a few of my own. I've even finished a quilt and some one-of-a-kind dolls, just for fun. I don't have a lot of patience for sewing by hand, so the efficiency of the machine has been a lifesaver.
Mei Lien, in The Girl Who Wrote in Silk, is an embroiderer whose steady hands help pay the bills in her father's small 1880's Seattle shop where they live together with Mei Lien's grandmother. Mei Lien is deeply loved by her family, which is why it is so shocking when her father pushes her overboard from a ship heading toward China.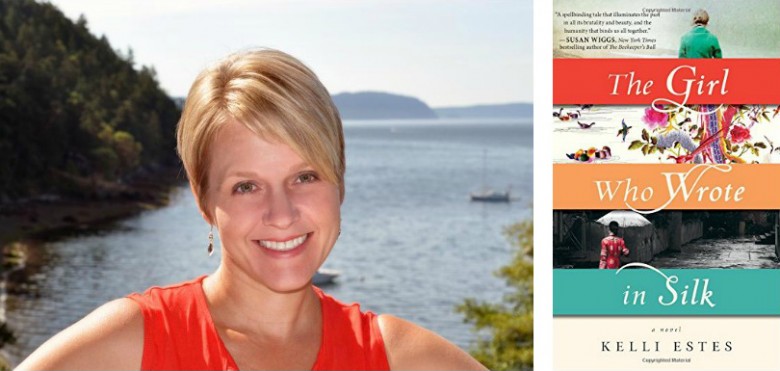 Rescued by a white man, Mei Lien cautiously learns to live a new life with him on Orcas Island. But prejudices run deep, even away from bustling Seattle, and Mei Lien can't disguise her Chinese identity from everyone.
Inara Erickson is proud of her family's history. Her great-great-great grandfather was an original founder of Seattle, who helped build it into the beautiful city it is today. She can't imagine living anywhere else, until her aunt dies and leaves her an estate on Orcas Island. One look at the old house seals Inara's fate: she's home.
When renovating, Inara finds an elaborately embroidered silk sleeve tucked carefully inside a staircase. Clearly decades old, its intricate stitches tell a horrifying story—one that will haunt Inara with questions about both the designer of the sleeve and her own ancestor's role in a city's darker history.
The Girl Who Wrote in Silk is the story of two women—a century apart in time—connected by a piece of land and a secret past.  One remained silent in an effort to save her life; the other's silence guarantees an unsullied family reputation.
But silence weighs heavily on a conscience.
The tragic secrets of the past can destroy the future in The Girl Who Wrote in Silk. Based in part on true events, it is Kelli Estes' debut novel. Sourcebooks Landmark, 2015.