The other day I found myself waiting for one of the kids at while they were in doing one of their extra curricular programs. I had started creating this year's list of people I want/need to give gifts for. Don't ask how long it is…but know I need to get started shopping now! I'm not a big fan of the crowds or the panic shopping. After all, shopping is something I actually enjoy doing, if you haven't noticed already. LOL I also like to really take my time looking for stuff. Often I get that "aha" moment and spot something cool even in September! So, I'll get it and stash it away until the the gifting season time comes.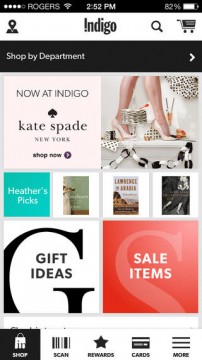 Where was I? Oh right, so while I was waiting for the kid I had downloaded the Indigo Mobile App  on my iPhone. What I noticed immediately was an ability to scan. So, with a little further investigation I realized that this app serves multi-purposes. I can leisurely look through categories on the app as well as being able to scan things in-store for future purchasing consideration! It's a clever idea! I mean, how many times do you run through a store and think,"Oh I should get that for Jen but I don't have time to pick it up right now!" With the app, you can quickly scan the barcode and the item will store on your device. You can categorize it, get more info on it and add to your gift list OR to your own wish list ..ahem honey, that Kate Spade stationery? It's on my list. I am also a Plum Card Rewards card user and now the app allows me to scan the code from my account to my iPhone for easier use. I may not always remember my wallet (yes, that happened this past week) but I never forget my phone! Another great feature on the Indigo Mobile App is that it tracks my purchases and make suggestions/offers that cater to my personal tastes. I may not always have the time to pop into a store  but this is handy for suggesting things that I may not have noticed – especially with the holidays coming.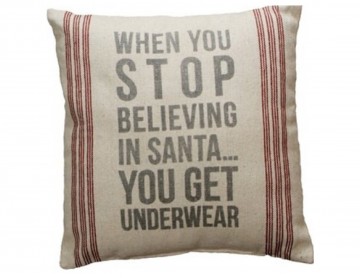 Spotted this great holiday decorative pillow on the site — and for the record, I LOVE getting underwear!
The Indigo Mobile App also allows for online purchases, product ratings, reviews and even lets you check stock levels in-stores.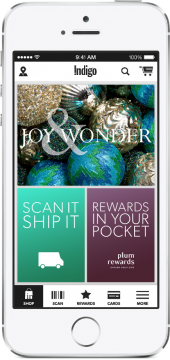 They've thought of everything to tend to your needs whether it be books, home decor, gift ideas or accessories (have you seen their accessories department?!). Now you have access on the go or at home. So, that Chris Hadfield book An Astronaut's Guide to Life on Earth? It's going to be a HOT one this holiday season. I just noticed it on the mobile app! On the list for several people! The Indigo Mobile App is available through iTunes for Apple. It is also available for Androids through the Google Play Store . BTW, for a limited time until December 31, 2013, if you download the app you'll automatically be entered into the Download and Win contest for a chance to win a daily prize of $100 (see the app for details!)