It's been a long week rushing to meetings, making deadlines, going to little one's spring concert and school and rushing off to tennis lessons. So, where do you find the time for each other? You know what I mean? Nudge, nudge, wink, wink!
Katrina McKay is just like you and me. Easy going and fun to hang out with. After meeting her, I soon discovered that she's a Sexpert. Well, that's what I call her anyway. But if you ask her, she prefers the title  "Sexy CEO" and she's been recently featured in Elle Canada for her dirty talk advice!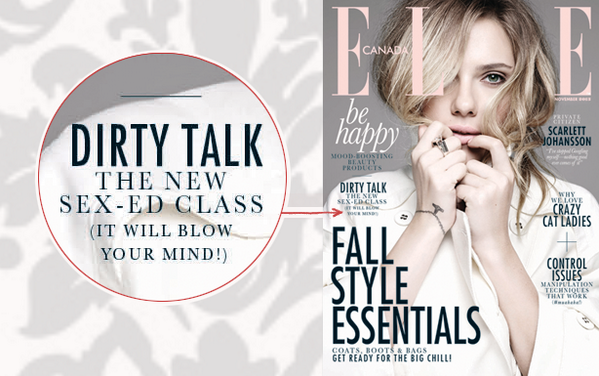 As an entrepreneur and CEO of Ohhh Canada, a "toy" and intimates shop, Katrina loves helping others pursue their passions — both in and out of the bedroom. She travels the world talking about sex and business, and is a big believer in living the happy sexy life. She's someone you can totally feel comfortable with to ask your most intimate bedroom activity related questions and she'll give you her completely honest advice on everything from waxing to playful things. I checked in with Katrina recently at her shop for a little lunchtime chat…
So, let's start by reminding ourselves about the importance of being "lovers" and put aside our parental duties for a moment. Without feeling cheesy or cheap… how can we reignite the passion in our relationships?
Katrina: Hey, daily life gets hectic, and with all of our responsibilities it's tough to get in the mood. Firstly, we all need to forgive ourselves for not being sex kittens all the time; everyone goes through droughts. For married or long-term, committed couples who want to bring a little sexy back, I always suggest starting small — hold hands more often, surprise your lover with a sneak-attack kiss and make time to connect. I know, I know, this all sounds so simple, but little things can make a big difference in how amorous you feel. Our sex drives aren't like light switches — we can't just turn them on and off at will. Remember how you were in the beginning of your relationship? Beyond all the bedroom antics, you also flirted with each other, talked to each other. While you may not have the kind of time you once did, make the most of the time you do have — a thirty second kiss can express as much passion as an all-nighter.
If you're a single parent, it's just as important to express your sexy side as it is for your coupled friends. Every day, do something that celebrates your sexiness. Have a little sexy time in the bath or shower, read an erotic book and wear those sexy panties today instead of waiting for an occasion. Some moms love doing their makeup complete with cherry lips to drop their kids off at school, while others opt for a sweaty dance class. Whatever works for you — do it. And if you're all out of ideas, then start experimenting, and enjoy the process of rediscovering yourself as a sexual being.
Talking dirty… or sexting? Any tips? (assuming our mobile devices are our own and not owned by the company we work for).
 "I think you're sexy – I just thought you should know."
Katrina: Woot! I love sexting so much that I'm dedicating a whole chapter of my upcoming book to the subject. Sexting is a fun way to talk dirty for anyone who's shy. Most of us feel more confident sending sexy texts than we do describing our fantasies out loud. Plus, texts are perfect if you're strapped for time — it takes less than thirty seconds to send one. As for the message itself, go with what feels comfortable, and at the same time feel free to get creative. A word of advice, though — because you don't know exactly what your partner is doing when you send over your dirty text, don't be dismayed if you get a short answer back or no answer at all! If he or she is in a business meeting, the text may still be appreciated, but your partner may not be able to respond! Allow him or her to respond in his/her own good time. Enjoy being the sender as much as the recipient — even without a response, you should still feel a thrill and maybe even goosebumps. It's exciting to talk dirty!
Any "no fail" lines we can try out? 
Katrina: Keep 'em simple and playful to start — especially if you're feeling a bit nervous. Dirty talk can absolutely be explicit, but it doesn't have to be! The idea is to ensure your partner is thinking sexy thoughts about you all day. Here are a few ideas:
"I want you."
"I miss the feel of your body against mine."
"I have all this work to do, but all I can think about is getting naked with you."
"I think you're sexy – I just thought you should know."
Tell us about your Talk Dirty workshop?
Katrina: I've had the pleasure of leading a dozen workshops on Talking Dirty both public ones at Ohhh Canada's downtown Toronto store as well as for private engagements like bachelorette parties. Through the workshop, we do fun activities that help everyone loosen up their lips – starting with little moans and groans all the way to reading explicit erotica out loud. I never ask participants to do anything they don't want to do, and giggles are always encouraged. At the end of the night, everyone's dirty talking and sexting, laughing and feeling more confident. The best way to find out about these is to follow us on Twitter  like us on Facebook and sign up for our newsletter. We also available to do workshops at parties for a fun girls' night in or bachelorette.
So, what does sexy mean to you?
Katrina: Sexy is an electric feeling that runs through your body, excites your mind and opens the heart. How we "express our sexy" is unique to every single one of us. What we do at Ohhh Canada is provide ideas and tools to help our customers express their sexy in ways that feel good to them. For me personally I'm all about sky high heels, pheromone-infused perfume and sexy reading material.