My father died this week after a long battle with dementia.
It is many things I am coming to understand; painful, surreal, a blessing,  darkness,  light, a terrible sadness, a relief.
When I understood he was gone, I felt a feeling I had never felt before. I felt my shoulders go up and down. The world got fuzzy. I heard myself crying hard but as though it was coming from someone sitting beside me.
And then I got protective. I wanted to be strong for my whole family. I wanted to protect them.
I wanted everyone around me but two were missing. I knew I needed to tell my oldest immediately but as life would have it the day he died she had just texted me to say Momma,  I am having one of the best days of my life
Some good things she was working towards had come together  and she is so happy this year. She is also in the middle of exams.
I needed to tell her. Over the phone. She is the grandchild to have known my dad the longest. He has played a big role in her life.
When she was two she gave him his nickname, BOSS, which pretty much replaced any other name he had dad,Fraser, Unk.
She was very upset. Very. Do you want to come home? Could I come to you? She said no.
So I did what we do. I emailed 3 very close friends, letting them all know of our loss, whose daughters are all her really close friends to ask their girls to show a little tenderness towards her.
All called her.
Two came over to hers and made her dinner.
The third broke into her house while she was at class and left this on her bed.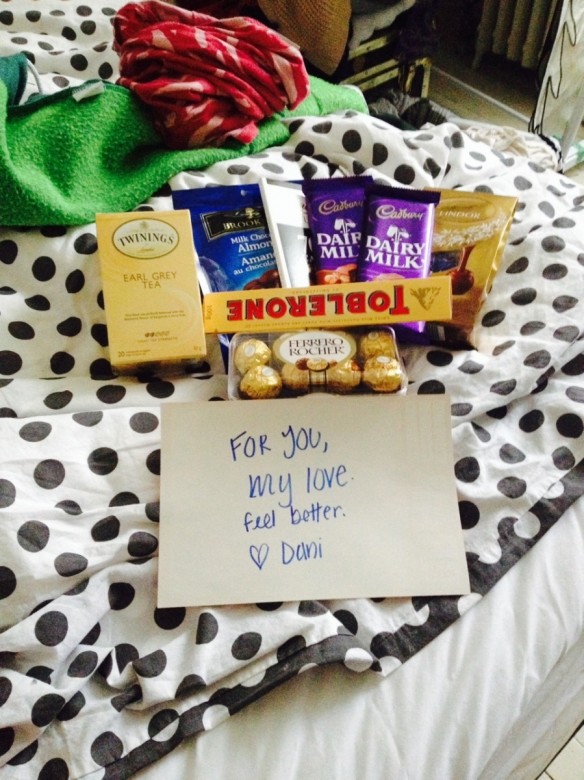 It was not a little tenderness.
It was an abundance of tenderness.
And I am so thankful for all of it.