"Get in, loser, we're going shopping!"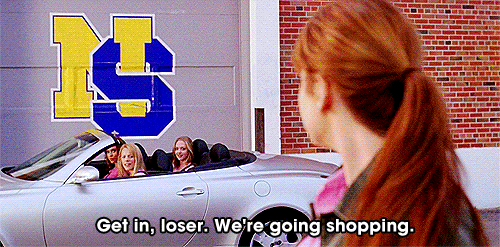 It's that time of year again. It's the time of year when I remember none of my shorts fit properly and my kid is almost old enough to be embarrassed by that. So, with a great deal of reluctance, I venture out into the universe in search of stuff that covers my butt fully and showcases my statistically unlikely but majestic proportions. I tried to be excited about it, but basically, it was Mean Girls.
I'm not a regular mom, I'm a cool mom. 
I surveyed the products on offer. There were cute things called "festival shorts". Adorable denim cutoffs that I would normally make myself hacking up old jeans, but someone did it for me at a 700% markup. They are trendy, perennially youthful tidbits of fabric. I looked at the other shorts hanging on nearby racks. They were modest and matronly. The minivans of summer apparel looked back at me mockingly. I laughed because I'm not a regular mom; I'm a cool mom. I grabbed a pair of denim deliciousness and rebelliously snuck off to try them on.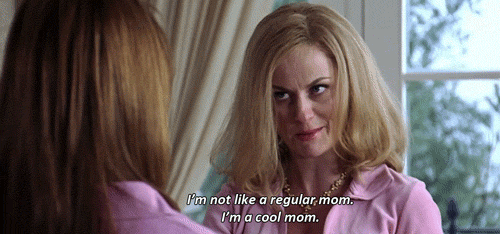 You can't sit with us.
The lighting made the change room into a big box nightclub on ladies night, designed to fool me into taking something home I wouldn't normally consider. I slid out of my sweatpants and into the dark wash sirens of juvenile summers past. I lifted them softly, allowing them to embrace my curves, buttoning them firmly below my belly.  I gasped slightly and exhaled sharply as the button and buttonhole connected. I tried to rest on the change room bench and heard the voice of the shorts in my head say "You can't sit with us!" The voices were right. The shorts were the wrong size and I couldn't bend or crouch.
But why are you white? 
I put the stupid ripped jean contraption back in its home on the rack and reevaluated my options. I seemed to be lost in a sea of white shorts. White shorts are not mom shorts. They are a blank canvas for condiments, layering nicely under streaks of ketchup, mustard, peanut butter and jelly. They attract cat hair and finger paint and are the best way to find the chocolate chip cookie your kid lost in the couch. Proposed mom shorts of the world, why are you white? I know, you just can't ask shorts why they are white. But I totally am. What the heck?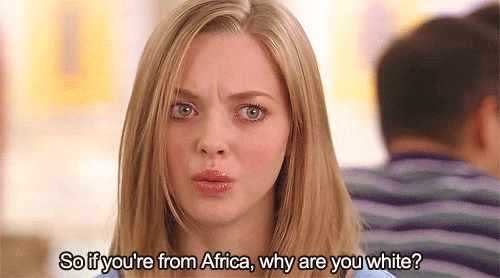 I left my sense of humour in the dressing room and resolved to try again another day. By the time I find something I'm willing to wear in public, the weather report is going to tell me, "There's a 30% chance it's already raining." Do you have mom shorts you love?