Cold and flu season can bring out worrisome hacking coughs in children at night—which leaves both parent and child exhausted and moody for days. We all know a solid nights' sleep is the best cure for getting better, but that's easier said than done when your child can't control their coughing enough to fall asleep. And if they do fall asleep, it's often interrupted by sudden, nocturnal coughing fits, which can keep the entire family awake.
From the best position for kids to sleep in to cough syrups, here are a few simple tips to help relieve the dreaded 'Nocturnal Cough,' so you can get that sleep you both need.
1) Drink a lot of liquids before bed. Water keeps your child hydrated and helps loosen the mucus in the airway. Warm liquids, like tea, or soup, also help relieve the nighttime symptoms of a cold. Keeping hydrated is extra important during winter when indoor air quality tends to be very dry—another cause of coughing. Keep a sippy or plastic cup of water by your child's bedside table, for easy access, if your child is old enough to drink on their own.
2) Take medicine to treat coughs. There are many brands of over-the-counter cough syrups. Helixia Cough Prospan for Kids offers a great honey taste (kid approved, no less!) It's non-drowsy, and clinically proven to relieve coughs and to loosen mucus and phlegm, which causes coughing. Helixia is natural, contains no dyes, gluten or sucrose. Known as the medicine 'Moms can count on,' it's suitable for the entire family and provides comforting relief when you need it most.
3) Since coughing is exacerbated by dry air, keep the air moist. Invest in a humidifier or take a hot shower or bath, which can help ease a cough by loosening secretions in the nose. You can even start the bedtime routine by holding your child in a steamy bathroom for a few minutes before getting them into bed. Remember to keep the humidifier clean, or it could start blasting out fungus and mold in the air. Do not underestimate the power of steam!
4) The temperature of the room is important. Turn down the heat while your child is sleeping. It may not seem like the best idea, but keeping the heat on full blast may make the air in the home dry, leading to an even worse cough.
5) Sleep positions matter. When it comes to the nighttime cough, gravity is our worst enemy. So try and defy it. Stay away from lying on your back or your stomach. The best position to sleep, if you are suffering with a cough, is on your side. Use an extra pillow to elevate your head and help keep airways open.
Silence that cough for good, because a rested child equals a rested household.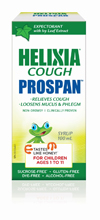 This post is brought to you by Helixia® Cough Prospan®  but the opinions are our own.
Always read and follow the label for any healthcare products given to your child.