Most of us have experienced the struggles of going to bed with our little ones. We know how important creating a a bedtime routine is; it's a routine that helps kids, and us, wind down the day. Each child and family needs are different but if you've established a routine, it would make bedtime a welcomed one..hopefully! The key is to quiet things down as you get close to bed time. Some things can be fun too so don't overlook something to look forward to at the end of the day.
Tidy up
Make sure the bedroom is a place for rest! Toys should be put away at the end of the day and let the kids clean up with you so they can see where everything goes. We all know what it's like when that Lego car goes missing into the toy box! Schools often use the "clean up" song (if you don't know it, ask your kid…or the teacher) that we had used in our home tidying up time for little kids.
Soothing scents like lavender are known for putting us into that state of zen. Aloe Vera helps soothe and soften so looking for a great bath product that's gentle enough for your child's skin. Mom and television host Cheryl Hickey knows all too well about bath time and rituals! She now has her name on a new line of skincare products that parents won't have to worry about. OURS by Cheryl Hickey includes a Head To Toe Wash with a tear-free formula. We also love L'Occitane's Bonne Mere soaps and wash from France that are hypoallergenic and PH neutral.
Soothe the skin
Help deal with dry skin, especially this time of year, when eczema can flare up and make bedtime more comfortable. Lessen the chance of disrupted sleep because of itchy dry skin with the use of LaRoche-Posay Lipikar Baume AP+ that is a proven favourite with many families, including mine!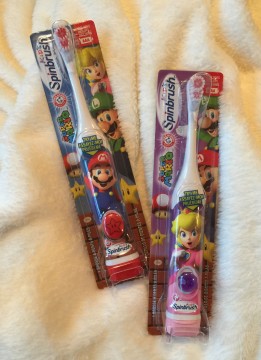 Brush those pearly whites
Brushing can be a chore and it's no surprise that companies that make toothbrushes are constantly trying to find ways to make it more fun and effective. My younger son is powering up his brushing with favourite characters Spinbrush SuperMario (Princess Peach and super heros like Spider-Man and Iron Man are also available) with longer brushing times.  ToothTunes  is a fun way to enjoy a mini concert while brushing. The recommended 2 minutes of brushing is perfectly timed in this battery operated toothbrush. Both made by Arm & Hammer.
Get rid of the monsters under the bed
Well, there really aren't any but in case there may be some lurking, we're big fans of Monsters Away Before Bed Spray by Graydon Clinical Luxury by Nature. This calming spray can be used to mist on linens and air in the room leaving a comforting and subtle scent. Natural ingredients here include pure lavender and sweet orange. It's simply a fun way to spray away any night time fears. Available at clinicalluxurybynature.com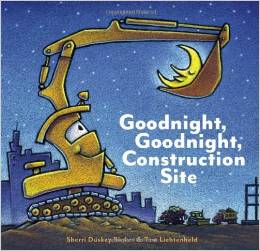 Read a story
A great way bedtime ritual is enjoying a book together and it's something that carries through as we get older, right? A few good ones out now include Goodnight, Goodnight Construction Site by Sherri Duskey Rinkler with amazing illustrations by Tom Lichtenheld. It's a New York Times Bestseller that tells the story of a busy construction site shuts down after a busy day. One by one each truck says good night. It's very cute! Another great book is Goodnight Mr. Darcy by Kate Coombs. The cover looks familiar to the classic tale 'Goodnight Moon' only this one is a charming parody of Jane Austen's Pride and Prejudice.
Keeping a light on is okay, hey, whatever works to get them to bed. But sometimes it's not an ideal situation especially when you have other family members who require full darkness to sleep! Worth trying is the Philips SoftPal Portable Night Light that is safe to keep next to the bed (or in) and with a touch will turn on a soft glow. It's portable so your little one can take it to the bathroom in the middle of the night. My nephew, loves his and it's helped him also fall asleep. The turns off on it's own and during the day can recharge in the base provided. The Philips SoftPal Portable Light comes in kids' favourite characters like Disney's Mickey Mouse, Minnie Mouse, Monster's Inc Mike and Sully and other sweet characters. Available at Well.ca, ToysRUs.
Do you have any successful bedtime rituals? We'd love to know!