I've found in the past year or so, Cuyler has been invited to fewer and fewer birthday parties. Likely because the older kids get, they have fewer BIG parties and also because the older kids get, the less they have in common with him.
Case in point – a classmate of Cuyler's was planning a golf birthday party. At a golf course and they were going to play golf. Cuyler has no interest in golf, therefore Cuyler was not invited.
But the boy who was having the birthday is Cuyler's best friend (only according to Cuyler). So I was holding my breath waiting for the day Cuyler would come home devastated that he didn't get an invitation.
Only…he DID get an invitation.
The invitation was addressed to Cuyler. The party would be on Sunday October 20 at McDonalds at noon.
Cuyler asked him who else was going. His friend replied enthusiastically, "Nobody. I only want you to come. I only invited you." Cuy was thrilled. This kid told his mom that he wanted to include Cuyler in his birthday but knew the golf thing probably wouldn't work out with him so they planned a lunch with/for Cuyler.
Cuy stuck the invitation to our fridge. He immediately went up to his bedroom, took a tshirt out of his drawer and an old Wiggles DVD and wrapped them up. I explained that when we give birthday gifts to our friends, we usually go buy them something they are interested in and I suggested we go shopping.
When we got to WalMart, he didn't hesitate. He headed straight to electronics and picked out The Croods. I was happy as that was an age appropriate gift. (It is, right..?)
We got home and he wrapped up the DVD all by himself using Christmas wrapping paper and hockey tape. He made a special card that he attached. I wondered why the package was as thick as it was. He snuck the Wiggles DVD in.
He couldn't wait to go for his special lunch with his best friend.
His friend opened the card and I melted at what Cuy wrote: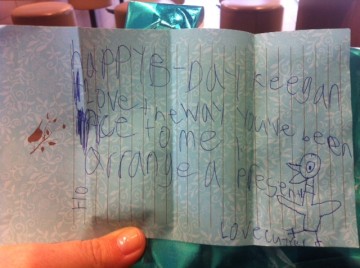 "Happy b-day Keegan. I love the way you've been nice to me. I arranged a present. Love Cuyler"
This is my village. This is his village. If he (and we) encounter more people like this on our journey, the road will be a smoother one. This is where autism is a blessing. I get to really see the good in people. There is a lot of the opposite out there, but the good…
There is so much if it out there. The good people. The kind gestures.
Inclusion at its best.