This past Saturday I spent the majority of the day in the boys' room purging.
Closets. Dressers. Under the beds (gross).
I wanted a clear idea of what, if anything, they needed for back to school clothes.
I was able to clear out 3 garbage bags of throw out or donation items.
I was relieved to find that neither are in need of anything.
They each got something new from Nana and from Gramma so they feel good in new clothes on the first few days.
Gramma introduced Eva to Justice. Thanks for that, Gramma. Oy.
In years past I would get caught up in back-to-school shopping and have always stocked them up with new t-shirts and jeans that they didn't really need.
Cuyler's birthday is in November so he'll get some fresh new threads then.
Thanks to a generous neighbour with two girls a few years older than Eva, she has more than enough clothes to get her to Christmas, at which time she will also likely acquire some sweet new duds.
Cam, being 12, has begun requesting clothes for gifts so I'm sure he will also clean up in the clothes department at Christmas.
The only thing they needed (apparel-wise) for school were new shoes.
We crossed that off our list yesterday. The boys each got two new pairs of shoes and Eva got one.
I'm not sure hers are the most practical, but really – who am I to say no when she embraces them and exclaims "Oh I have to have these! Please Mommy! Please!" ?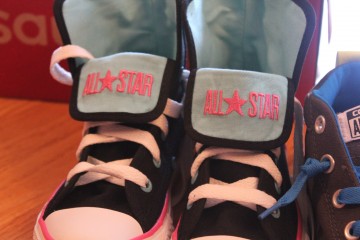 I've got my eye on a super cool, super practical pair for her but I'm trying to justify the price tag. I think I'll splurge for them with my next paycheck.
This is my ninth Back to School and the first one in which I feel like I've done a reasonably good job not wasting money on unnecessary stuff.
New shoes. New lunch bags. Basic classroom supplies. That's all.
Now I can just sit back and enjoy these last days of summer.
What's on your back to school shopping list?