Oh, picture day. A part from the first day of school, it's probably the second most anticipated day of the school year. Everybody cleans up, puts their best face forward – the whole nine yards. They're great memories to look back on, and if you're lucky (or not so lucky…) they'll make great throwback Thursdays in the years to come.
In order to ace picture day, you want your kids to look the part. You want your child to to be able to stand out, even when they're surrounded by 30 other students in their class photo. You also want their portraits to be awesome, ones you can share with the family and showcase in the living room in the most obnoxious frame size possible.  And you will, but before all that happens you need to help them decide what they'll wear first. And we have a couple of ideas!
Here are 10 picture perfect looks for your kids on picture day:
Boys – Kindergarten
For your little guy, there is no need to do anything too fancy. First off, they may need to survive recess, so take that into consideration. Secondly, at this age they're as cute as they come, so photographers will definitely capture that on-camera.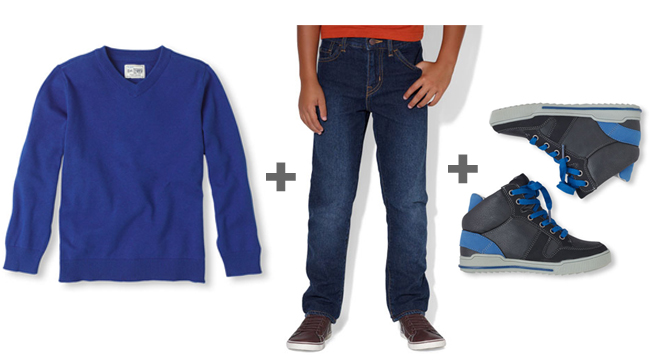 Since we're heading into cooler fall temperatures, give him a sweater in a bold colour. Primary colours work best for the camera – blues, reds, and greens. Here we paired a simple blue v-neck sweater with a pair of straight-leg jeans, and high-top sneakers with complimentary blue laces. The colour scheme brings the look together and will sure make your little kindergartner camera-ready!
Straight Jeans – Solstice, The Children's Place $10.00 | Blue V-neck sweater, The Children's Place $19.95 | Nitro High-Top Sneaker, The Children's Place $26.95
Girls – Kindergarten
You're never too young to get into animal print – especially when they come in the form of fabulous dresses. This leopard print dress from The Children's Place is a versatile piece that your daughter can wear for many school days to come, starting with picture day! Pair it with some cute ballet flats and finish the look with a matching headband. If picture day happens to fall on a cooler day, don't hesitate to put on stockings and a light jacket that she can leave on or take off.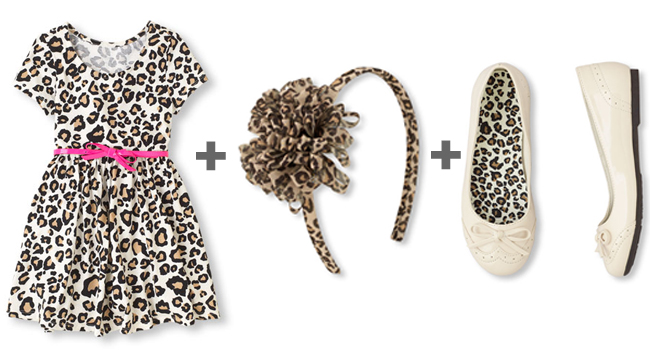 Leopard Skater Dress, The Children's, $29.95 | Wingtip Ballet Flat, The Children's Place, $18.00 | Peony Headband, The Children's Place $4.95
Boys – Grade 1, 2 & 3
It's sweater weather! We love this cozy knitted sweater with the button details in the neckline. Pair them with some black skinny jeans and some matching hi-tops and they're all set for the picture day festivities!
Knitted Jumper, H&M $24.95 | 1969 skinny jeans, Gap $31.96 | Perforated hi-top sneakers, Gap$25.86
Girls – Grade 1, 2 & 3
It's true, you really can be ballerina all the time. Well, at least your little girl can! If she's loves all things girly and frilly, she definitely needs to try this on. Pair a tutu skirt with an adorable turquoise lace top.  Tuck the top into the skirt for a put-together ensemble. Stick with loose hair and pair it with an understated headband. And of course, if weather permitting, ballet flats are a must! Or for a little edge, switch them for a pair of white chucks!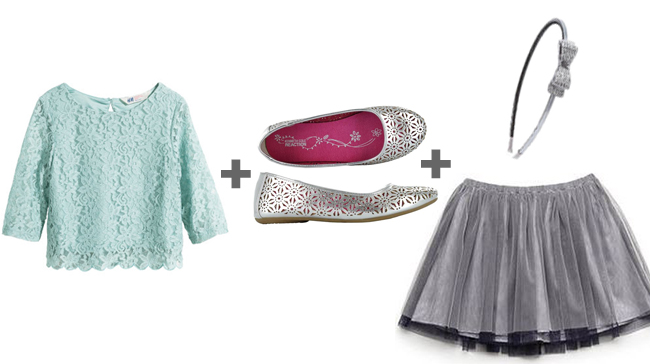 Lace top, H&M $17.95 | Tulle Tutu Skirt, Forever21 $15.80 | Studded Bow Headband, Claire's $4.50 | Kenneth Cole Flats, The Shoe Company $41.99
Boys – Grade 4, 5 & 6
Now who doesn't love fall layers! Be careful though, too many layers can make your little guy look bulky, so make sure you don't layer too much. For this look, start with some basic skinny jeans and pair it with a blue plaid top. Following the same colour scheme, layer the shirt with a greyish-blue hooded sweater. Fix the shirt collar below and roll the sleeves up so the shirt's plaid pattern shows off. Then all you need is a pair of this favourite footwear.  If we didn't know any better, we'd think you were raising a little fashionisto.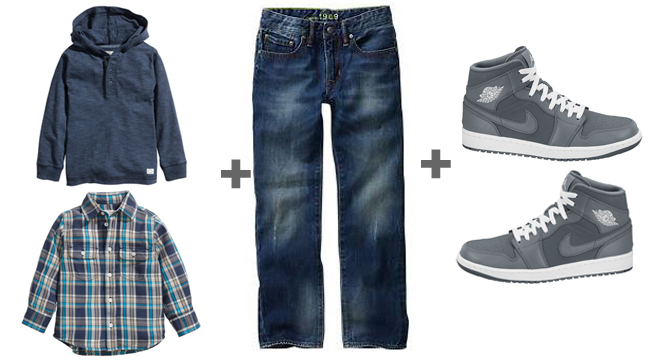 Hooded top in jersey, H&M $17.95 | Patterned cotton shirt, H&M $17.85 | 1969 straight jeans, Gap $39.95 | Jordan AJ1 Mid, Footlocker $69.99
Girls – Grade 4, 5 & 6
Girl don't have to try so hard in order to look their best. They can keep things simple and understated too. Pair a simple wool sweater with some skinny jeans and finish the look with some great fall accessories. Leather booties are a must and compliment her sweater with a long aztec inspired necklace. Since this look is on the simpler side, girls can choose to do something fancier with their hair, like curls or cool waves, without looking overdone.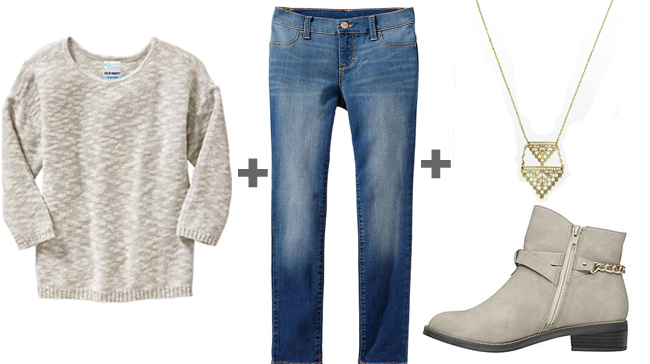 Girls Marled Crew-Neck Sweaters, Old Navy $27.94 | Girls The Rockstar Skinny Jeggings, Old Navy $20.00 | Long Aztec Pendant Necklace, Garage $12.90 | Ankle Boots, Call It Spring $64.99
Boys – Grade 7, 8 & 9
For a more tailored look, go for a collared cotton shirt. It's easy to throw on and the collar will look great for portrait photos. Then keep the rest cool and laid back with their favourite dark wash, straight jeans and a pair of Vans sneakers.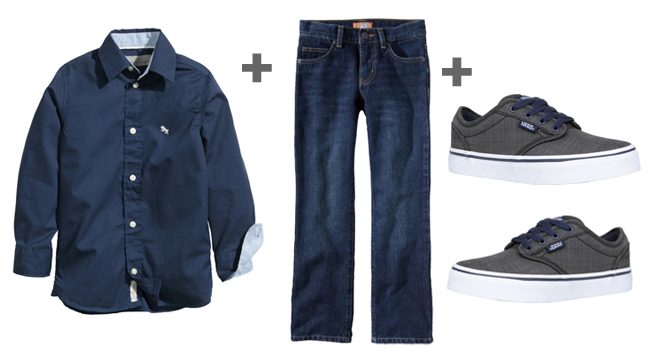 Cotton Shirt, H&M $12.95 | Skinny Jeans, Old Navy $17.00 | Vans Sneakers, Globo Shoes $44.99
Girls – Grade 7, 8 & 9
This fall, it's all about retro inspired looks with modern accents – a style that definitely works for picture day. We love this jacquard dress from Zara, especially with the flare out at the hem. Compliment it with a delicate, dainty necklace and finish it off with some autumn booties with cutouts.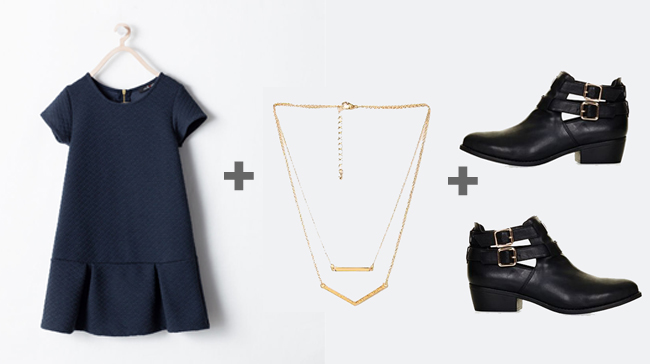 Jacquard dress with zip, Zara $29.90 | Plated Geo Layered Necklace, Forever21 $5.80 | Cutout boots, TopShop $84.00
Boys and Girls – Grade 10, 11 & 12
By the time you hit high school, it's all about the yearbook photos.  Since these are always portraits, it's important to wear the right top. For guys, long sleeve button-down shirts in solid colours or subtle patterns are always best. Girls can do the same or go for a plain top, such as this peplum shirt, and accentuate the neckline with a statement necklace. That way she'll really standout in the yearbook among her classmates. And that's it! Doesn't matter what you wear down below, so long as you look picture-ready up top.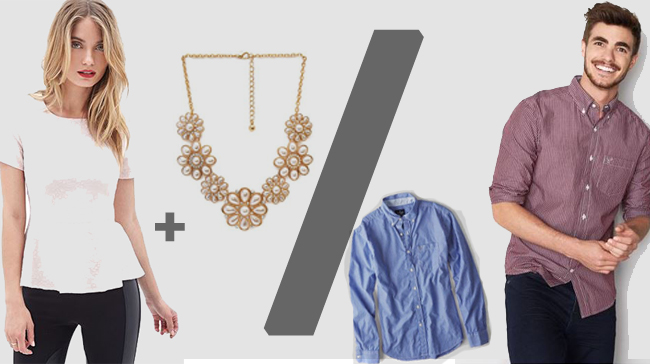 Striped Button Down Shirt, American Eagle $44.28 | Rose-Embroidered Peplum Top, Forever21 $23.80 | Follow the Flowers Bib Necklace, Forever 21 $12.00
Remember to always help dress your kids in something that's comfortable to them. Sure it's fun to fancy things up a little, but sometimes the best pictures are the ones where they look most like themselves. Just remind them to smile and leave the rest up to them.