Eating healthy is hard. Eating healthy while out is even harder. Throw hungry, picky kids into the mix and you've got yourself a storm. As much as you'd like to feed your kids nutritious meals all the time, fast food just seems so much easier. Thankfully there's an app for that.
The National Restaurant Association, in part with Healthy Dining, has created the Kids LiveWell App so parents and kids can easily browse through menus and choose healthy meals when on the go. All the menus emphasize healthier options that limit the amount of unhealthy fats, sugars and sodium in each meal.
The app is launched under the Kids LiveWell Program, run by the National Restaurant Assocation and Healthy Dining, which aims to help parents make healthy choices for their children. Starting four years ago with only 19 brands, the program has grown to include over 150 restaurants including IHOP, Burger King, Denny's, Applebee's, Wendy's and more, across over 40,000 locations.
Restaurants commit to offering healthy meal choices and join the program after meeting the criteria set by Healthy Dining. This includes full meals under 600 calories that featuring at least two of the major food groups like fruits and vegetables, lean protein, whole grains and low-fat dairy. The criteria also say that deep fried items are not allowed.
We downloaded the app to check out a few of the menu options. Most just have your typical kid's meal of chicken nuggets or a small burger, with apple slices and juice or milk. Other only have one or two sides available, like broccoli or a fruit. However some restaurants like Applebee's included steak or chicken grillers with sides like applesauce and broccoli while Denny's included spaghetti and macaroni and cheese.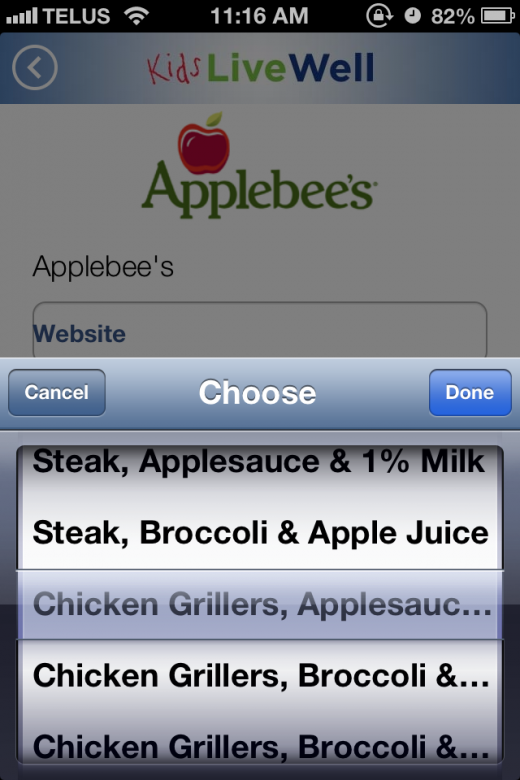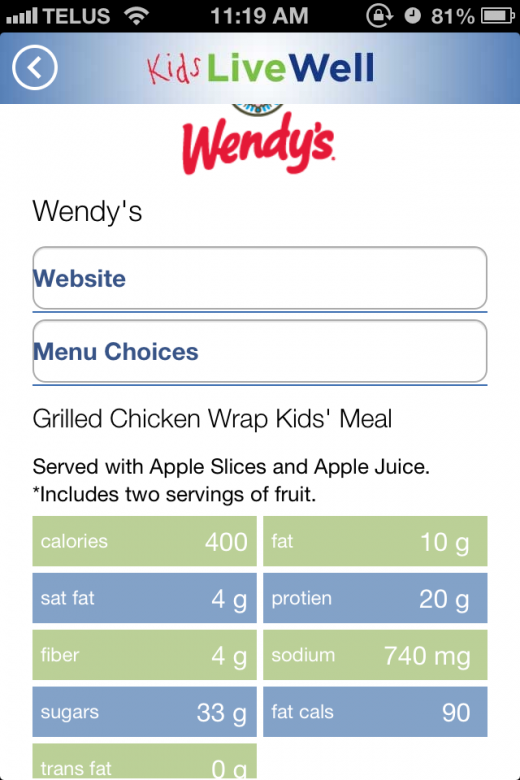 The Kids LiveWell app is available for the iPhone and Android devices.