Knock knock.
Remember me?
It's been awhile. A very long while. Father's Day was my last post because I can never miss that one. I've missed writing and I've thought about it so many times. Life gets in the way sometimes.
This week, following an un-stellar parenting Sunday, a friend of mine sent me a great article with tangible tips to help you after you lose your cool and I've already instituted one. Will and I have started a journal. We can write notes to each other in it and leave it for the other to read. Good, bad, whatever you want. He asked if he was allowed to write suggestions in it. The fact that he suggested 'suggestions' cracked me up and I immediately agreed because I could see the gerbils going on that wheel and I wanted to see what he had to say.
Here was the note I got last night.

Let me decipher it for those of you who don't read 8-year-old boy. It says:
I loved our dinner today. I want you to start writing again.
Whoa. What? I felt like he had had me bugged. I had been driving home from a Cat Stevens concert on Monday and had said the exact thing to my friend. 'I need to start writing again.'
As an aside, Will's comment wasn't 100% out of left field. He understands that I used to write quite a bit. But when we talked about his note, I asked if he understood that I wrote about us, *ahem* mainly him. He said he did and he wanted me to keep doing it.
The conversation with my friend and I went into what I should write about if I started again. I've struggled lately to write about Will because I feel at this age, most of the stories should be his to tell. I feel a need to respect his privacy. So instead, I post all the good stuff in Facebook statuses where it's not as easy for him to find on google when he's 16 and is looking for reasons to hate me besides giving him a curfew.
Like, should I write about my crazy love life? Well, that would be a short blog entry.
He suggested writing as someone else, sort of half fiction and half non-fiction. But that doesn't work for me. I'm a truth teller. Writing is my therapy.
Recipes? Advice column? Book reviews? Nope.
So, I've decided to stick to what I know. Me, the kid and our life. Maybe he'll become a 'guest writer' with me sometimes—but don't worry, I'll type it out for you. Let's face it, the kid is the boss of me – so if he's telling me to start writing again I better listen.
For those of you have stuck with me …thanks…and if you're not my Facebook friend…well, remember that cute little kid I used to write about it? This one. In the overalls?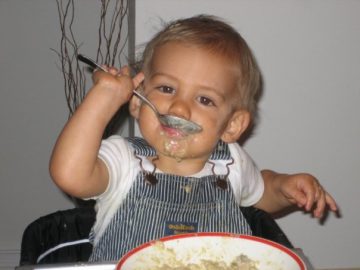 He's grown up a bit. He's now 8 … going on 50. Purple hair. Penchant for jewellery. A heart the size of Detroit. I'm a fan.