Spring is just around the corner, I promise! But while we wait, you'll can check out the Interior Design Show, January 22-25, 2015 at the Metro Convention Centre. Under one massive roof you'll discover the latest in home design trends, decor, technology and innovations for all corners of your home. There will be over 300 local, national and international exhibitors debuting the latest products and installations.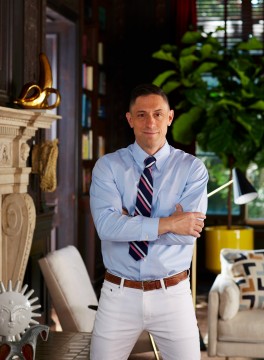 Attend seminars and listen to leading designers including Jonathan Adler, Kimberley Seldon, Jane Lockhart, Alexa Hampton, and  Sebastian Herkner. What else? I don't even really know where to start! Here are just a few highlights on what you should put on your list of things to see…
OPENING NIGHT PARTY: Come and celebrate on Thursday, January 22nd with a night out with over 5,700 designers and influencers as they come and join the party. Portion of the ticket price will go to Habitat for Humanity Canada. Tickets are $56 in advance or $61 at the door.
GLOBE STYLE SATURDAY: On January 24, the trend setters of Globe Style will explore new trends and how they impact our homes and cities. A full line up of guest speakers, (Jonathan Adler at noon) will share their vision and inspiration on the Caesarstone Stage.
HOUSE & HOME SUNDAY: On January 25, Canadian design personalities get up close and personal on everything for the home at the Caesarstone stage. The event will include topics such as mastering high-low mix and discussions of stress free rooms and how to design a dream retreats.
MODERN KID: Inspired spaces for families go beyond the ABCs and 123s. Explore how design impacts creative thinking and discovery based learning through play. Will feature the contemporary designs created for children by Monte Design, Gallery Child and others. The ultimate in design will surely inspire us to update our  nurseries, playrooms and rec rooms!
MAKER: New feature this year is the focus on four North American design stars who produce their works in small batches with limited availability. Features "makers" Heidi Earnshaw, Peter Coolican, 1925Workbench and Miles & May.
MISSONIHOME RETROSPECTIVE: Celebrating the 60th anniversary of the iconic MissoniHome, visitors will experience a never been seen before retrospective here at the show. A limited-edition pop up shop also will be there.
DESIGNBOOM MART: You'll want to take many pieces home and here you can! The popular shopping mart is presented by designboom, voted by TIME magazine as one of the top 100 design influencers in the world. It will feature more than 30 emerging and established designers. Attendees will have the opportunity to purchase unique designs from jewellery and accessories to home accents and small furnishing.
THE ULTIMATE AIRPORT LOUNGE: This will definitely be fitted for the world's most savviest travellers. Presented by luxury brands Rimowa and Selene Furniture, visitors are invited to step into the future of travel and design.
For a complete list of exhibitors, events, seminars etc visit www.interiordesignshow.com
And watch for our Tweets and Instagram during the show! @urbanmomsca