Recently Pusateri's (a fine grocery retailer) Corporate Chef Tony Cammalleri shared this mouth-watering Peruvian scallop recipe at an All-Clad cooking experience event. He shared his very useful tips in the kitchen and stressed the importance of using high quality cookware.
Chef Cammalleri grew up appreciating where food came from. When he was younger he recalls his father foraging in nature and eating what was in season. "We came from a farming background," said Cammalleri. "My father had taught us to respect nature and appreciate where it comes from."
He had also mentioned that understanding your cookware is important and how to work with them. "You want to use a shallow pan when searing your scallops. You want the pan to respond by evenly distributing the heat when you're cooking. That's why All-Clad is a favourite amongst many chefs. It's reliable and the pieces are designed with the chef in mind not just how it cooks but how your kitchen flows. Everything is thought out from handles to lids."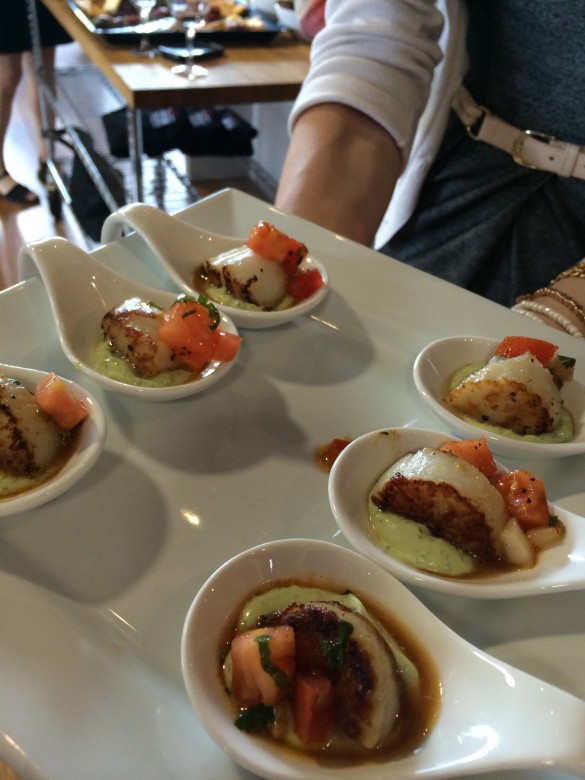 I loved the flavours of this particular scallop recipe and, well, I'm sort of obsessed! I've  made this as a meal several times and I just had to share!  Enjoy!
Seared Scallops with Peruvian Aji Sauce & Salsa
Peruvian Sauce Ingredients:
2 tsp garlic
2/3 cup de-seeded jalapeno peppers
2 1/2 tbsp cilantro
1/2 lbs avocado
2 tbsp lime juice
1 cup sour cream
1 cup mayonnaise
Salt and pepper to taste
Sauce Steps:
1.            Purée garlic, jalapenos, cilantro, avocado and lime juice until smooth.
2.            Add the sour cream and mayonnaise next and mix all together.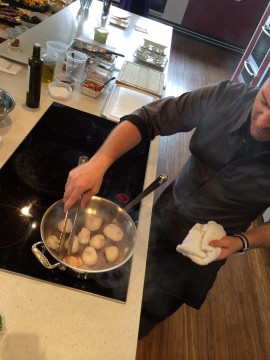 Salsa Ingredients:
1 1/2 Roma tomatoes,
2 lbs diced Vidalia onions,
1/2 tsp chopped garlic,
2 tsp  cilantro, chiffonade
1 tbsp de-seeded jalapeno pepper, chopped
1 1/4 tsp Mexican chili powder
2 tbsp sunflower oil
1 tbsp lime juice
1/2 tsp salt
Ground pepper to taste
Salsa Steps:
1.            Mix all ingredients together after they have been prepared and season with salt and pepper.
Scallop Ingredients*:
1 piece scallop
2 tbsp Peruvian Aji Sauce
4 tsp salsa
1 china wonton spoon or similar vessel
*Multiple recipe for the number of servings you wish to have.
Scallop Steps:
1. Pat dry scallop with paper towel. Season with salt and pepper.
2. Heat some olive oil in All-Clad pan over high and sear scallop 25-30 seconds per side. Scallop should still be wobbly inside. Add some aji sauce to the base of the spoon.
3. Place scallop on top and finish off with a dollop of salsa.