Every year just after Thanksgiving I get asked to be in some sort of holiday cookie exchange. At that time, the visions of getting together and swapping sweets with friends sounds like a great idea. Every year. The baking tradition isn't new and the  purpose of an exchange is to get each other through the entertaining season. You would get together with a group of friends and each person has a recipe that they will make several dozens of to share. Usually we have about five of us participating in an exchange. That would mean each of us baking 6 dozen of our favourite sweets recipe. Usually the criteria is that the baked goods could be frozen and pulled out when needed. A few years ago, our cookie exchange group got a little competitive and each person made a "gourmet" recipe that was worthy of a magazine spread. After that, we all decided to take a break. Well, no sooner when that group stopped, another one started. I don't mind really.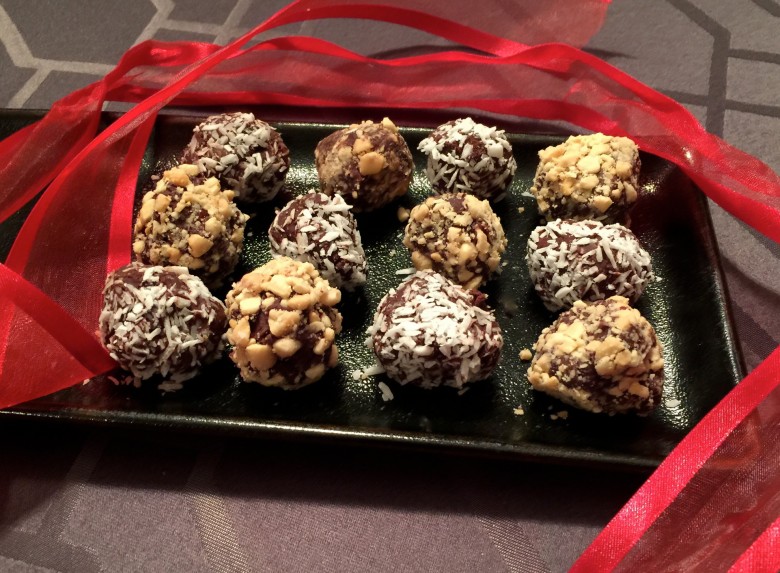 I've been playing around with different quick recipes to find something delicious and fast now that time is ticking and my exchange get together is coming up faster than you can say ho! ho! ho!
Ta-da! This recipe is reminiscent of good old fashion peanut butter & jelly  (only folded into chocolate). You can find more amazing recipes at Green & Black's Facebook Page. I've always loved Green & Black's Organic Chocolates (the ginger is my all-time favourite) as the line is made with organic cocoa beans and is available in many grocery aisles. The quality is outstanding and the price points remain competitive with standard chocolates. The chocolates are great for holiday fondues too!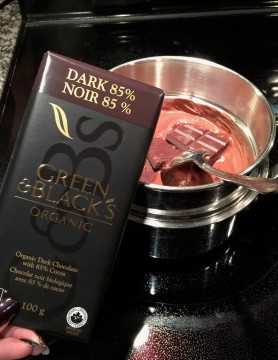 Milk Chocolate, Raspberry Peanut Truffles
Ingredients:
150 g Green & Black's Milk Chocolate, or Dark
90 g Raspberries
1 tsp caster sugar
100 g salted roasted peanuts crushed
Preparation:
Blend the fresh raspberries and pass them through a sieve to make a puree. Sweeten to taste if desired with a little sugar.
Melt the chocolate in a bowl above a saucepan of hot water or carefully in the microwave (approx 50 seconds)
Combine the puree and the melted chocolate and mix thoroughly until combined. Chill for four hours or overnight.
Crush the peanuts until finely chopped (you can use a pestle and mortar or a rolling pin) and put them aside.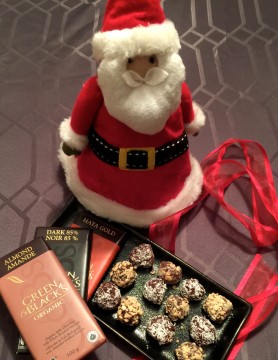 Take the chilled chocolate truffle mix from the fridge. Using a teaspoon, scoop out about half a teaspoon of mixture and roll between your hands to form a ball. A dusting of cocoa powder on your hands will prevent them sticking. Roll the balls in the chopped peanuts to coat. Repeat until all the mixture is used up.
Return to the fridge until needed. Remove from fridge a few hours before serving.
Great for you next cookie/sweets exchange!
Oh..I've also rolled the truffles in shredded coconut too! So good!
Do you participate in a cookie exchange?