I'm not sure when I started giving myself a break.
"But who are we kidding?" friends would often say. "With the kids' schedules, work, errands, maybe sneak in a run and time for a coffee and just keeping the home relatively clean. Where do you expect me to find some me time?"
But hear me out, there's something to be said about truly giving ourselves a break and yes, it can sometimes take a village but it's worth it.
What's that saying? You need to take care of yourself before you can take care of anyone else? The first time I had heard that was after I had my first son. Being a nervous first-time mom, I felt guilty for even taking any sort of time for myself or even with my hubby, after all, I had a human to nurture. I was afraid of being judged by family and friends. I wanted to be THAT Supermom… but I've realized that one of the best things a mom, or anyone, could do is give herself permission to do something, not for anyone else but you.
You know all those "if I could go back in time and give myself advice?" stories? Instead of looking back, try thinking about now. What advice would you give yourself now? It's not being selfish or indulgent. It's letting yourself know that you are worth it. As for my village? Every time I have these ideas of taking time for me, I would start to wonder about the kids and their schedules and the meals. I would wonder if it's all do-able. A quick escape to the spa or a movie is a nice break but so is a one or two nights getaway! It isn't as crazy a notion.  I was reassured recently that everything would be fine when hubby turned to me and said, "hey, I got this! Just go!"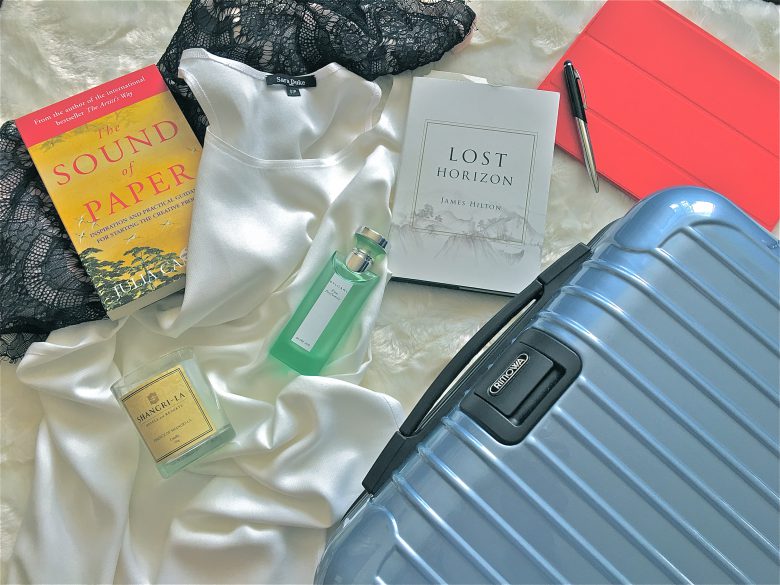 PLANNING:
When I plan my stress-free escapes, I tend to sift through the internet and sites like TripAdvisor.com for ideas to cater to my travel desires and to view hotel rooms, location, spas, dining and what there is to do near the hotel. This time, I wanted quiet and tranquility. I wanted to feel like I am away without having to leave my city. I wanted uninterrupted sleep. I wanted a pool, spa and good food. I wanted chocolate in bed.  And as always, I wanted to feel safe.
Recently I checked into the Shangri-La Hotel in Toronto for an overnight stay. It's a beautiful hotel where I have been before to eat, sleep, spa and meet with friends and it's the perfect relaxing escape.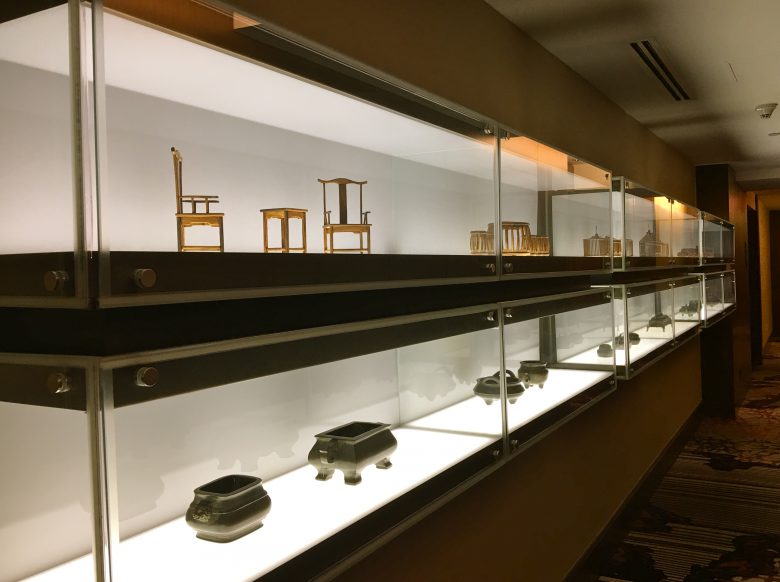 Along the hallways are beautiful museum pieces worth exploring.
WHAT TO DO:
Determine your personal needs. That is, do you want to be inspired? Get some health & wellness? Explore new dining? Or just chill out? Do what fuels you and then, plan your waking moments doing something to achieve those goals. On this mini-break, I knew I just wanted to relax and unplug. Within mere steps of the theatre district, I knew I could also check into the TIFF Bell Lightbox to see a thought-provoking film. I also knew I could probably get rush tickets to the ballet across the street, catch a symphony at Roy Thomson Hall, or catch a play or musical with Mirvish at the Royal Alexandra Theatre or Princess of Wales Theatre. I could also just stay put in the Shangri-la's hotel lobby at night and peruse the Champagne Wall while enjoying some of the best local bands and musicians who play here nightly. But I never plan too much and I always give myself some wiggle room to go with the flow.
I had brought a couple of books with me for the weekend but found myself drawn to several others that were left in my suite. I love learning about art and I've always been intrigued with  Chinese contemporary artist Zhang Huan who created the powerful sculpture in front of the hotel. His artwork also carried through in my suite. I admit to spending much time in the sunken bathtub while one of his mystical bird sculptures loomed at the window as though it was in flight soaring in the blue sky of the vast view of the city.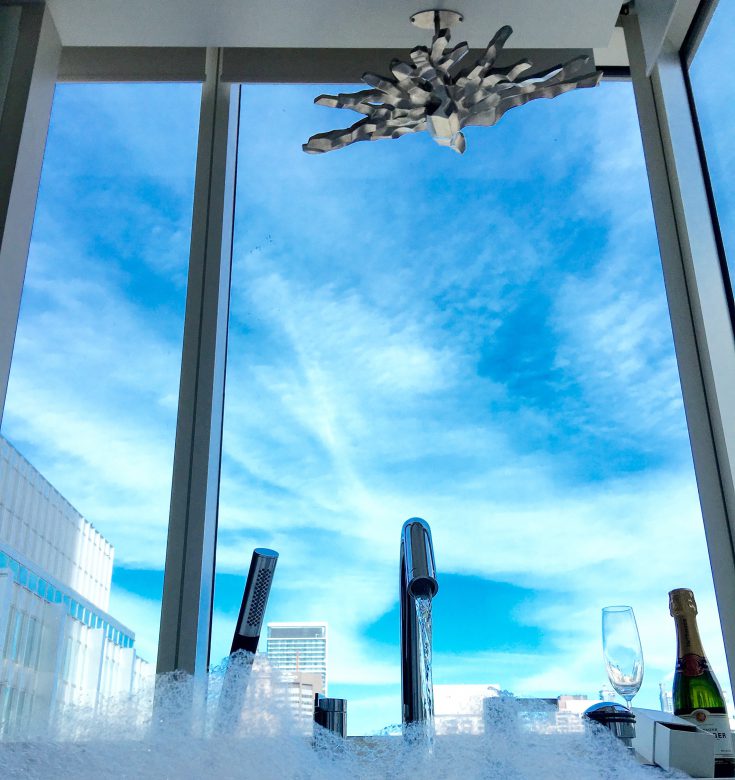 This epic view from the sunken bathtub just had to be photographed.
SPA & RELAX:
If heading to the spa is something that is appealing to you, then checking into the Miraj Hammam Spa by Caudalie is a beautiful experience. I've been here before and have fallen asleep several times during massage treatments. If you haven't tried a Hammam treatment, that's definitely an invigorating way to awaken your soul! But this time, I really wanted to spend a couple hours at the pool area. I had noted family hours and adults only hours. I was led to a private cabana that had overstuffed pillows, draw curtains, television and staff checking on you once in awhile. Nothing feels like you're away more than being poolside. With the trickling sound of water falling from the fountains above the pool I had fallen asleep for a bit with no interruption. I can't remember the last time that happened.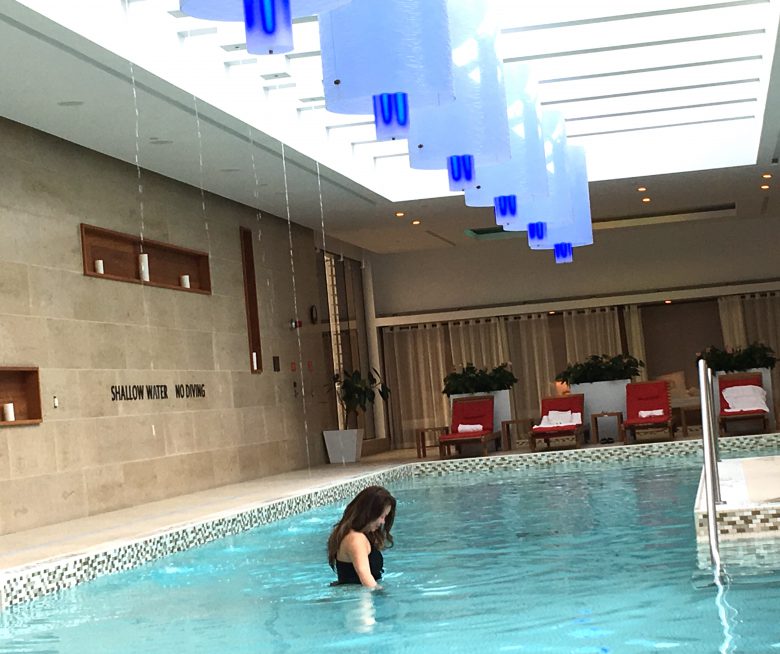 Found my zen at the pool then blissfully fell asleep in the private cabanas.
If you're interested in wellness classes like yoga, I discovered classes available for guests to join in. The hotel brings in expert instructors to lead all different types of exercise classes and you can easily drop into their schedule. But something different? I discovered a yoga mat in my room and yoga sessions were found on an iPad located in my suite!
DINING:
Be at peace with yourself. At first, some activities like dining may feel strange at first but when you're at a hotel, keep in mind that there are others who are often travelling alone so it's okay. Bring a book or magazine if you prefer but I've noticed restaurant staff, particularly in hotels are good at assessing my situation and have made me feel at ease. And of course, there's always room service!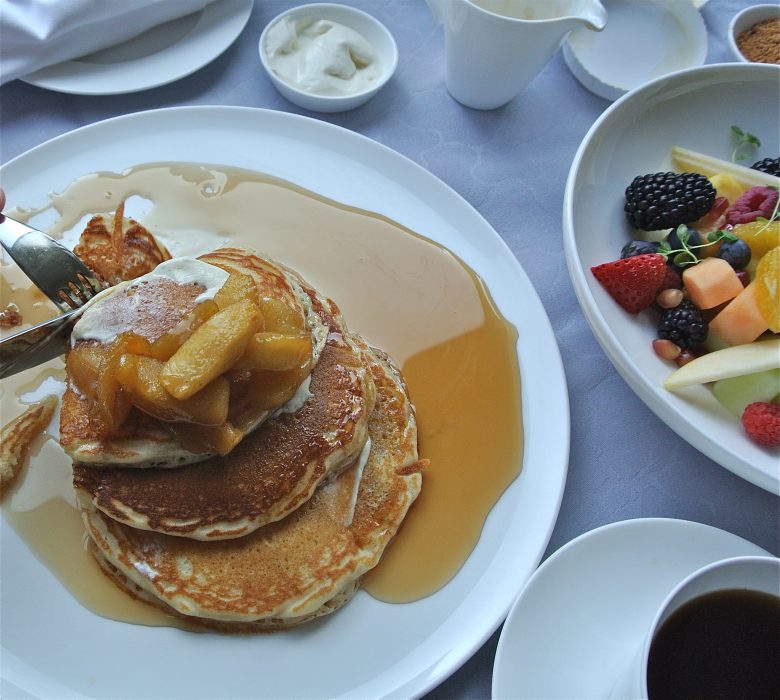 Someone told me that I MUST have the pancakes. So glad I did!
Whether I travel alone, or with my family, food is always on my mind. I'm obsessed with food that inspires and yes, the use of local ingredients is always appealing. So, I will often add on restaurants to visit while on vacation. Same goes for my home city. Toronto is a foodie playground and when I had learned that award-winning Damon Campbell, Executive Chef, is currently at the helm of Shangri-La's Bosk restaurant, it was immediately on the top of my list. Chef Campbell is native to Vancouver where he began his career 18 years ago. He's worked globally in leading international restaurants including The French Laundry, Diva at The Met and Lafite. Plus he's super nice!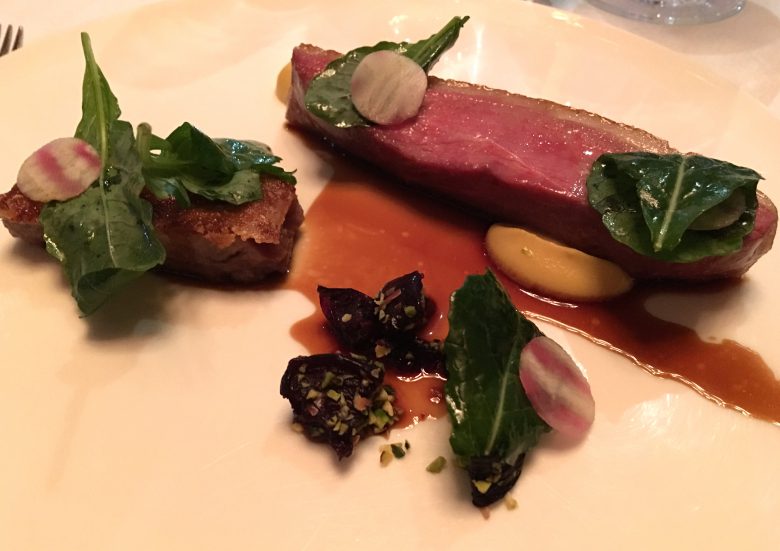 One of Chef Damon Campbell's new dishes on the BOSK Spring 2016 menu is this mouth-watering Brome Lake Duck Breast confit leg, beet, pistachio, bitter green, with hibiscus jus.
After my mini-staycation, I felt refreshed, rested, and energized. If you ask me what I'd love for Mother's Day? This is it. I had lasting blissful memories and the experience was a reminder that I can trust everyone around me and do something special for me…and indeed, hubby had everything under control!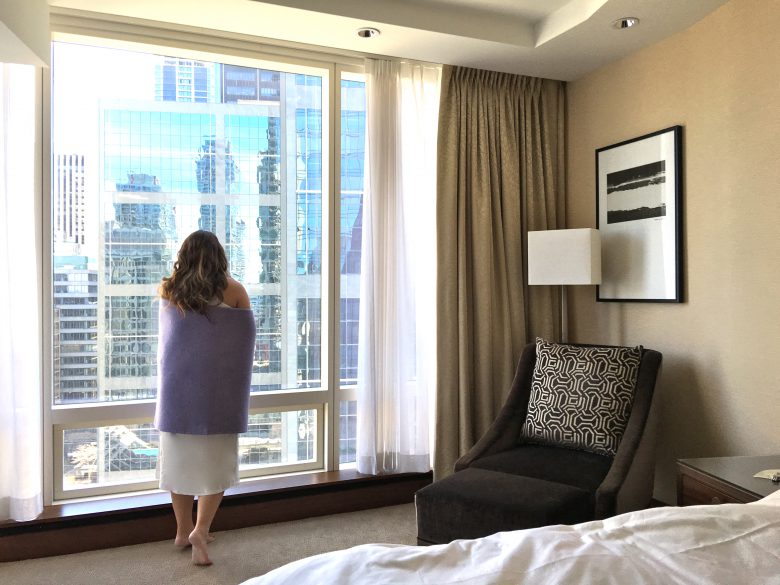 Thank you to Shangri-La Hotel Toronto, Bosk restaurant, Rimowa and my family for ensuring my stay was stress-free!