Thousands of Ontario parents pulled their kids out of school this past Monday in protest of Ontario's newly updated sex education curriculum. The curriculum, which will be put into effect starting this September, includes discussions around consent, gender identity, sexual orientation, masturbation, and oral and anal sex—topics some parents argue are too age inappropriate for their children. In Toronto alone, over 35,000 students were absent from school, a 144 percent jump compared to last Monday. Protests also reached York and Peel region with a combined 3,000 absences. In Toronto's Thorncliffe Park Public School, as many as 90 percent of it's students stayed home, while nearby schools such as Valley Park Middle School saw over 50 percent. "In Grade 1, they should be learning about the ABCs, not sex," said Lubna Awah, whose son goes to Thorncliffe Park. "Boys are boys and girls are girls—why should they learn about a third (gender) in Grade 1?" Abdul Azeem, chair of the Thorncliffe Park's parent council, also voiced a similar concern. "There's an agenda of promoting the LGBTQ community and, although we know this is a secular society, please don't come into my home with this… It means we're indoctrinating children with a minority lifestyle."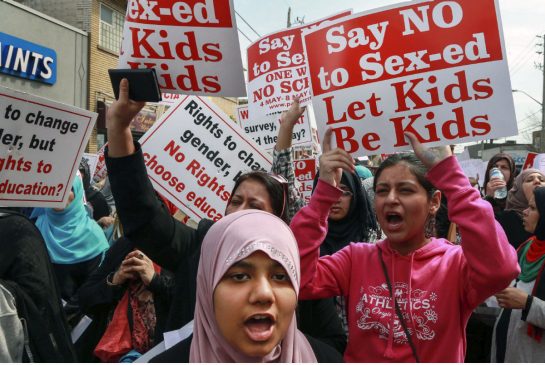 Riling up the protests is a Facebook group called  Parents & Students on strike: one week no school which encourages parents who are against the newly revised curriculum to protest by keeping their kids at home. The group also offers letter templates to parents to give to their respective schools, outlining how the new curriculum as "age-inappropriate" and contains content that goes against family values. Ontario Premier Kathleen Wynne met privately with a group of concerned parents last week who asked her to withdraw the curriculum entirely. But despite the backlash, Premier Wynne reaffirmed that the newly revised sex-ed classes will take effect in the fall as planned.
To check out Ontario's newly revised sexual education curriculum, head on over to the Ontario Ministry of Education.