A few of my friends are expectant mothers now and I'm envious. Not because I feel the urge to have another baby  (shop is closed here folks) but I'm secretly crushing on the styles that are out there for the fashion forward mommies-to-be.
At a recent "Babymoon" event held at a beautiful private residence, Thyme Maternity hosted mommies-to-be and media guests at the unveiling of STORK & BABE,  a new runway-inspired collection with pieces ranging from weekend casual to business wear to modern looks for evening.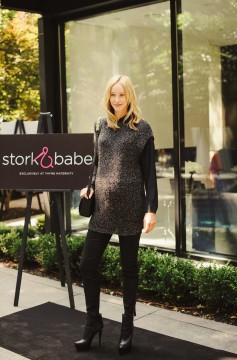 The STORK & BABE collection is a mix of edgy styles and feminine silhouettes. Designed for the urban woman in mind, the styles were carefully curated for those who still want to stay on-trend but also want the comfort and quality that is so needed during those months of pregnancy.
But you won't want to wait until you're bursting out of your current wardrobe to start wearing these pieces! The cuts are flattering and don't look "maternity-ish" which gives each piece of the collection even more versatility and wearability.
Thyme Maternity has over 20 years experience dressing expectant mothers to help them look and feel their best. STORK & BABE will be available exclusively in-stores and online at thymematernity.com mid-September.