It's hard to believe that one out of nine women will be diagnosed with Breast Cancer this year alone. This impactful figure hit me yesterday at the the 10th Anniversary of the the White Cashmere Event. The effervescent cancer survivor, and event host, Beverly Thomson spoke about how cancer doesn't just effect the "me" but everyone who surrounds that person. The good news is with much needed support to fund ongoing research the survivor rates are moving up!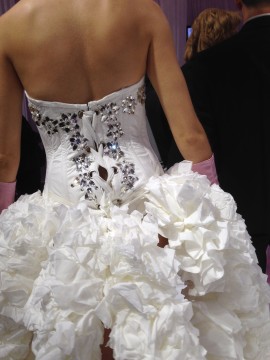 White Cashmere, yes the Bathroom Tissue (BT), is a strong supporter of the Canadian Breast Cancer Foundation and this brilliant annual event joins forces with leading Canadian fashion designers to raise awareness, and kick's off, October's Breast Cancer month nationally. The White Cashmere Couture Collection Pink and White Gala was one of the most sought after fashion event tickets of the season.
"We are extremely proud of what the White Cashmere Collection has accomplished in 10 short years and how it pays tribute to the courage and strength of women and their families affected by breast cancer," says Nancy Marcus, Corporate Vice President, Consumer Marketing at Kruger Products. "We launched the White Cashmere Collection in 2004 and since its inception, we broke ground by creating Canada's first and only fashion collection crafted entirely in bathroom tissue and united Canada's fashion community with a cause that is very important to our company. We are honoured to now be one of the Foundation's top five national partners and to celebrate this achievement with our biggest, most impressive collection to-date."
This 10th year anniversary spectacular runway show featured one-of-a-kind creations made entirely of Cashmere BT by 20 of Canada's most loved designers like Farley Chatto, David Dixon, Lucian Matis, Sunny Fong (VAWK), DUY Collection, Hoax Couture, Marie Saint Pierre, Carlie Wong, Rita Tesolin, Paul Hardy, Rod Philpott, Dylan Uscher, Comrags, Christopher Paunil, Anastasia Lomanova, David Dunkley, Jason Matlo, Joseph Helmer, Camilla Jorgensen MICALLA, and Luko Marion.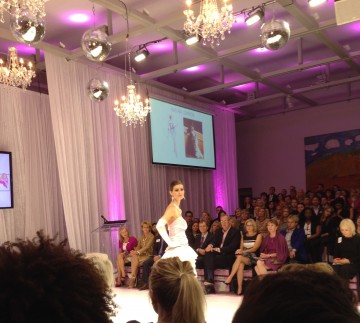 Stunning Swarovski jewellery was set against the gorgeous creations and had all eyes glistening as the models walked the runway at the AGO. While surprise superstar model Stacey McKenzie rocked the Cashmere runway this year in a stunning fuschia piece to showcase Rita Tesolin's dramatic bib and cuffs confection with 600+ pink and white BT blossoms!
This year's collection was also photographed at the Art Gallery of Ontario (AGO) by Caitlin Cronenberg, a rising star in the international photography scene. Her portfolio for the White Cashmere Collection was released at the show and currently can be viewed at whitecashmerecollection2013.ca
During the month of October, look for specially marked Cashmere BT products. By purchasing these paper products part proceeds will be donated by Kruger Paper Products to the Canadian Breast Cancer Foundation. This show also featured the announcement of Cashmere's latest addition to their product line Cashmere UltraLuxe.
Now, here's your chance to get involved. In celebration of the 10th anniversary of the White Cashmere Couture Collection, go and VOTE for your favourite design from this year's runway show! For every vote $1 will be donated to the Canadian Breast Cancer Foundation (up to $10,000)! PLUS you'll be entered for a chance to win a shopping spree worth $10,000. Visit here for more details whitecashmerecollection2013.ca