The hottest trend in skincare is oil. But before you hit up your local mechanic, we've done a little research on these new products and their usage.
When my Vichy contact pitched me their latest product, the Neovadiol Magistral Elixir, I scoffed. This was being marketed as an elixir of youth for menopausal skin. My skin is the same age as the rest of me, and I'm not defined by that "M" word…yet. And then I took a look at my skin. Yikes. It's dry as the desert, with patches of breakouts, and it's a bit of a scaly mess. I'm wiling to try anything, so I turned back to this new Vichy.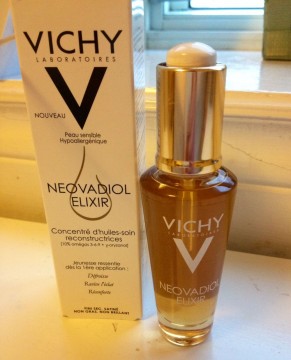 Vichy Neovadio Magistral Elixir, $58 for 30mL, available in drugstores
This is the first reconstructing oil that claims to repair skin in one hour. Now, the teenage me would have back-pedalled at the idea of putting an oil on my face, but evidently this more aged skin of mine is ready for an oil change.
These potions are not the super slick and greasy feeling oils that you might imagine. The Vichy elixir is made up of safflower seed oil, rice bran oil and shea butter, designed to provide the skin with perfect balance and perfect amount of essential fatty acids required for its lipid reconstruction. The product is non-greasy and non-shiny, and can be used as a serum under moisturizer, or mixed with moisturizer to create a richer daytime balm (perfect for these dying days of winter).
Laboratory tests found that 80% of women who tried the product found their skin to be denser, firmer and revitalized. I've been using it for a week, and my skin is definitely less dry, and appears more glowing .
The Body Shop is also introducing a Serum-in-Oil this month. Theirs is the Vitamin E Overnight Serum-in-Oil, and I've been using it for almost a month. This product is designed to be applied at bedtime, and after just one night of use "it leaves skin feeling more recharged, replenished and rested."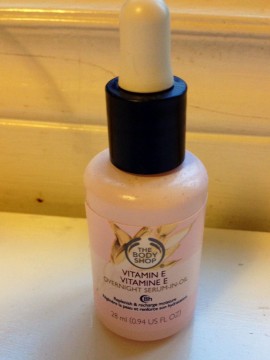 Vitamin E Overnight Serum-in-Oil $28 for 28mL, The Body Shop
Again, this is an oil that applies easily and does not feel greasy. The Body Shop's product uses a blend of wheatgerm, sunflower and jojoba oils, as well as Marula, Sesame and Soya from its Community Fair Trade farmers. It's very moisturizing, has no fragrance,  and is suitable for all skin types.
I find these oil products have injected a very healthy, and much-needed boost of moisture into my skincare routine…and this tune up can be done at home!