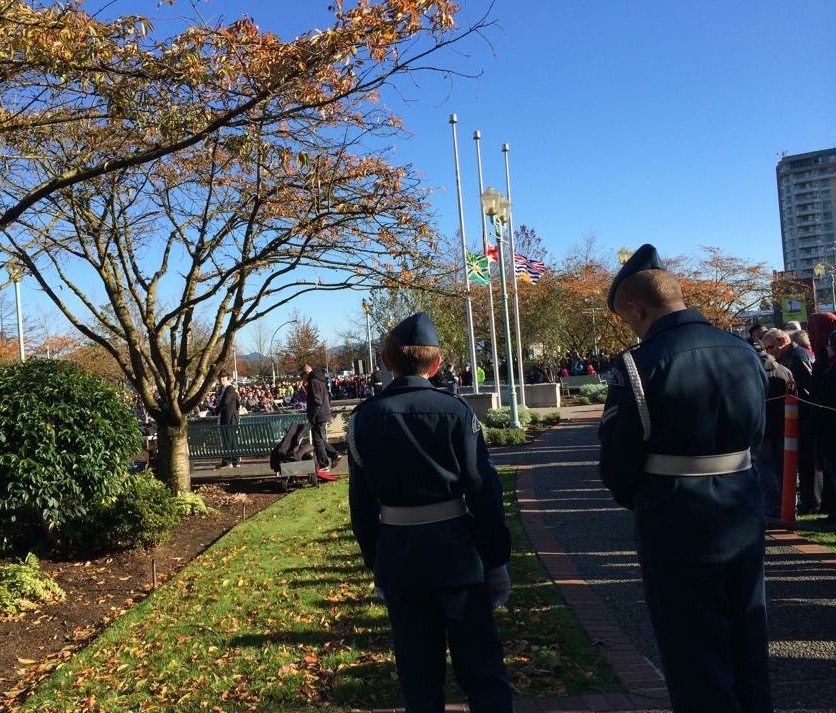 In the crisp November air, my son and I stand side by side. It's Remembrance Day. We have come together to pay our respects to the veterans. His father and I taught him that thank you is a magic word and we came to say it about something that really matters. We are behind a crowd of cadets, watching the proceedings. I hold him close and we huddle together for warmth. It was colder than we expected. He stands solemnly. At six, he rarely stops speaking long enough to breathe but today he is silent. He learned In Flanders Fields at school and he waits with anticipation to hear it recited. He cuddles in closer and grabs my hand.
I'm standing with him and I realize how lucky I am. We are assembled as a group safely, people from all walks of life, of all ages and religions. My son has inherited the sense of security that was handed down to my generation by the ones before us, bequeathed by those who fought hard to secure these freedoms. As a mom, I know we can play outside and we don't have to worry about air raids or bombs or invasion. I am free to raise my child, thanks to so many people's fathers, brothers, husbands and sons. My freedoms were purchased at their expense and there is a debt of gratitude I can never repay. I look at my little one and I'm so grateful.
I'm so grateful his concept of war is only shaped by television and video games. He has no personal experience with these things. He just knows there is this poem he loves and the words are pretty but he doesn't truly grasp, at his young age, what it really means. He doesn't understand how we got here, but he knows he is lucky because he's been told he is lucky. I'm grateful he doesn't understand.
As I watch him mouth the words to the poem, I'm filled with pride. We stand together watching the flag ripple in the wind and cuddle in closer. I hold him tightly because it's just so cold. It's uncomfortable. I'm aware the discomfort we are experiencing pales compared to the discomfort of the veterans. I'm sure it was colder than they expected when they went to war and because they did, I was standing with my gorgeous son in the crisp November air. All I can say is thank you and, while it's a magic word, it hardly seems enough.