I'm one of those people who don't enjoy working out. I always say, "I don't run…unless it's on sale." But don't get me wrong, I totally admire those people who are sooooo motivated and dedicated to working out. Maybe  I just haven't found my "calling" yet. Yeah, that's it.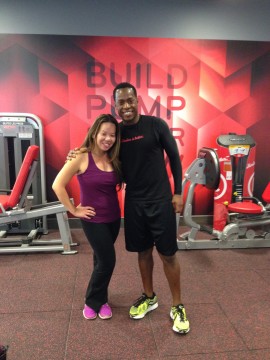 So, when I was invited to check out the latest gym downtown I brushed it off at first. No, it's not for me. It did pique my interest though. After all, it has Madonna's seal of approval and I was offered the chance to meet Timothy Anderson, oh…you know, he's FRICKEN ONE OF MADONNA'S PERSONAL TRAINERS!
All sorts of stuff went through my mind before meeting Tim, like… "is he going to kick my ass??!!"
Well, that morning I put on my "workout" wear (for the record, I haven't bought anything new in a couple of years) and tried to look FIERCE because I'm thinking…yo, Madonna is older than me and if she can do this, then maybe I can too?
Hard Candy Fitness recently opened its doors and unveiled  state of the art equipment and facilities. In a tasteful and energetic white and red themed space it's almost lounge-meet-gym in feel. Music is pumping and everything is crisp. And yes, everything is Madonna …but not over the top.
When you arrive, you'll immediately notice the Warhol treatment on the reception area walls. Then this sign…
…and I knew I was in trouble!! #WEAKNESS
The big open space leads you past the energy juice bar and then a working area complete with charging stations. I was already feeling at home at this point. A quiet zone was perfect to meet with Tim before he showed me a few moves. I said I wanted to chat (aka stall) and I knew you, our loyal readership, would want to know a bit more about Madonna.
Tim is a sweetheart. He's not the hard-ass drill sergeant I was expecting. Tim not only personal trains but he's also a professional dancer. He's based out of the Hard Candy New York location where he works with clients and this was his first visit to the Toronto location since it only had  "soft" opening about three weeks ago.
He also mentioned that he was first hired to be one of Madonna's personal trainers on the MDNA Tour. "Madonna always makes time to work out for two hours a day and six days a week," Tim says. Between him and two other trainers, their jobs are to keep her motivated and ensure she gets the optimum workout for her needs.
"Does she ever swear at you?" I asked. But he just laughed it off.
He tells me that Madonna also worked with the team to create unique classes that are offered at all the Hard Candy Fitness locations. "We like to have some fun while we work out too!" said Tim. While I was in the gym I noticed a fitness class that was in session. Not just any class. Here was a group of men and women learning a dance routine and they totally looked like they were working on a music video. I'm not that coordinated (I'd like to think I am) so I was mesmerized by their moves. Then, something happened.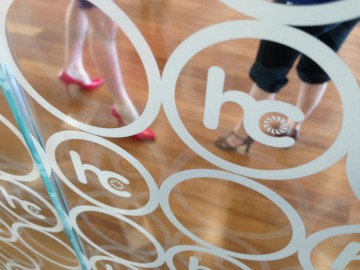 They all stopped and went into their gym bags to pull out….heels! Women AND men.  Yes, welcome to the class "Strength in Heels" just one of the cool and fun classes offered. It takes great skill to walk in heels let alone dance and exercise. But this made sense for us who are in heels all the time. Work with it, baby!
Other classes included names like Tornado, Shredded, Vinyasas Flow, Electric Yoga,  Morning After and more. ATS Cardio Dance is based on Madonna's own dance training regime that draws inspiration from choreography performed in Madonna's videos and tours. You can see the schedule on the Hard Candy website (link at the bottom of this post). I'm so curious at this point. But aside from classes they've got a wicked cycle studio and they are just putting the finishing touches to the Yoga Wall. In the summer, there is an outdoor lounge area that will also serve as a yoga space.
If you prefer cardio on machines you may be interested to know that many of the machines are equipped with wi-fi and Netflix. You won't ever be bored here. There's lots to keep you motivated and moving!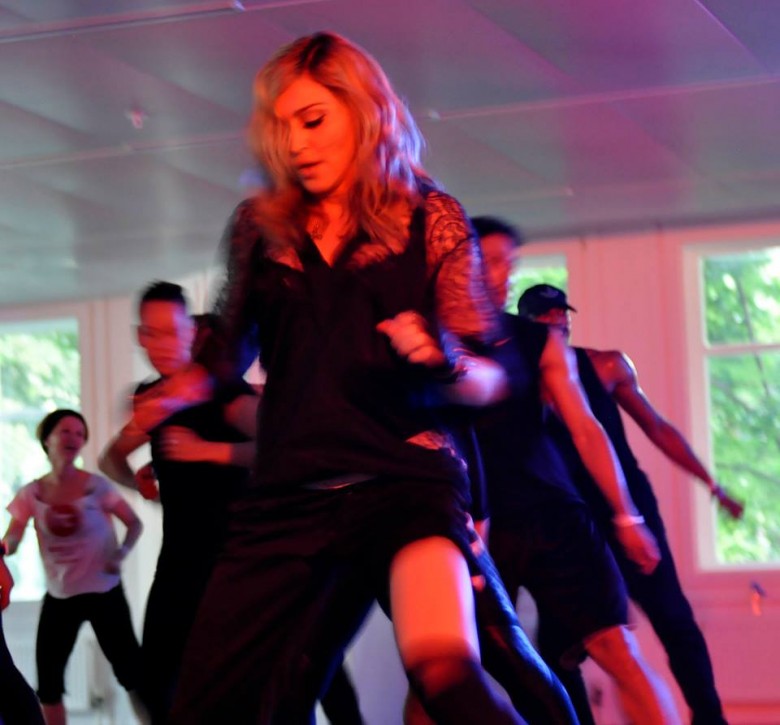 The music was amazing and not just her music but from some of her favourite artists as well. Everything is designed to keep you motivated.
And yes, I did ask Tim to show me a couple of moves he does with Madonna! So very cool! And I am a weakling. LOL! It's okay, I'm not Madonna but this is definitely inspiration. If I could only afford Tim as a trainer too!
I'll need to go back and see if I can earn my candy!
Hard Candy Fitness is located at the new Aura building at Yonge and College in Toronto. It's massive at 42,000 sq. ft and the staff was super nice! For more information visit www.hardcandyfitnesstoronto.com
So, what's your favourite Madonna song?
Here's a video to get you pumped! It's one of my faves!!!!