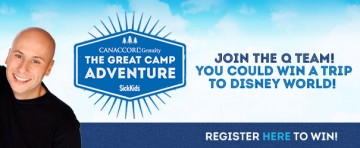 I wanted to share something I'm involved with that I thought you'd be interested in.  It's the Canaccord Genuity Great Camp Adventure happening on Saturday, September 28th in support of Sick Kids.  I'd love for you to join me and my family in a day-long adventure walk featuring 20 kilometers of  camp adventures. I'll be the first to admit I'm in horrible shape, so if you're like me, the good news is you can go the whole distance or just to your limit. It's entirely up to you.   Plus, when you sign your family up to join Team Q, you're automatically entered to win a trip to Disney World.  You can register here http://bit.ly/174hyii
Sick Kids is  very important to me and to many in Southern Ontario.  We had to take our wee-man Rory there when he was a newborn and it's events like this that help the hospital, and our lil' ones.
Here's a little video I made with my familia about the event.
[youtube id="-RyjeUA3BUw"]