This brilliant 11-year-old from Connecticut has invented something that could make every child's battle with cancer a little easier. And we applaud her for it.
Kylie Simonds was diagnosed with rhabdomyosarcoma, a soft tissue cancer, three years ago.
As a cancer patient, she remembers one of the biggest challenges was pushing an I-V pole around. "I used to have to use the I-V poles and I always tripped over all the wires," she said to WTNH news. "It was hard to walk around, and I always had to have someone push it for me because I was kinda weak when I was in chemo."
Then a light bulb went off. To make things easier, Kylie created a pediatric I-V backpack — an easy-to-use, wearable, portable  I-V machine for young cancer patients undergoing chemotherapy or transfusions. In comparison to I-V poles, Kylie says her backpack is convenient, lightweight and, most importantly, easier for young cancer patients to carry around.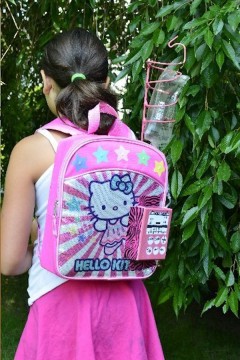 "The bag would have all the medicine that you needed for chemotherapy and this would be the drip and it would go through the machine on the front and you just put it on and you can walk around with it," she told WTNH. The backpack also comes in fun, colourful designs for children to wear.
The invention was inspired by her good friends Marik and Brooke, two other patients Kylie met during her stay at the hospital.
"My friend Marik, he has a prosthetic leg and he has to, well he has crutches and he always has to have someone push [the I-V pole] for him but if he had something like then he could just slip it on," she said.
As for Brooke, "Well she had to sometimes go home with it and she had to stay overnight in the hospital, so I think she would have really liked something like this."
The invention has received a lot of praise from the medical community, even receiving multiple awards at the Connecticut Invention Convention.
Kylie has been cancer free for two years but wants her product to help young children who are still fighting the battle. Her and her family are currently raising money on CrowdRaise to help make her prototype a real product — a product that might one day be available in hospitals all over United States. Bravo young lady, bravo!