Dressing up little ones can be tough; you've got to find something that is comfortable (for them) and cute (more for you). Here are some Halloween costume ideas for toddlers that don't require face makeup but are absolutely adorable!
Calvin & Hobbes
For siblings or friends, this is an adorable costume idea. One boy dresses as a boy in a striped shirt, hair tousled. The other brother or sister dresses up as a tiger, for an adorable throwback to comic books.
Image via HuffPost
Vintage & elegant
Dress up your little girl as Audrey Hepburn in Breakfast at Tiffany's. This costume is easy to make, and all you need is black dress, sunglasses and a strand of pearls. Put her hair into a little bun and you're done! If you can find long black gloves, that will complete the look.
Image via Atutudes
Scarecrow
This costume idea is cute and easy to make. Get a plaid shirt, overalls, a bucket hat and some straw. Staple pieces of straw at the ends of the overalls, around the cuffs and randomly on top of the plaid shirt to make it look like straw is peeking out. He can wear the clothes alone or you can add layers underneath to keep him warm and make him look "stuffed".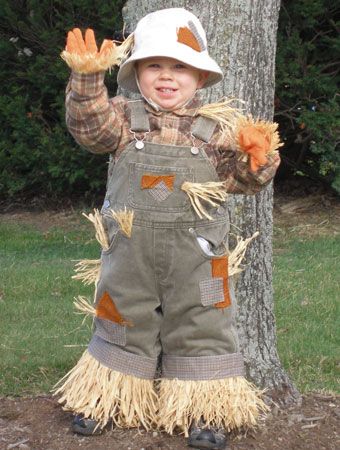 Image via Parenting
Cupcake
If your little girl has a sweet tooth, this costume is for her! You can buy a cupcake costume online, or make one by covering an old large lampshade and building a mound from stuffed fabric or old pillows. A cherry on top completes the look!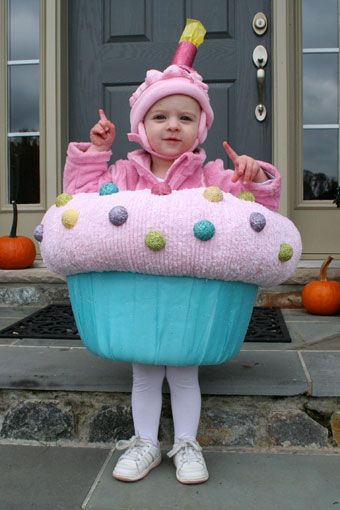 Image via Kids Stuff World 
UP
Have your little man wear a shirt, bow tie, grey cardigan and corduroy pants. Buy sunglasses and punch out the lenses to get nerdy glasses. A couple hours before he goes out for Halloween (or photo time), pick up several coloured helium balloons and tie them onto the back of his belt loops. For the finishing touch as Carl Fredricksen, construct a walker out of lightweight tubing, complete with tennis balls at the ends!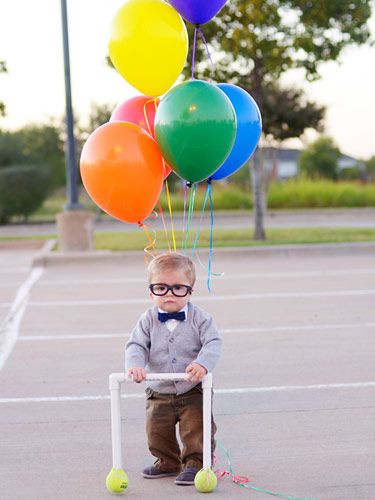 Image via Red Book Mag
Mini Mary Poppins
This costume idea is so cute and precious, and is easy enough to pull together. Pair a white blouse with a blue skirt, and pick up (or crochet) a red and white striped scarf. Find a black hat small enough to fit her head, and hot glue gerbera daisies. To finish off the look, carry along an umbrella and find a vintage tapestry bag that can double as her candy bucket!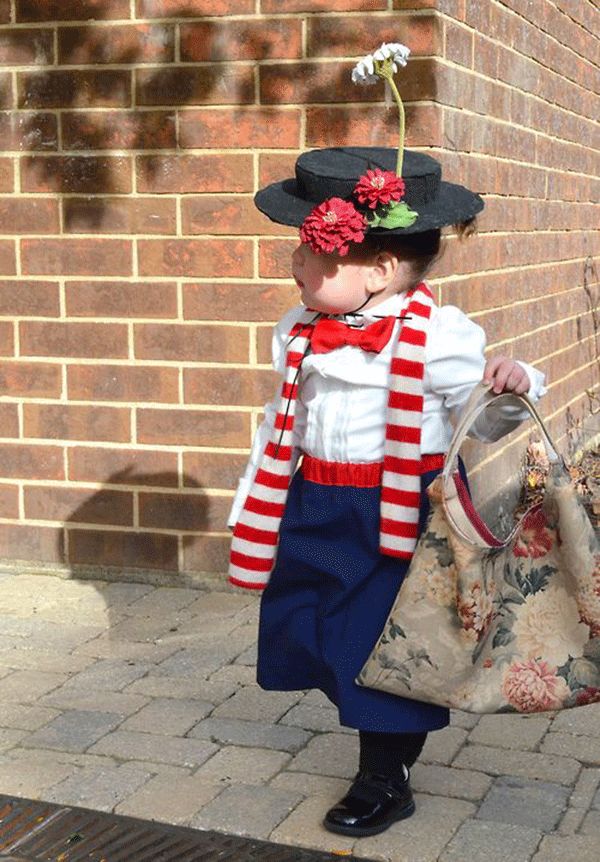 Image via Mommy Shorts