The colours are spectacular and each piece tells a story of a country rich in culture and beauty. Holt Renfrew's H Project, in partnership with House of Waris, launched Uncrate India this week across the Canada. The space within the luxury retailer offers exquisite items from over 16 designers supporting the artistry of India.  Products are made from sustainable and responsible materials.
Alexandra Weston, Holt Renfrew's Director of Brand Strategy, journeyed through India with Waris Ahluwalia, designer and founder of House of Waris, to bring the stories of the artistry in India. They travelled through India visiting Delhi, Jaipur, Udaipur and Mandawa. Through their tour they selected pieces from stunning batik silk scarves to hand-woven rugs and precious gemstones.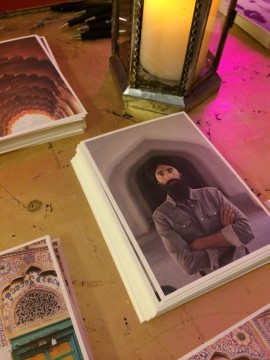 Items will be featured along side an exclusive jewellery capsule collection from the House of Waris from April 1 to May 31, 2014. H Project spaces in Holt Renfrew locations across Canada including Toronto (Bloor Street and Yorkdale), as well as Calgary and Vancouver.
H Project will also support UNICEF's work for children in India with a $15,000 donation to support local initiatives.
H Project was launched in 2013 with a mission to highlight and support different cultures, crafts and artisans from around the world. Curated by Alexandra Weston, the shop will collaborate with world renowned designers and explore special stories and traditions of a specific culture and its crafts.
You can read Alexandra Weston's travel diary from her adventures through India with Waris Ahluwalia  at www.holtmuse.com
Here are some photos from last night's launch event in Toronto….