I find blazers to be one of the easiest things to throw on whenever you want to pull your look together fast. Most will work over just about anything, from jeans, to a skirt.
Or in this case, a jean skirt. This mini is short, I realise, but it works because it's juxtaposed with the tall boots (which are also flat) and with this jacket I pulled out of the closet the other day… a spin on a classic look, and still (mostly) covered.
Houndstooth is a print that never goes out of style, depending on it's application, or the shape of the garment. This one is easy to pair with it's pale base-colour, and brown and greys making up the pattern. The neckline is very open and scoop-like, so I like to wear the collar up – it gives the overall look more interest, plus with huge sunglasses on, I feel like a delicious spy. *waggles eyebrows from beneath glasses* It's also bracelet-length in the sleeve, which has always been a favourite of mine. Wrists are adorable. (And they smell good when you put perfume on them.)
I should probably put some tights on (grey ones), but I'm determined to let the sunshine do it's job and keep me warm enough as early-fall stretches to late-fall, and it becomes cold every damned day. I feel all autumn without breaking out all the chunky knits just yet. Plus, once you start wearing tights for the season, it feels almost impossible to go back. (Kinda like wearing shorts.) I'm sure there are post-Labour Day rules about such things, but you know how law-abiding I ain't. *shrugs*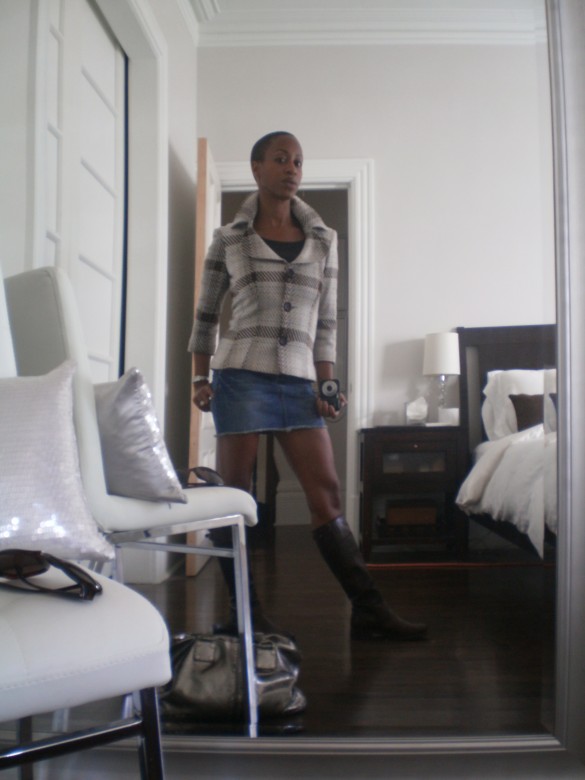 Arbitrary fashion rules do not apply to me.
PS – The downside with this tiny skirt is it does NOT work well with scooter-ninja-ing. Womp-womp.
houndstooth jacket – Le Chateau (ancient)
charcoal scoop neck T-shirt – Forever 21 (not new)
denim mini skirt – Garage (not new)
brown leather riding boots – Aldo (not new)