Shereen Arazm is Top Chef Canada's resident chef judge. She's also a busy mom of two and owns several top notch restaurants in LA including Terroni and Geisha House. She has also had success as owner of popular night time hotspots in LA including Concorde, El Centro, Shag, Central, and Wonderland. In fact, she's so successful that LA Times Magazine named her one of of the top entertainment hosts in Los Angeles.
Shereen was raised in Toronto and started her career working at the original Terroni Italian Restaurant on Queen Street West (I knew she looked familiar!). At the age of 21 she moved to New York where she worked at some of the best restaurants learning from some of the best and toughest chefs and owners around. In 2003, she moved to LA and started her own path in the entertainment and food industry. Her stellar record is more than impressive. You can visit the Top Chef's Food Network's page for more details.
Now she's back for her third season on Top Chef Canada along side celebrities like Lisa Ray and Mark McEwan — another favourite chef of mine. His spot Fabricca is one of our family favourites. But how does Shereen stay fabulous and be a mom? I want in on her secrets! And yes, I'd love to be in her shoes for a day…have you seen her shoes?
I had a chance to chat with Shereen about being a foodie mom….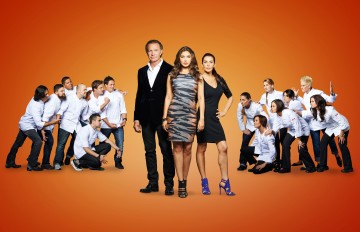 Are your kids foodies? If so, what are their faves?
For my daughter's graduation from preschool, they had a potluck. They told all of the parents to bring their child's favourite food – my daughter wanted to bring grilled octopus. While I didn't want to bring grilled octopus to a pre-school, because I thought no one's going to eat it, I did bring it. I asked my daughter, "Can't we just bring pizza from Terroni?" Her response: "Nope, they said my favourite food." So we brought grilled octopus to her preschool, six or seven kids tried it.
The rule in our house is you don't have to eat it, but you have to try it. I want my daughters to be brave and not afraid or intimidated by food. One tried Uni a few weeks ago on pasta.
Ah! We've got similar food loving kids! But for those who have kids who are not adventurous eaters, any tips?
You know, I think having your kids cook with you, is a way to get them to be more interested. Kids love smashing things, so making guacamole, is a great way to get them eating avocado. Same with hummus, a great way to get them to eat chickpeas and get some protein.
If you don't have time to cook for your family…what's plan B?
For me plan B for my family is calling my restaurant (Terroni) or going to my restaurant which we try to do every Sunday night because my sister works there. So we have family dinner there with my mom, sister, husband and kids. Sunday is a real family night at Terroni – there are lots of kids there.
But a good Plan B for anyone is quick and easy spinach tortellini.
You can buy it fresh and it'll keep for awhile in your fridge. Boil, grate parmesan on it and kids love it. You can stuff it with whatever, meat or cheese…anything.
We are also trying to do meatless Mondays, that's a great vegetarian option.
 "I never had anyone tell me I couldn't do anything."
So, what was your upbringing like when it came to food?
The Persian culture is very much a celebration, you eat together, you sit on the ground. It's a very family thing. Growing up, my mom did all the cooking in the house and being from Scotland, she became an excellent Persian chef – her Persian food is akin to my grandmother's. My parents had chickens in their backyard. Cooking was a huge part of our culture, we were eating organic eggs and chickens from their backyard before everyone knew what "organic" even was. We just grew up like that. It's been a big part of my life.
As for where I am today, my parents never said you can't do this, or you can't do that. They told me that whatever I wanted to do, I could do. MY parents are big advocates of that. I never had anyone tell me I couldn't do anything.
In three words…How would you describe food in your life?
My passion
My obsession
My joy
Top Chef Canada Season 3 airs on the Food Network on Mondays at 9:00 pm. Link to the official website here for more details www.foodnetwork.ca

You may have noticed that I've been writing up the food posts on Urbanmoms. It's a regular column that I've contributed to each Thursday with  featured chef interviews, new and interesting ingredients or cool stuff for the kitchen, restaurant reviews, food events, and of course recipes that I love and have tinkered with personally! The posts are not sponsored, unless otherwise stated. All opinions expressed are my own. As a die-hard foodie myself, my motto is that I will try anything once…and my kids too! Thanks for joining us here…and when you "like" our posts, it gives us the idea of what you're interested in. Not just mine but any of ours! We love your feedback!
~ Sonya