I'm not going to talk about winter any more. Nope! I'm going to talk about all the delicious flavours that bring me back to the warmth and sunshine! Yes!
Like many of you, our family is forever busy. It's like a revolving door around here so I have to admit that the slow cooker is my go-to on those busy nights between homework and after school activities. So, how do we reach for yummy nutritious foods instead of empty calories?
Since March is Nutrition month I had a chance to ask my go-to in-store resident dietician, Nema McGlynn, at Loblaws Maple Leaf Gardens about what we should be looking for and to share a recipe! Did you know, that the stores have dieticians that can help you with planning meals and offer healthy eating advice? You should take advantage of it! Anyway, whenever I have questions, she's a great resource! Since it's winter, I asked her a quick few questions recently…
Why do we crave carbs in the winter months?
There are many reasons why someone might be "craving carbs". Below are a few reasons, why you might be feeling like a carbohydrate-rich snack.
Limited consumption of fibre-rich foods and overconsumption of processed foods. Foods that are higher in fibre  such as certain fruits, vegetables and whole grains typically have a lower glycemic index which helps keeps our blood sugar levels steady. Whereas, more refined, processed foods typically have a high glycemic index (eg.  white rice, white bread, sugary cereals) which can cause a spike in your blood sugars followed by a quick drop leading to "cravings" for more foods that will cause it to rise again.
Going to long between meals. Quite often going longer than 6 hours between meals can exacerbate cravings for refined foods as blood sugar levels drop.
Not eating enough protein at meals
Lack of sleep
Not consuming enough calories in a day
High stress levels
Insulin resistance
The kids are often super hungry after school and they are so quick to grab a snack before dinnertime. Any quick suggestions that you love?
Sliced apples, pears, bananas or oranges with Greek Yogurt for dipping
A slice of whole grain bread with pumpkin seed butter, raisins and cinnamon
Fruit kebobs on pretzel sticks with grapes and cubes of cheese
Whole grain tortilla chips with a bean dip or guacamole.  If you're pressed on time use a guacamole mix like PC® Guacamole Seasoning Mix (you can add your own twist like corn, cucumber, cilantro, tomatoes to get more veggies into the guacamole)
A mini smoothie (blend yogurt, frozen fruit and microgreens such as baby spinach or baby kale together)
Veggie sticks (carrots, radishes, sliced peppers, mushrooms, grape tomatoes) with tzatziki
Plain or a light butter flavoured popcorn sprinkled with parmesan cheese or nutritional yeast
I've asked her a few other questions but I'll save those for another post! In the meantime, President's Choice offered up a few delicious recipes and this one looked soooooo (easy) and good! It's perfect for chasing the winter away!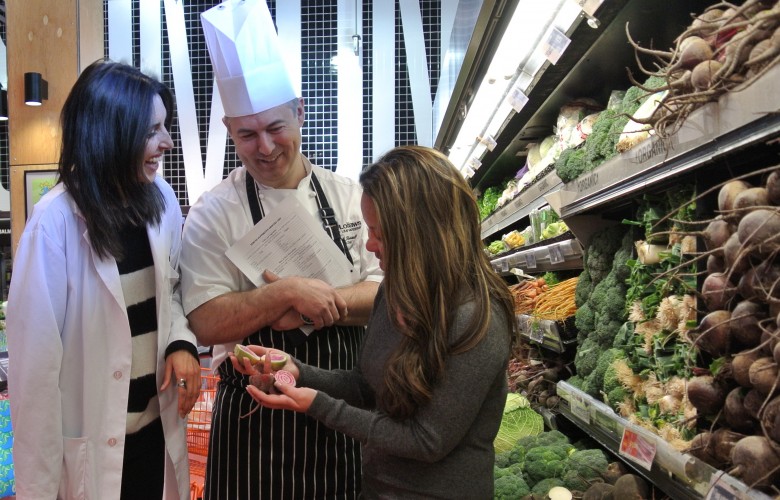 SANTA FE CHICKEN CHILI IN A SLOW COOKER
Ingredients
2 pkg  lean ground chicken , about 900 g
2 cups (500 mL)  diced white onion
1 tbsp (15 mL)  minced garlic
1  carrot, diced
2  stalks celery, diced in ¼-inch (5 mm) cubes
1 can (796 mL) diced tomatoes
1 can (341 mL) whole kernel corn
1 can (540 mL)  six bean medley, rinsed and drained
1/2 cup (125 mL)  PC Smokin' Stampede Beer & Chipotle Barbecue Sauce
1/2 cup (125 mL)  chicken stock or water
1 tbsp (15 mL)  chili powder
Instructions
In large nonstick frying pan set over medium-high heat, brown chicken in batches. Drain excess fat and transfer to slow cooker.
To slow cooker, add onions, garlic, carrots, celery, tomatoes and juices, corn, beans, barbecue sauce, chicken stock and chili powder.
Cover slow cooker, turn to LOW and cook for 6 to 8 hours.
My kids also love topping this with grated cheese!
Enjoy!!!