Our friends in Woodbridge were the first to introduce us to many Italian traditions. We feel like family when we see them. In fact their kids call us Zia and Zio. "Yes, my Zia is Chinese," Steph would say without a blink of an eye to her friends. That's what about the Italians! We're all family. I love that they also embrace food with passion. Much like my culture where most of our conversations start and end with food.
Now that Christmas is coming the one tradition that comes to mind is the Panettone — the Italian Christmas bread. It's just as popular as fruitcake. No wait. It's more popular. You can tell as the shelves are fully stocked already at my local grocers!
The story of the Panettone differs depending where you look and who you talk to. But the sweet high bread takes about 15 to 20 hours to make and is usually enjoyed with coffee or hot cocoa or liquor during the holiday season. Originated in Milan in the early 20th century, the Panettone has a few legends behind it's name. Perhaps the most romantic story is about a Milanese nobleman named Ughetto Atellani who fell in love with a poor baker's daughter Adalgisa. In efforts to win her heart, Ughetto disguised himself as a baker and worked at the shop where he was able to add richer ingredients  like butter, eggs, candied lemon and orange peels to the an otherwise boring cake. Yep,  you can bet that got her attention!
Although we enjoy our Panettone straight from the box, I discovered a great recipe from Bauli Canada! The PANETTONE PUDDING is a neat twist to dessert this holiday season!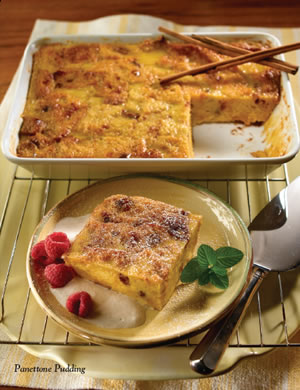 PANETTONE PUDDING
Serves 10 to 12
1-1/2 Tbsp unsalted butter
4 cups firmly packed, 1" squares Panettone,
 crusts removed
3 cups warm heavy cream
8 extra-large egg yolks
2/3 cup pure grade AA maple syrup
1 tsp pure vanilla extract
1 tsp ground cinnamon
Garnish:

Confectioner's sugar
Ground cinnamon
Whipped heavy cream
Sprigs of fresh mint
Instructions:
1. Preheat oven to 350°.
2. Butter a rectangular pudding dish, 8"x 10"x 2" deep and set aside.
3. Place the Panettone squares on a baking sheet in an even layer and set in the center of the preheated oven. Bake until lightly toasted and crispy. Remove from the oven and transfer to the prepared pudding dish. Reserve.
4. In a large mixing bowl, combine the egg yolks, maple syrup, vanilla and cinnamon and whisk until light and fluffy. Add the warm cream and whisk until well blended. Pour the mixture through a fine strainer into a large pitcher. Pour the maple custard over the toasted Panettone squares and set the pudding dish aside at room temperature for 2 to 3 hours or until the bread is soft and thoroughly soaked with the custard. Since the bread will float to the surface, spoon some of the custard over the bread squares, every 10 minutes, making sure that they are completely immersed.
5. Cover the pudding dish with buttered foil and set it inside a larger baking dish. Poke a few holes in the foil with the tip of a sharp knife to allow steam to escape. Place in the center of the preheated oven and fill the larger baking dish with very hot water so that the water comes half way up the sides of the pudding dish. Reduce the oven temperature to 325° and bake for about 1 hour or until the custard is just set. A toothpick, when inserted, should come out clean. Remove the pudding dish from the oven and from the larger baking dish, uncover and let cool on a wire rack to room temperature.
6. When ready to serve, place the pudding dish in a 350° oven for 5 minutes. Dust with confectioner's sugar and a little cinnamon and cut into squares. Top each portion with a dollop of whipped cream and some fresh mint.
(Recipe provided by Bauli Canada)
BUON NATALE!
By the way, you can check out the Bauli Canada Facebook page  for other great recipes. You can also enter your creative and yummy recipes- there's a great contest going on!
This post is not sponsored nor was I compensated. All opinions are my own. Recipe provided by Bauli Canada.