This week was crazy! I've been covering the runways at Toronto's Worldmastercard Fashion Week. I went from rushing around with protein bars all week to tasting as many foods as I can at the Delicious Food Show…and it's seriously delicious!!! I'm quickly dropping you this note here as I rush out again today as to go and run the nail salon at the school fun fair….the life of an urban mom, right?
But I wanted to tell you about this food show as it's worth checking out and it's only on this weekend. I had written an overview about it so you go back to this link here  if you want more details. I consider myself a foodie in a sense that I LOVE FOOD! I love cooking too …but I really love to eat. Good food that is.  And I love to know what I'm eating. And that's what this show is all about. It's for everyone who just loves food. When I was sent info about this show I was amazed at the line up of chefs that were scheduled to be at the event. I knew it was going to be a big deal especially because the chefs are accessible to show attendees. Familiar chefs like  like Martha Stewart, Chuck Hughes, Mark McEwan, Michael Smith, David Rocco, and others will be on the The Food Network's Celebrity Kitchen at the show. One of the big draws is, of course, Martha Stewart. At the media preview, Martha answered a few questions and officially opened the Delicious Food Show with a "cake cutting" ceremony (it just sunk in, OMG I was within mere few feet away from Martha!). We had learned that Martha had really enjoyed dinner the night before at EDULIS. How is THAT for an amazing plug for this incredible resto! She had a chance to try out the gourmet doughnuts at JELLY MODERN and enjoyed them as well! (yes, they are seriously good…I've tried their S'mores and Salted Caramel doughnuts before and I'm happy that she stopped to check  out their booth at the show)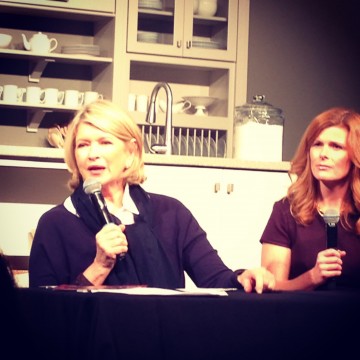 When asked what her "go-to" recipe was for last minute guests. Martha mentioned that she can pull together dishes quickly with everyday ingredients that already exist in her kitchen. She had mentioned that if someone dropped in for brunch she would make her angel biscuits and scrambled or poached eggs. If guests dropped in the afternoon it would be a fruit crumble,  pandowdy or some sort of crisp.
"I have a lot of fruit trees on my property so I can get those easily but you'd be surprised to see my fridge, it's actually empty and filled with nothing but condiments and staples like butter, eggs and milk," says Martha, "but there's nothing prepared and nothing to eat. I do that on purpose because I eat too much anyway! But I like to cook and I like to cook quickly."
And what's her biggest advice for being the hostess with the mostest and how to make things easy?
"I really don't know that answer because I never keep my parties simple," said Martha. "I don't think my friends would appreciate it." (hilarious!!!)
But her tips….
"A Caipirinha is a really good drink!" Martha Stewart
1. Be organized
2. Keep the menu simple… and don't stray from what your plans are.
3. Offer a really good, strong drink when your guests arrive.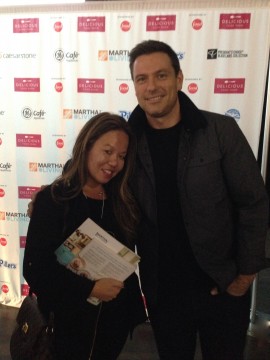 Then I turned around at the press conference and…oh HELLO CHUCK HUGHES! OMG!
It was that kind of morning!!!
Looks like it's going to be a cold and rainy few days anyway, so check out the show and you may just bump into a few celebrity chefs this weekend!
it's only on this weekend in Toronto at the Better Living Building at The Exhibition Grounds.
By the way…make sure you drop into the
View the Vibe
lounge. You'll love the tasty samples there from some of Toronto's newest restos and gastropubs!
The show has a whole lotta sampling, offerings and discoveries for your inner chef! Even a few gluten-free options that are delicious! Bring the kids too! Here's a taste….