"Beer goes with everything!"
That's what my hubby has been saying for years. I've humoured him and just shrugged it off as a guy calling out for more beer. Honestly, it didn't occur to me that he was in fact, right. I usually associate beer with sporting events and those foot-long hotdogs or something that goes perfectly with say a jerk pork dinner. But beer goes with everything? I needed to be convinced.
I was schooled on this food and drink pairing with a gathering of foodies. Much to my hubby's happiness to prove something to me, I will side with him and admit that there absolute is some truth to the concept of pairing fine food with great beer.
There's been a very appreciative movement in the craft beer category and one was recently brought  to my attention by Ontario based Muskoka Brewery. They've got an interesting story behind what is now considered one of the top craft breweries in Canada. Even LCBO's beer critics have cited Muskoka's Premium Detour brew number one in their recently list of great beers.
Muskoka Brewery began in 1996 with two friends who had a genuine love for making small batches of beer. Founders Gary McMullen and Kirk Evans' passion for beer was evident as they left their day jobs and dedicated everything to their true calling. Their wish was to create a beer that was pure and fresh. You won't find any additives, preservatives of cheap ingredients in their brews. Muskoka Brewery is located in the heart of the Muskoka region in Ontario.
Having a chance to meet with Gary and his team recently, I can assure you that their passion and enthusiasm for their products flows greatly. There's more to their beer than just a thirst quencher. I was challenged to take in every note (in several of Muskoka's offerings) and be more aware of flavours. I'm familiar with sensory adventures like this in wine, coffee, and tea so I definitely was interested in learning more.
In keeping with the Muskoka Brewery's philosophy  of using fresh, wholesome, and honest ingredients, food pairings were created by Brad Long, Toronto chef for a tasting event at Cafe Belong (Evergreen Brickworks). Long is  known for the same passionate concept in supporting and using the freshest and most local ingredients available. For him it's also about more than just food choices but it's also about creating a connection between land, farmer and those who enjoy eating. Long is one of Canada's top chefs and has been awarded recognition including VQA Restaurant Awards of Excellence and Globe and Mail Top 10 restaurants of the year, as well as co-host of Food Network's Restaurant Makeover. So, when he was asked to pair foods with Muskoka craft beers, you know it was going to be well thought out and inspiring.
But here are some great food and beer pairing ideas that you definitely should keep in mind for a great weekend entertaining idea this fall!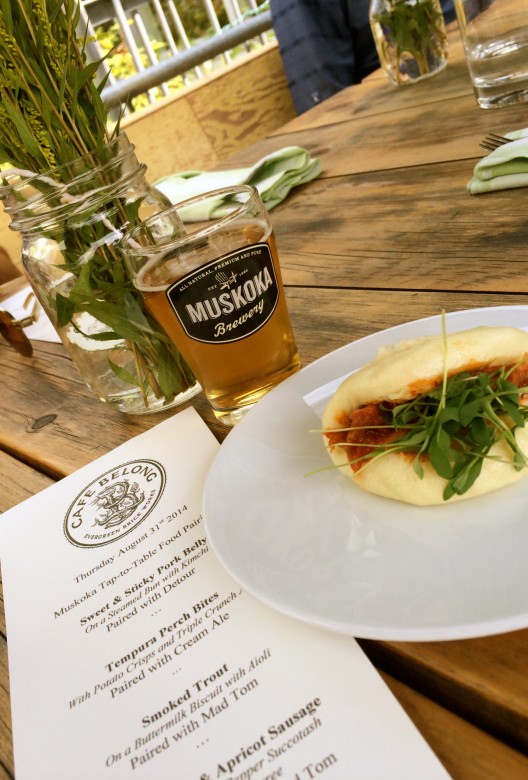 Muskoka Cream Ale: Is a refreshing and balanced flavour that compliments smokey flavours of food. Pair with: roasted chicken, grilled salmon.
Muskoka Detour: Is a unique India Pale Ale (IPA) with hints of pineapple and mango flavours. It's crisp and refreshing — a definitely staple now in our fridge. It was recently written up as #1 on the LCBO's Top Ten Beer List as chosen by  award-winning critic Crystal Luxmore. Pairs great with mango salad, shrimp cocktail, sesame chicken salad.
Muskoka Craft Lager: A relaxing and refreshing brew that screams easy days and nights at the cottage or on the back-porch. Perfect with lighter fare. Pair with salads, grilled chicken, mexican dishes.
Muskoka Mad Tom IPA: Has a hint of citrus and a little more intense in flavour. I actually loved this one for it's interesting characters. Pair with spicy dishes like curry, jerk , old cheeses.
Muskoka Twice as Mad Tom: Is bold and will give you a big bear hug. Pair with sharp flavours in cheeses like blue, pulled pork and not curries.
Muskoka Dark Ale: This dark English-style ale is bold with notes of chocolate and caramel. Perfect with a sunday night roast beef.
SPECIALTIES:
Legendary Muskoka Oddity: I can't wait to try this when it comes in season. Apparently it's a brew that is sought after for its infusion of sweet orange peel, juniper berries, and heather tips. Recommended pairing: ginger dishes, citrus dishes, white fish, and calamari.
Other specialty beers include: Muskoka Harvest Ale, Double Chocolate Cranberry Stout, Winter Jack, Vintage Winter Beard, Winter Weiss, and Summer Weiss (which is amazing paired with the warmed apricot turnovers we had at Cafe Belong!)
I had returned home from the event and gave an earful to my hubby about Muskoka Brewery. He was so impressed that he ran out and grabbed a selection from the LCBO. Like other beer lovers, he admits that he's not a big fan of IPA but having tried Muskoka Detour, he was quite impressed and has stocked up our fridge! We're looking forward to enjoying the Fall Harvest Ale, a seasonal specialty as well as several others.
Here's a great recipe for you to enjoy using Muskoka Detour..perfect for this season of change. We're not quite ready for fall and this seems like the ideal transition dish!