Ok, I admit it.  The majority of traditional Jewish foods are an acquired taste.  Unless you were brought up to eat foods like chopped liver, matzoh, gefilte fish (boiled fish loaf!), and kishka (breading stuffed into cow intestine), chances are you never will.  And while there are some foods that have gone mainstream, like chicken soup and egg bread (Challah), most of the foods we enjoy during holidays and celebrations will probably never make the leap from Shabbat dinner to Christmas morning.
Except the foods we eat at Hanukkah, the festival of lights.  Or, as the meal suggests, the festival of fried foods.  For eight days, Jewish people around the world gather to play dreidle, light candles, and eat foods cooked with oil, the favorites being Sufganiyot and Latkes.
Personally, I was up early this morning preparing these fan favourites for my ginormous extended family. Not only did they devour all that I put out, they also started in on what I had made for a friend's Christmas party later in the day.  I managed to save enough to serve to my festive friends, where they were enjoyed just as much, if not more.
The moral of this story? Jewish or not, these recipes rock. While they are good for breakfast, brunch, or dinner, they are best enjoyed fresh from the oven.  This is not a make-a-head kind of meal. But don't feel bad if your guests see you in the kitchen. It just means that you have the opportunity to take advantage of another Jewish tradition passed down from mother-to-mother: guilt.  If all goes well, the guilt your children develop watching you slave away will compel them to clean up at the end of the meal.
Sufganiyot Doughnut-Muffins
Traditonal sufganiyot are essentially jelly-filled powdered doughnuts.  I developed this recipe as a slightly healthier alternative.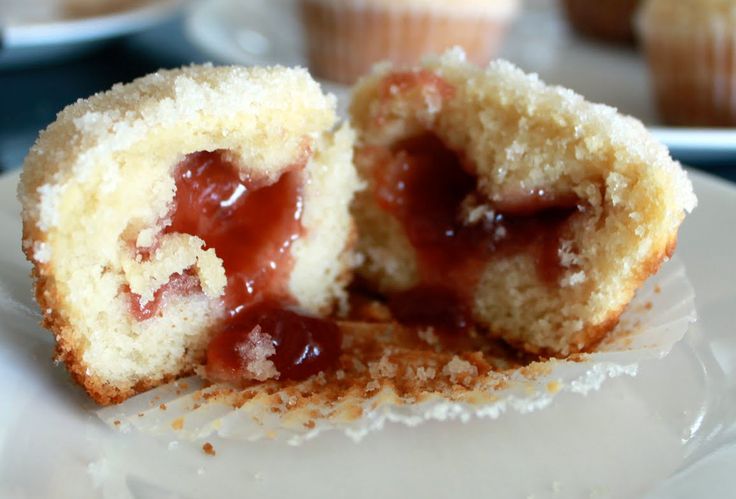 Ingredients
3/4 cup sugar
1 large egg
1 1/2 cups all purpose flour
2 tsp baking power
1/4 tsp salt
1/4 tsp ground nutmeg
½ tsp cinnamon
1/4 cup vegetable oil
3/4 cup milk (low fat is fine)
1 tsp vanilla extract
2 tbsp butter, melted
1 cup icing sugar
1 cup strawberry or raspberry jam (pureed so it is very smooth)
Directions
1. Preheat oven to 350F. Lightly grease a mini-muffin tin with cooking spray or vegetable oil.
2. In a large bowl, beat together sugar and egg until light in color.
3. In a separate bowl, whisk together flour, baking powder, cinnamon, salt and nutmeg. Pour into egg mixture, along with vegetable oil, milk, and vanilla. Whisk until just combined and smooth.
4. Divide batter evenly into the 24 mini muffin cups, filling each about 3/4 full.
5. Bake for 13 minutes or until a tester inserted into the center comes out clean. Don't expect them to brown.  It won't happen.
6. While muffins are baking, melt butter and set aside. Pour remaining sugar into a shallow bowl, and microwave the jam so it is a little bit more liquidy and a bit warmer than room temperature.  Put the jam inside a resealable bag.
NOTE: Do the next few steps quickly so that your guests can enjoy these babies while they are still a little warm.
7. When muffins are done, generously brush the top of each with melted butter. This will give them the crusty outside you get with traditional cake doughnuts.
8.  Using a chopstick, or something of similar size, poke a hole in the top of each muffin, going about halfway down.
9. Cut a corner off of the jam-filled Ziploc bag and squeeze a bit into each muffin.
10.  Roll each muffin in the icing sugar and set aside.  Then roll each one again a couple minutes later.
11.  Try not to eat the entire batch yourself.
Potato Latkes
This recipe can be adapted to be carrot, zucchini or sweet potato latkes.  Simply substitute up to half of the potatoes for another vegetable.  Also, feel free to add in dill, chives, or whatever else you think might be great.  Make it your own!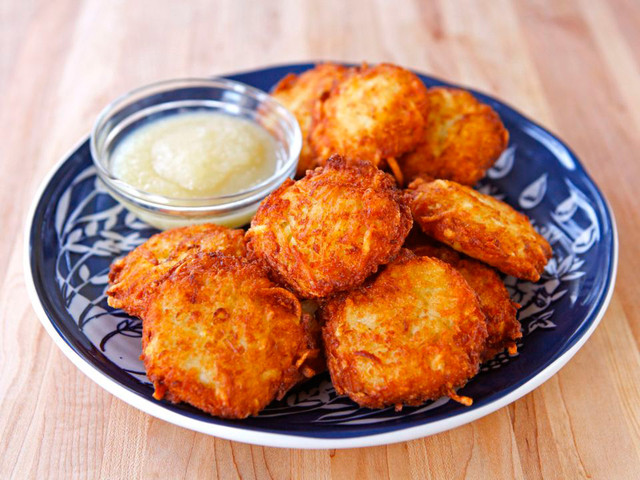 The key to good latkes is the temperature of the oil.  Too hot and they will burn before they will burn before they are done.  Not hot enough and they'll absorb too much oil and won't be crispy. You'll have to play with it a bit and figure out what works best. Don't worry, you can do it.
Ingredients
6 medium potatoes
2 tsp lemon juice
1 small sweet onion
2 eggs
s & p
½ cup flour
vegetable oil
Optional toppings:  sour cream, applesauce, sugar, and jam.
Directions
1.  Grate the potatoes and onions into a large bowl.  Add in the lemon juice and mix it all around.
2.  Using your hands, squeeze out and discard the liquid from the onions and potatoes.
3.  Add in the remainder of the ingredients and mix well.
4.  Heat ½ cm of oil in a large frying pan.  Drop a large spoonful of the batter into the pan and flatten out.  Cook until golden brown on either side.
5.  Taste the first cooked latke to make sure it is seasoned properly before making the rest.
6.  Drain on paper towel and keep warm on a cookie sheet in the oven at 200.
7.  Serve hot, letting your guests add their own toppings.