Hello Fall! The autumn months are always so fresh and crisp. There's nothing like putting on a warm sweater while still feeling the sun on our faces. The smell of the changing seasons makes us want to get downright comfy! We start thinking about comfort foods, right?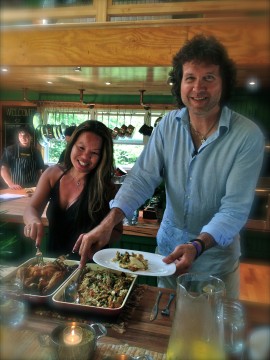 Late in the summer, I had the opportunity to visit celebrity chef Michael Smith at his home in PEI as he was just about to launch his latest cookbook 'BACK TO BASICS'. I've been holding back this recipe for just the right time to share it! And here it is! This incredible roast chicken recipe is so simple but good enough for your family or when you have company coming over. I've made it several times now and it's been a real hit with everyone.
What I love about hanging out in Michael Smith's kitchen is learning a few of his "tricks" to simplify the process of cooking. There are were a few "AHA, that's so smart!" moments and with this recipe the trick is to tear down the roasted chicken in the pan and mixing with the veggies. This captures all the juicy goodness and makes cleaning up easier!
What I love about hanging out in Michael Smith's kitchen is learning a few of his "tricks" to  simplify the process of cooking.
It's incredibly easy this recipe and everyone loves it! Just serve it up with a side salad and some fresh warmed bread and you're good to go! You may also want to finish up with those Brown Butter Maple Tarts that I had shared before! BTW, I've been totally impressed with you chefs at home that have been sending me your photos of the glorious butter tarts! I drool each time I see them so thanks for sharing them!!
But trust me, you'll want to print this one out too!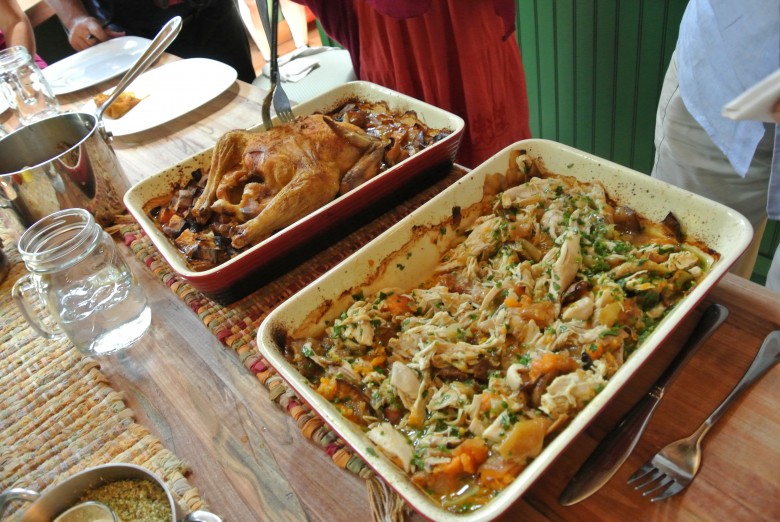 EASY ROAST CHICKEN WITH CURRIED SWEET POTATO APPLE PAN-STEW
Back to Basics © Chef Michael Smith 2013
A golden roasted chicken is the essence of home cooking, especially when you avoid all the hassle of carving it perfectly. As the chicken roasts, the sweet potatoes and apples "melt" underneath it forming a tasty rustic pan stew with the roasting juices that is then easily tossed with shredded roast chicken. This is the easiest way I know to cook and serve a chicken!
Serves 4 to 6
2 sweet potatoes, washed, unpeeled, cubed
4 of your favourite apples, cored and cut into large chunks
2 onions, peeled and cut into large chunks
1 whole head of garlic cloves, peeled
1 heaping tablespoon of your favourite curry powder
a teaspoon or so of salt
one roasting chicken, about 4 lb (1.8 kg)
2 green onions, thinly sliced
Preheat your oven to 350°F (180°C).
Toss the sweet potatoes, apples, onions, garlic, curry powder and 1/2 teaspoon of the salt together in a roasting pan large enough to hold the chicken. Season the chicken evenly, sprinkling it with the remaining salt then rest it on top of the sweet potato mixture.
Roast the chicken until a meat thermometer inserted in the thickest part of one of the thighs reads 180°F (82°C), about 20 minutes per pound.
Using a pair of tongs and a carving fork, and without removing it from the pan, slice and pull all the meat from the carcass and toss with the sweet potato apple pan stew. Sprinkle with the sliced green onions and serve directly out of the pan.
Kitchen Tip:
For a 'company's coming' presentation, you may chose to slice the chicken and arrange it on a serving platter with the pan stew served on the side. For an easy chicken broth, the leftover chicken bones can be tossed into a small stockpot with an onion, celery, carrot and bay leaf, covered with water and then simmered for 1 or 2 hours.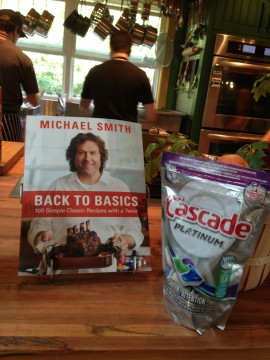 Thanks to Chef Michael Smith and Cascade Platinum Pacs for this amazing experience! A foodie mom's dream come true! My family thanks you for introducing us to some delicious recipes and making the clean up not such a chore — another dream come true! The advanced tripe-action dishwasher packs are specially designed to leave dishes virtually spot-free and help prevent the build-up of hard water film on the walls of your dishwasher. For more information visit CascadeClean.com
BTW, this latest cookbook is currently our family favourite. My little one is eager to select a few recipes each week to try out and he loves to get right in the kitchen with me!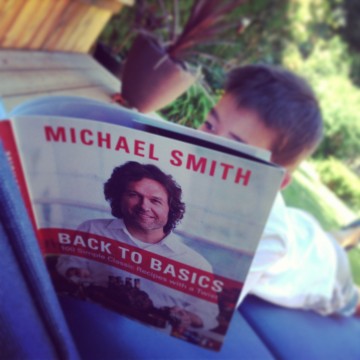 This post is not sponsored, nor was I compensated for my time. I was one very lucky duck to have had the opportunity to travel to PEI with Cascade Platinum and visit Chef Michael Smith on behalf of UrbanMoms!