When you're in the heart of any city you'll often find mediocre dining options especially for families. As a family, we tend to shy away from anything that says free refills and all you can eat. Why? Because it's all about quality! Often the better choices don't seem so family friendly with young kids in tow so we're constantly on the search for options that serve all our needs.
For those who crave a great burger, there is a gem of a spot ideal for hungry families. Just steps from the Toronto Eaton Centre is Bareburger (111 Dundas Street West), a great option to keep in mind should you head down to the area for some back to school shopping! Bareburger is relatively new to the Toronto restaurant scene—it opened back in January. This is the first international outpost for the already popular burger joint that originated in New York state. What makes this burger spot different is their commitment to  working in partnership with local  farmers and producers that meet their criteria of ingredients that are also organic, all-natural, grass-fed, free-range, non-gmo, hormone-free, antibiotic-free, gluten-free and ethically raised and humanely treated (items are noted on the menu with all the specifics). The burger spot's philosophy is to be an affordable, cleaner and better option for everyone including families. It also extends beyond burgers and recently introduced a weekend brunch menu.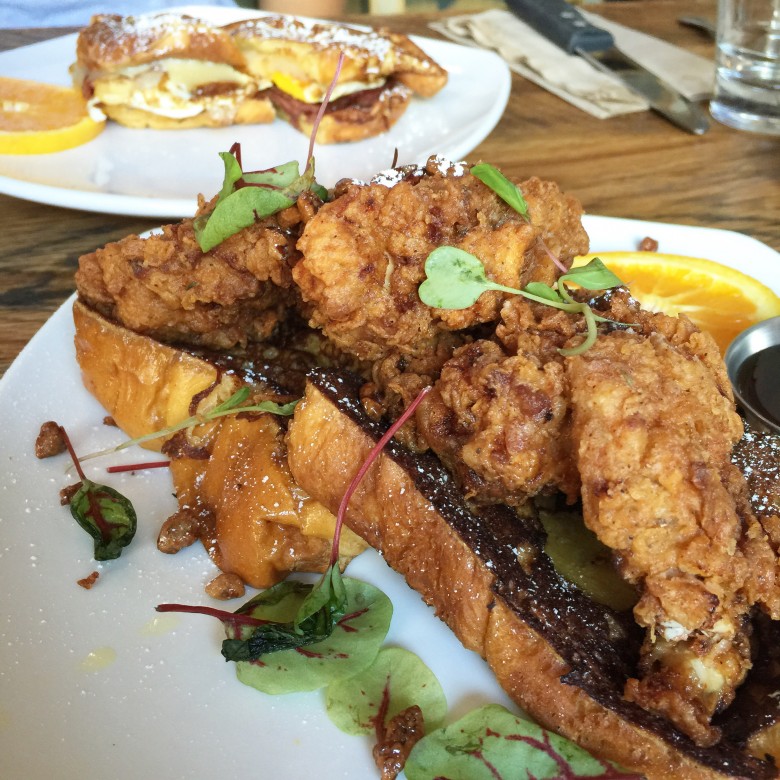 Our recent visit with the boys let us put the brunch menu to the test. You'll find some familiar brunch dishes here like bacon and eggs but you'll also find a few really special dishes that are real treats. The Fried Chicken and French Toast ($14.95) rivals any in the city—as one of the "it" brunch dishes of the moment, the buttermilk coated boneless fried chicken was battered nicely on the day we had visited, keeping the chicken breast pieces moist and tender. The "french toast" is a brioche that is fluffy and a sprinkling of a few candied pecans and hints of greens makes for a great flavour combination. Probably the most decadent dish on the menu and definitely worth it on that cheat day.
Duck Duck French Toast ($14.95) is like a Croque Monsieur that includes a tasty duck bacon, gooey melted gouda, fried egg and a plum marmalade.
For those who are vegan or prefer a lighter brunch, the avocado toast ($7.95), served with a few grapes tomatoes and lemon, is delicious. The avocado is sliced leaving the mashing to you as you like it. I had a not-so-vegan side of duck bacon which is not as salty nor as greasy as typical brunch bacon. Another great option is the sunny poached eggs & kale ($7.95). So there is truly something for everyone and everything on the menu is customizable.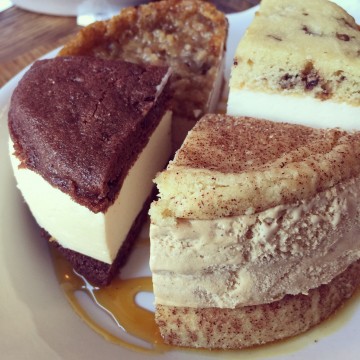 If you're dining with your little ones, there are a couple of options for them as well including french toast or scrambled eggs with bacon and 8 grain toast (both $7.95 and comes with drink options).
Speaking of drinks, there are adult cocktails should you desire say, a mimosa, with your brunch. Sodas are sourced from Maine Root — all organic and made with natural flavours, cane sugar and purified water. Juices are also organic. Coffee is fair trade. And make sure you save room for their famous Ice Cream Sammies! Here in Toronto, the ice cream used is by our hometown favourite Greg's Ice Cream! I was thrilled to hear that and yes, the Roasted Marshmallow flavour was there nestled inside one of their cookie sandwiches! Everything on the menu is fully transparent and the staff are happy to answer all your questions.
As I had mentioned, Bareburger believes in sourcing the best ingredients for what goes in our bodies but they've also taken extra steps in following through with the philosophy of good for you to extend to the environment. So, for each Bareburger you step into take a look around. Here in the Toronto restaurant, the tables are made from reclaimed barn wood, the floors are made from environmentally friendly bamboo, and the ceiling is made from reclaimed tin. They are careful to minimize their businesses' impact to the environment and not being wasteful. I like that.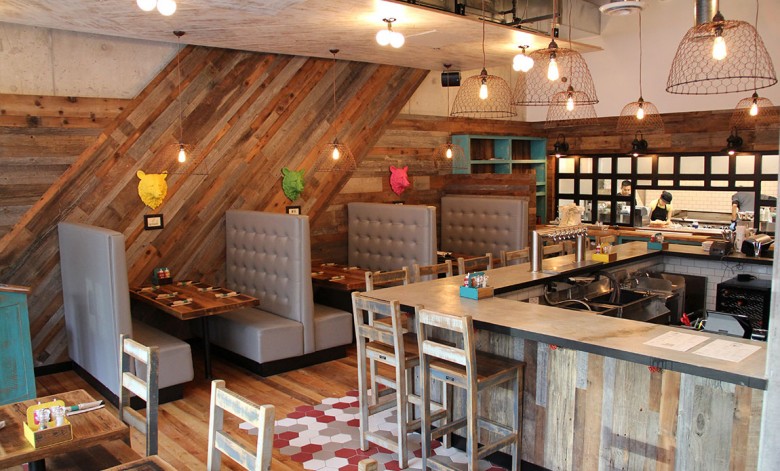 Their commitment to offering a better option for a relaxing family dining spot in the city has many details taken care of from accommodating needs of kid friendly meals at affordable prices to offering clean environment, highchairs and proper change room areas — even in dad's restrooms!
Each Bareburger is different but sticks with the company's philosophy to offer the best available locally. A few exceptions are made where the sodas are sourced from one supplier and the ketchup is from Sir Kensington. Also note that the Toronto restaurant updates their menu once in a while to offer the season's best. But don't worry! Best sellers are kept on the menu all-year round.
Bareburger started in 2009 in New York and currently has 30 restaurants with a loyal following. They have plans to expand including a recent opening in Tokyo. More to come including Santa Monica, South Beach Miami, Frankfurt, and Dubai.