I recently had the chance to spend a day on a farm just north of the city. I admit that many feelings went through my mind at first, but I have come to realize—especially through friends who are chefs—that when it comes to food, understanding the process of where our food comes from is equally as important as what we consume. When Ontario Pork invited me spend the day with a family on their farm, I was open to learning more.
Shlegelhome Farms is one of the nearly 1,400 farms that produce pork in this province for the domestic market as well as U.S. and international markets. As owners of a mid-size multi-site farm, Clare Shlegel and his family have been raising pigs since 1979. He's passionate about transparency on his farm as well as being socially responsible in keeping with industry standards, if not a few steps ahead. I gained insight into what a day-in-the-life of an Ontario farmer really looks like.
Upon arrival we were quickly led to the shower. It was explained that each person must be spiffy clean, leaving all belongings of the outside world behind including clothes and shoes. Even my phone had to be disinfected before entering the farm to minimize any risk of introducing potential viruses which could be devastating to the sows.
I had a chance to visit several areas of the farm to learn about the different stages in which the pigs were raised. From witnessing a live birth to seeing how technology plays a part on the farm, all was fascinating, but the highlight of the day for me was the opportunity to walk amongst 200+ sows freely.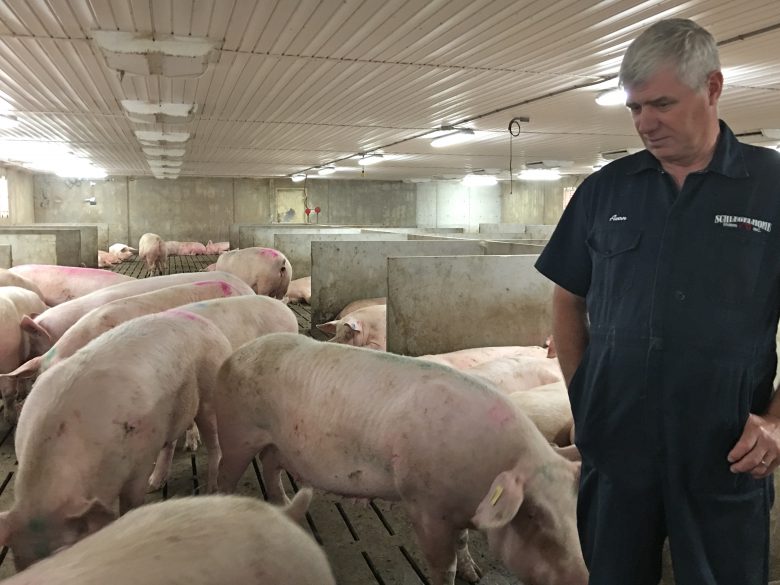 I had asked Clare about them roaming around in what is called the Gestation Loose Sow Housing area of the farm. He told me that the farm meets the requirements of the National Farm Animal Care Council's Pig Code, guidelines developed for the care and handling of farm animals, that stipulates that by July 1, 2024, sows must be housed in groups. He's ahead of schedule. When I mentioned that the sows seemed so calm he explained that the sows were used to people being around and don't seem to mind. To him, this is evidence of their contentment. Clare tells me that there are pros and cons to this system. In open areas, sows with strong personalities are more dominant than others—less confident personalities usually find a quiet space and safely stay there. A webcam helps the staff keep an eye on the group.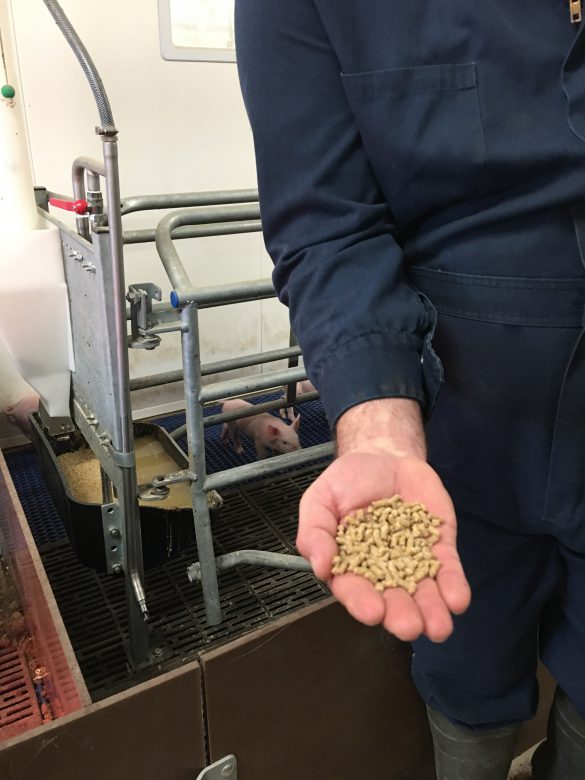 Speaking of technology, Clare's own son Adam, a MBA graduate who worked in the tech industry, returned to help the family business integrate technology into the raising of the pigs. An interesting example was a microchip system that monitors the sow's daily intake of feed and helps when they are in the loose housing area so that the feed is consumed evenly. Even when the farms are being cleaned, there are robotics that get into every nook and cranny of the barns.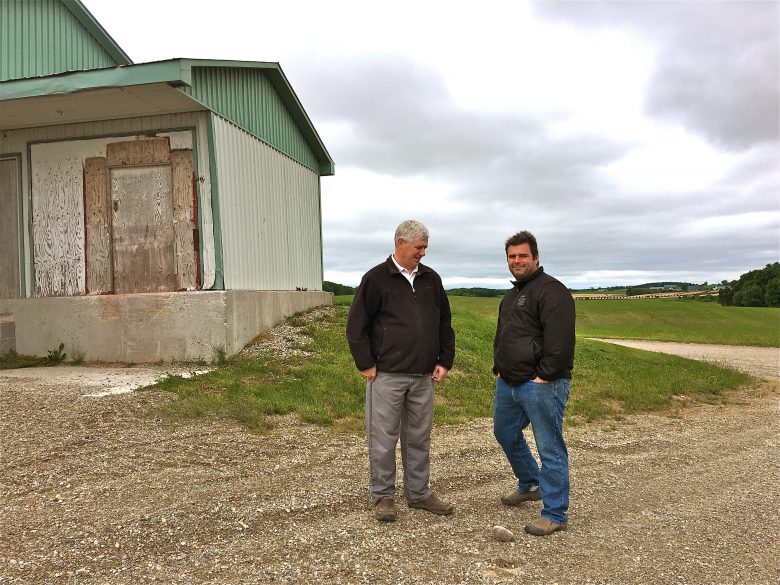 The loose housing is just one example of how Ontario's pork producers are committed to social responsibility and maintaining the highest standards in raising the pigs. Recently, Ontario Pork launched its inaugural Social Responsibility Report, becoming the first livestock commodity group in the province to set benchmarks in areas that measure environmental, social and economical performance based on global measurement standards.
Consumers are increasingly aware and interested in learning not only where food comes from, but we also have certain expectations that we are not afraid to ask. That's why pork producers in the province have outlined a set of commitments they will work towards over the next three years. This includes: farm management, economic performance, environment stewardship, animal care and food safety, relationships with the community and worker's well-being. You can read about the report here.
Ontario's pork producers have some of the highest standards in the world and Clare agrees that it's important for consumers to make educated decisions on where their food comes from. Interesting tidbit that I had learned from him: all pigs in Ontario are raised hormone free, so be wary of such marketing pushes.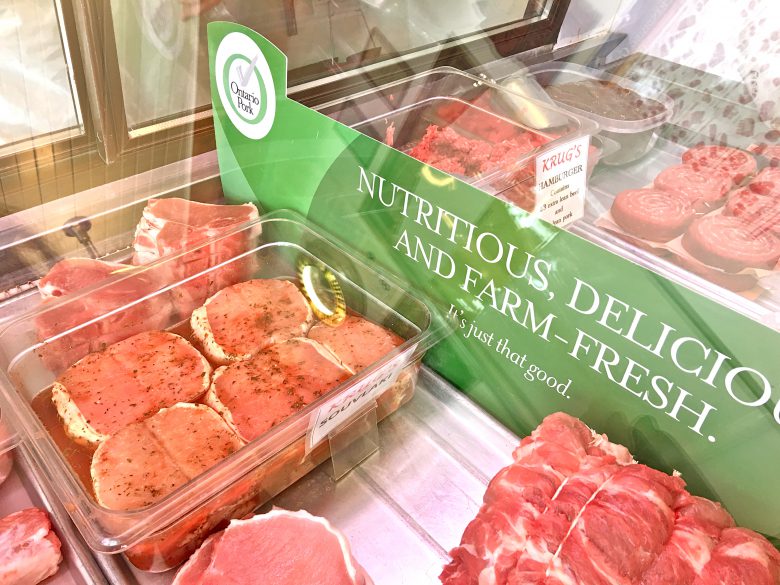 Now that barbecue season is here, I've asked Ontario Pork for a few recipes. I came across this recipe that is sure to be a hit with burger lovers everywhere!
HAWAIIAN PORK BURGERS WITH TOASTED PROSCIUTTO
Ingredients:
Burger Patties

4 Tbsp soy sauce
4 Tbsp hoisin sauce
1 lb. ground Ontario pork
1/2 cup fresh cilantro (or parsley), chopped
3 garlic clove, finely diced
1 Tbsp red curry paste (optional)
1-1/2 tsp fresh ginger, minced
1/4 tsp pepper
Burger Slaw

1/2 head of iceberg lettuce, julienned
2 Tbsp mayo
2 tsp sriracha sauce (optional)
2 tsp black sesame seeds
8-10 slices of prosciutto
8 pineapple rings
4 soft burger buns
Cooking Instructions
Burger Patties:
In a small bowl whisk together soy and hoisin sauces.
In a medium size bowl mix all the burger ingredients with half of the soy sauce mixture (set aside the other half for later).
Form into 4 patties.
Place pork patties on well oiled grill and cook in closed barbecue for 5 to 7 minutes per side, testing doneness with a digital rapid-read thermometer inserted sideways into centre of each patty—burgers are completely cooked when thermometer reads 160°F (71°C).
Burger Slaw: 
Mix all ingredients in a small bowl. Set aside.
Toppings:
In a sauté pan over medium heat, toast prosciutto lightly on both sides 1-2 minutes. Remove to paper towel and set aside.
Preheat grill to medium-high. Oil grill plates. Grill pineapple slices 1 minute per side and set aside.
Assembly:
Place a scoop of Burger Slaw on each bun bottom.
Place cooked patty on top of slaw and slather with remaining soy sauce mixture.
Top with grilled pineapple rings and toasted prosciutto.
This post was brought to you by Ontario Pork but the images and opinions are my own.